Attorney General Jeff Sessions on Tuesday visited Portland — a sanctuary city — to rail against what he calls the evils of such jurisdictions, bringing up an alleged undocumented immigrant rapist in their midst to make his case.
Sanctuary policies "endanger us all," said Sessions, who cited a recent grisly crime in Portland in urging the city and the state of Oregon, a sanctuary state, to "reconsider" their stances.
"To win this multi-front war against rising crime, we need to use every lawful tool we have. And we need to eliminate all bad policies," Sessions said at the Portland field office of the U.S. Citizenship and Immigration Services, part of the Department of Homeland Security.
"I urge the city of Portland, the state of Oregon, and every sanctuary jurisdiction to reconsider," Sessions added. "These policies do far greater damage than many understand. At its root, they are a rejection of our immigration laws and a declaration of open borders."
"Sanctuary policies endanger us all," he said.
In making his point, Sessions made frequent mention of Sergio Martinez, an undocumented immigrant who has cycled in an out of Portland-area jails. In late July, just days after his most recent release from jail, Martinez was arrested again by Portland police for allegedly raping a 65-year-old woman and attacking another woman.
Sessions said Tuesday that "federal immigration authorities properly lodged a detainer against Martinez just a few months before, asking to be notified when he was set to be released."
"But authorities in Oregon refused," he added.
Mike Reese, the Sheriff of Multnomah County, which includes Portland, has repeatedly said he was only following local and state laws mandating that his office must notify ICE about an inmate only if they receive a warrant.
Martinez has been deported from the U.S. to Mexico 13 times since 2008, according ICE.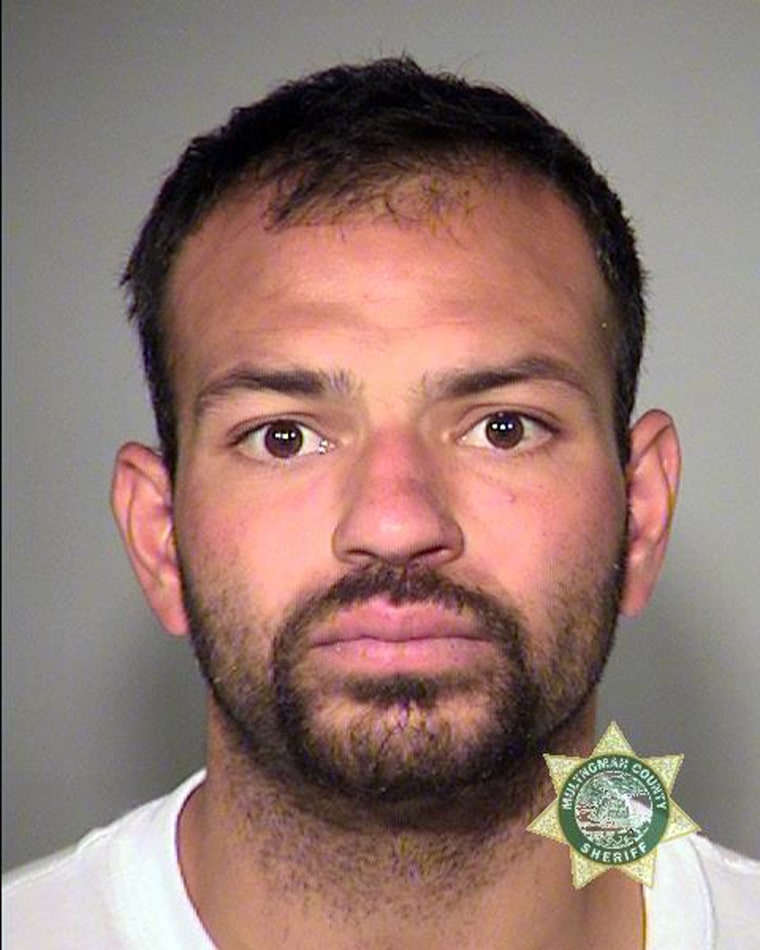 In a letter released just before Sessions began speaking, Portland Mayor Ted Wheeler defended his city and state's sanctuary measures and criticized Sessions for the Trump administration's DACA decision.
"In Portland, we do not merely tolerate diversity, we celebrate it. Our local laws support these values and we are better for it," Wheeler wrote.
In March, Portland's city council voted to declare the metropolis a "sanctuary city" ─ a term immigration hardliners have used to describe municipalities that refuse to cooperate with federal attempts to round up undocumented immigrants.
The city's gesture was largely symbolic, as a 1987 Oregon state law already made it illegal for cities to use resources to help enforce federal immigration laws. That law has been touted as the very first "sanctuary state" law ever enacted in the U.S.
Sessions' speech Tuesday, one of his first public appearances since he announced earlier this month a wind-down of DACA, marked his latest salvo against sanctuary jurisdictions.
In July, the attorney general introduced new rules under which sanctuary cities stand to lose millions in future federal grant money used for crime-fighting if they don't help federal agents deport suspected undocumented immigrants held in local jails.
Sessions has repeatedly said that such policies would help prevent situations like Martinez's.
"These predators thrive when crime is not met with consequences," Sessions said Tuesday, after discussing Martinez's case. "That makes a sanctuary city a trafficker, smuggler, or gang member's best friend."