The FBI has dramatically slowed the pace of security reviews for refugees in recent months, which former Trump administration officials and human rights advocates say is part of an intentional bid by White House hardliners to restrict the number of refugees allowed in the U.S.
Former officials and aid organizations say the administration has overloaded the FBI and other government agencies with an array of procedures that have weighed down the bureaucracy and effectively delayed refugee admissions.
"It's a precipitous decline," said one former official who worked on refugee issues before leaving government earlier this year.
Refugee admissions have plunged to historic lows. The U.S. is on track to admit only about 20,000 - 21,000 refugees by the end of September, far below a ceiling set at 45,000 by administration officials last year. That cap itself was lower than any set by a U.S. president since the current refugee program was created in 1980.
The delays in security screening coincide with an intense debate inside the administration over how many refugees should be permitted to enter the country next fiscal year, with political appointees pushing for an unprecedented brake on refugee admissions.
The FBI screening mainly involves sifting through databases to check if the refugee applicant has no links to extremists. On some days, the FBI has managed to review only a handful of cases, creating a bottleneck in the processing of refugee applications, humanitarian workers and two former officials who served under President Donald Trump told NBC News.
Another former official, who spoke on condition of anonymity, said the FBI's slow pace was the main cause for the sharp drop in refugee admissions.
In a statement, the FBI said its primary focus is "to protect the United States from national security and criminal threats."
"We are not able to release the number of applications we have reviewed, but in the course of carrying out our duties the FBI takes the necessary time to thoroughly review all the information available. The FBI will continue to support the comprehensive and rigorous vetting of individuals who may be admitted to our country."
Administration officials insisted the FBI is not dragging its feet. The bureau is merely following new procedures that require checks of additional databases to weed out any potential terrorists, they said.
The FBI is one of several agencies involved in vetting refugees seeking to come to the United States, starting with the United Nations High Commissioner for Refugees and including the State Department and the Department of Homeland Security.
Apart from the lengthy screening process, DHS has also drastically cut the number of staff that manage refugee admissions and travel overseas to interview those seeking to resettle in the U.S.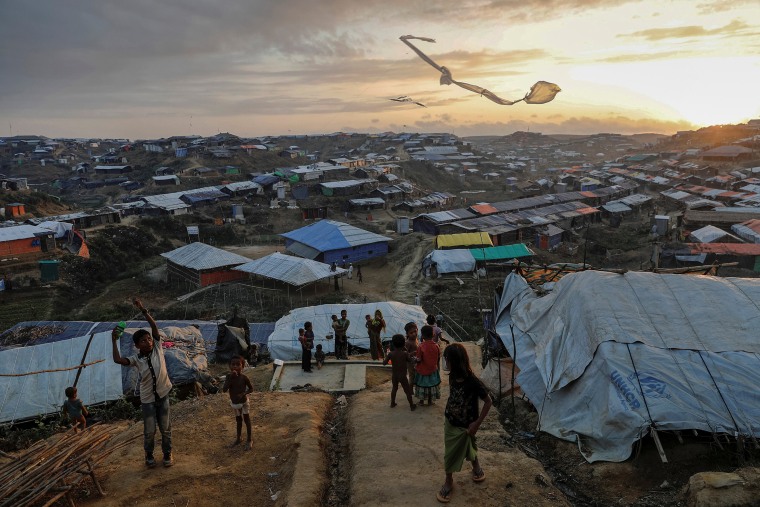 A DHS spokeswoman said that diversion of resources is in response to the spike in asylum claims, made by people already in the U.S., which have increased by 1700 percent between 2008 and 2016.
The administration denies it is intentionally obstructing refugee resettlement, and maintains that it has merely introduced new security vetting that takes more time but keeps Americans safe.
However, former officials, including senior intelligence officers, say the Trump administration has consistently overstated the potential security threat posed by refugees, and conflated the issue with illegal immigration and those seeking asylum.
"There is no evidence of a significant threat from refugees as a group," said Karen Greenberg, director of the Center on National Security at Fordham University Law School.
Of 175 cases prosecuted in the U.S. against ISIS supporters, she said, 11 were refugees or had received asylum status.
Nicholas Rasmussen, head of the National Counterterrorism Center until December 2017, said that refugees were overshadowed by more serious terrorist dangers during his time in office.
"While there is some degree of risk that we assume with any category of immigrants, our recent experience has not shown that the refugee population presents a particular threat from a terrorism perspective," Rasmussen told NBC News.
"While terrorist organizations sometimes mused about the idea of using refugee and other immigration programs to try and move people into the United States, it was our assessment that this was actually quite difficult for them."
In recent policy discussions at the White House, officials arguing for a lower refugee cap have cited three incidents as evidence of the purported threat posed by refugees. One involves an Ethiopian refugee in Virginia who did not disclose his role in persecuting Ethiopians for their political opinions. Another featured an Iraqi refugee arrested in California based on an Iraqi court warrant alleging he was an ISIS killer. Another Iraqi refugee was accused of shooting a police officer in Colorado Springs, though not fatally. All of these occurred this month.
However, former officials say that in the two cases involving Iraqis, additional security procedures were introduced under the Obama administration that would have prevented those individuals from entering the country.
Although Trump administration officials and some Republican lawmakers often portray refugees as a looming threat, there is no known government study that assesses the crime rate among the roughly three million refugees living in the United States.
The unprecedented drop in refugee admissions since Trump entered office has caused dismay among U.S. allies struggling to cope with civilians fleeing war, including Jordan, as well as diplomats and senior military officers who worry Washington's credibility and strategic interests are suffering serious damage.
But Stephen Miller, the architect behind the president's wider anti-immigration agenda, and his allies have seized on the lower refugee numbers in recent months as ammunition in the internal policy debate, citing it as a rationale for a permanent scaling back of admissions.
"It would be ridiculous to raise the refugee ceiling way above what can feasibly be accomplished under the new vetting standards. This year's numbers have proven 45,000 is too high," a DHS official told NBC News.
Last year, Miller argued for a much lower cap on refugee admissions, but lost the argument over objections from the State Department and the Pentagon. Now former officials and humanitarian groups accuse Miller and other like-minded officials of using bureaucratic means to achieve their objective.
They say the argument that the administration lacks the resources to handle more refugees is misleading, and that DHS by design is letting the refugee program wither on the vine.
"These are all political decisions. They're not actually addressing capacity issues," said Jennifer Quigley of Human Rights First.
The administration has consciously chosen to cut back the workforce for refugee cases and "just let the refugee program die a slow, painful death," she said.