WASHINGTON — President Donald Trump's nominee to lead the agency that would oversee construction of the southern border wall began the Senate confirmation process Tuesday, three months later than his hearing was originally scheduled, because of allegations of misconduct that were eventually dismissed, NBC News has learned.
Kevin McAleenan, who appeared before the Senate Finance Committee Tuesday morning, currently serves as the acting commissioner of U.S. Customs and Border Protection and served as the deputy commissioner under the Obama administration. McAleenan's hearing to become commissioner was scheduled for July 13, but was mysteriously postponed the night before.
Multiple sources familiar with the matter told NBC News the hearing was delayed after anonymous accusers alleged McAleenan had an affair with a subordinate and bypassed proper channels to fund an immigration detention center.
The Inspector General for the Department of Homeland Security, which oversees CBP, investigated both claims and cleared McAleenan of all wrongdoing, according to three sources who are familiar with the investigation.
One allegation said McAleenan had violated agency process by pushing money towards an over-crowded detention facility before it had been approved by the proper channels, according to the sources. DHS Inspector General John Roth cleared McAleenan of any wrongdoing in that investigation on Oct. 10, according to a public record.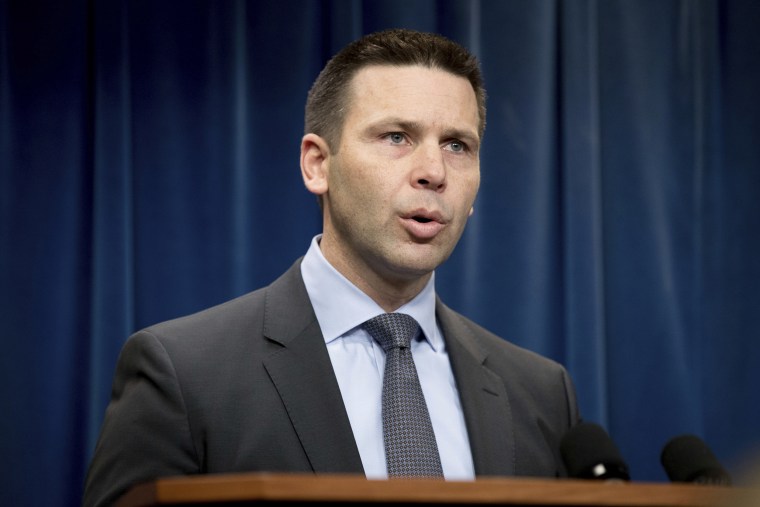 Last week, Roth found that McAleenan and a female subordinate had only a professional relationship and that rumors of an affair were false.
A source familiar with the investigation says McAleenan denied the allegations throughout the process.
Customs and Border Protection is the nation's largest law enforcement agency, with more than 60,000 employees, and is responsible for overseeing many of Trump's immigration policies, including the construction of a southern border wall.
McAleenan has been responsible for identifying locations and designs for the wall, one of Trump's key campaign promises.
Having served under both Democratic and Republican administrations, McAleenan's nomination was widely supported by both parties. Former President Barack Obama's Homeland Security Secretary, Jeh Johnson, signed a letter along with seven other former senior Homeland Security officials, to "personally attest to [McAleenan's] honesty, integrity, patriotism and commitment to the homeland security mission."
McAleenan left his law practice in California to join CBP in November 2001 and quickly rose through the ranks in the agency. He was promoted to deputy commissioner in April of 2013 and was named acting commissioner at the start of the Trump administration, overseeing a rocky start to the president's initial travel ban in late January.
"I am pleased that the Senate Finance Committee held a hearing this morning to consider Kevin McAleenan's nomination to be the next Commissioner of U.S. Customs and Border Protection," said Acting DHS Secretary Elaine Duke in a statement.
"I'm confident the Committee found Mr. McAleenan to be a man of integrity and competence, a public servant who knows the business of national security and international trade and travel. I fully support Mr. McAleenan's nomination, and now that he has been thoroughly and fully vetted and had an opportunity to present his impeccable qualifications I hope that the Committee and the full Senate will move quickly to confirm him to this vital position."