WASHINGTON —President Donald Trump delivered tough rhetoric in his speech on immigration Thursday, including a warning that the U.S. military would be armed and ready to shoot if migrants from the Honduran caravan heading toward the border threatened the soldiers, even with rocks.
This comment by the president, and other vows and assertions he made during his speech at the White House, were met with confusion and controversy. Listeners wondered, "Can he really do that?" NBC News consulted legal and military experts and found at least seven misleading statements.
Statement 1: "If they want to throw rocks at our military, our military fights back. We're going to consider — and I told them, consider it a rifle," said Trump.
Fact: Pentagon spokesman Lt. Col. Jamie Davis said, "We will not discuss hypothetical situations or specific measures within our rules on the use of force, but our forces are trained professionals who always have the inherent right of self-defense."
The Pentagon announced earlier this week it would be sending 5,200 troops to the border to join 2,000 members of the National Guard.
In announcing the deployment of 5,200 troops to the border earlier this week, Gen. Terrence O'Shaughnessy said troops would follow "the standard rules for use of force" when operating within the United States.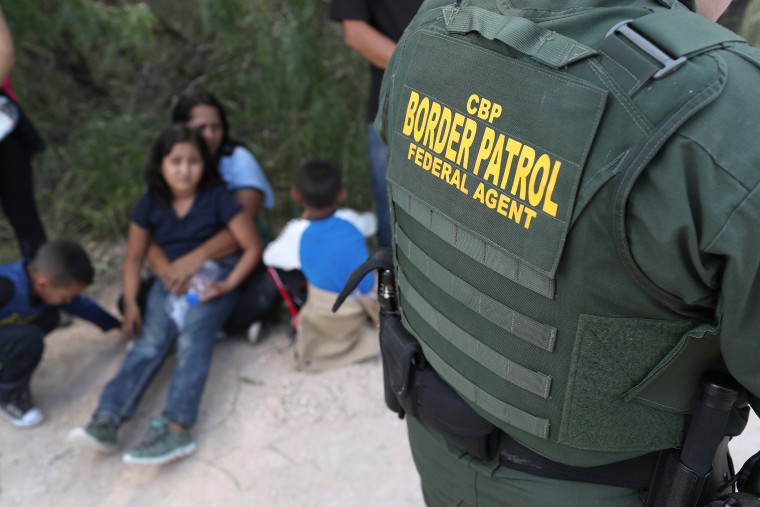 Those rules state: "Deadly force is justified only when there is a reasonable belief that the subject of such force poses imminent threat of death or serious bodily harm to a person."
Therefore, only someone throwing a rock in a way that could kill or seriously harm a soldier would be met with deadly force.
Retired Gen. Martin Dempsey, the former chairman of the Joint Chiefs of Staff, wrote on Twitter, "A wasteful deployment of over-stretched Soldiers and Marines would be made much worse if they use force disproportional to the threat they face. They won't."
Trump has said he would send as many as 15,000 troops to stop the migrant caravan.
However, the caravan would not present a drastic increase in border crossings, as Trump has projected. Internal estimates by DHS obtained by NBC News estimates the first and largest group of migrants in the caravan to be around 3,500. Already, according to the latest border apprehension numbers, an average of 1,600 migrants are stopped or apprehended at the border each day.
Statement 2: Trump also vowed to block asylum seekers from claiming asylum if they are caught crossing the border outside of legal ports of entry.
Fact: This proposal, expected to be codified in an executive action next week, is likely to face legal challenges in federal court. Under current law, immigrants are allowed to make a claim for asylum anywhere in the U.S., no matter how they entered.
And the Trump administration would be in violation of international asylum law as well, said Scott Anderson, a David M. Rubenstein fellow in governance studies at The Brookings Institution.
"U.S. treaty obligations require the United States to extend asylum to individuals who qualify as refugees if they are found in the United States or at any U.S. border, regardless of whether they arrived there legally or not," said Anderson. "The same treaties also prohibit the United States from expelling qualified individuals or returning them to their country of origin absent certain extraordinary circumstances."
Administration officials told NBC News on Thursday that they believe Trump has the power to restrict asylum applicants to making claims only at border entry points because of a section of immigration law that allows the president "to impose on the entry of aliens any restrictions he may deem appropriate." The Trump administration used the same language to defend Trump's executive order limiting travel from certain countries.
Statement 3: Trump vowed to hold undocumented immigrants in detention until they could be deported. He said immigrants are now released from detention solely because the government does not have enough space to detain them. To fix this, Trump vowed to vastly expand detention space with so-called tent cities at the border.
Fact: There are reasons besides lack of space that stop U.S. Immigration and Customs Enforcement from detaining migrants indefinitely. A 2001 Supreme Court decision in a case known as Zadvydas limited the amount of time ICE can hold adult immigrants in administrative detention to six months. And a federal court decision that was upheld in 2015, known as Flores, limits the amount of time children can remain in ICE detention to 20 days.
Statement 4: When it separated families, said Trump, his administration was continuing an Obama-era policy of separating immigrant children from their parents at the border.
Fact: The Obama administration only separated children from their parents if the parent was going to be charged with a crime -- not including charges of crossing the border illegally. Last spring, under "zero tolerance," the Trump administration changed this policy to begin charging, and therefore separating, parents whose only crime was crossing the border illegally. This significantly increased the number of separated parents and children from roughly 100 a month to more than 1,300 a month.
Statement 5: There are 20 million undocumented immigrants in the United States.
Fact: Although it is impossible to know exactly how many there are, the Department of Homeland Security estimates this number to be closer to 12 million.
Statement 6: Construction on the border wall is underway.
Fact: While there has been some fence building and repairing of existing structures, no concrete has been poured on a new border wall.
Statement 7: Democrats want the immigrants in the caravan to have the right to vote, education and healthcare.
Fact: Only U.S. citizens have the right to vote, per the Constitution. While Democrats, more than Republicans, have supported a path to citizenship for immigrants already living in the U.S. illegally, they have not suggested that immigrants who have recently crossed the border without documents be given the right to vote. Undocumented immigrants are already allowed to enroll in public school. Healthcare.gov outlines which immigrants may be able to purchase health insurance, but recently arrived undocumented immigrants are not included.
CORRECTION: (Nov. 2, 2018, 10:15 a.m. ET) An earlier version of this article misspelled the name of a fellowship in governance studies at the Brookings Institution. The fellowship is named after David M. Rubenstein, not Rubinstein.