WASHINGTON — When Suhas Khamgaonkar's husband died suddenly of a heart attack in 2015, her lawyers delivered her a second blow: She might soon have to depart the country, leaving her 21-year-old daughter behind, if she did not find a way to stay legally.
A dual Indian and Australian citizen, Khamgaonkar had been living in the U.S. legally since 2005 as the wife of a chemical engineer who was sponsored by his employer.
"We had been invited to this country as highly skilled immigrants, living legally because of the talent we had," Khamgaonkar told NBC News. But after her husband's death, she said, "we seemed to be treated with no empathy or fairness."
Khamgaonkar's daughter has been able to find legal status through a student visa, and then a high-skilled employer visa. But Khamgaonkar, who was forbidden from working under U.S. law as a spouse of a sponsored employee, had few skills to market.
She has applied for a green card but has been told she may have to wait another six years, her lawyer said, because the U.S. has a quota on the number of Indian nationals it accepts each year.
Her lawyer, Brent Renison, told her to apply to U.S. Citizenship and Immigration Services for deferred action, a status reserved for immigrants who have "compelling circumstances," such as a medical condition. It would not give her the legal right to work, but it would keep her from being deported while she waits for a green card.
Deferred action was given to nearly 20,000 immigrants on average from fiscal years 2012 to 2016, the latest full year for which data is available. A spokesperson said the agency has received approximately 1,000 applications for deferred action annually over the past few years.
But on Aug. 9, Khamgaonkar received a rejection letter. Not only was she told "your request for deferred action has been rejected," but she was also that USCIS "no longer accepts deferred action requests."
Without making the policy change public, USCIS, and its parent agency, the Department of Homeland Security, has quietly rejected all requests for deferred action, except those made by certain military members and veterans. In addition, deferred action for immigrants who arrived as children, known as "Dreamers" under the DACA program, is protected because of ongoing litigation.
WBUR-FM, Boston's National Public Radio station, was first to report that USCIS has denied medical deferred action requests, reserved for immigrants with health conditions whose lives would be endangered if they were deported.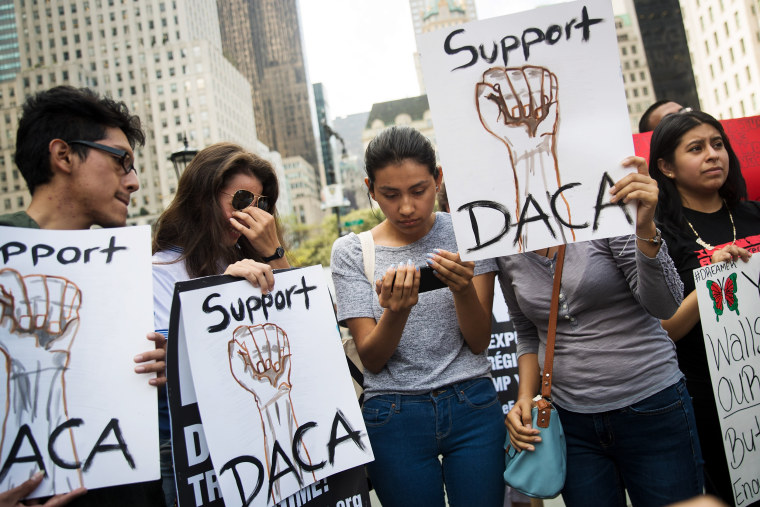 USCIS told NBC News the policy of denying deferred action now applies not only to medical cases but more generally to all deferred action requests outside of the military and DACA. Instead, applicants must apply to Immigration and Customs Enforcement.
"USCIS field offices will no longer consider nonmilitary requests for deferred action, to instead focus agency resources on faithfully administering our nation's lawful immigration system," an agency spokesperson said in a statement.
An ICE official speaking on the condition of anonymity said ICE was blindsided by USCIS's decision to refer all immigrants applying for deferred action to them. ICE currently has no plans in place to review deferred action applications.
"ICE does not have a program for this nor do we plan to," the official said.
Renison said he hesitates over what legal advice to give Khamgaonkar next. It may be too risky to send her application to ICE, whose mission is to deport immigrants, he said.
"This is completely unprecedented. Deferred action has been a tool used for people falling through the cracks for decades," Renison said.
Now, if Khamgaonkar applies to ICE and is given a notice to appear in court for a deportation hearing, she could risk losing her chance of getting a green card down the line.
The spokesman for USCIS said handing the responsibility of deferred action review to ICE "does not mean the end of deferred action."
"Instead USCIS is deferring to ICE, the DHS component agency responsible for removing individuals from the United States. As deferred action is a type of prosecutorial discretion used to delay removal from the United States, USCIS will defer to the DHS component agency responsible for removing individuals from the United States to make most non-DACA, nonmilitary deferred action determinations," the USCIS spokesperson said.
In a statement, an ICE spokesperson said, "As with any request for deferred action, ICE reviews each case on its own merits and exercises appropriate discretion after reviewing all the facts involved."