WASHINGTON — A host from Alex Jones' conspiracy theory mongering InfoWars on Friday pleaded guilty to storming the grounds of the U.S. Capitol on Jan. 6, 2021.
Owen Shroyer admitted that he unlawfully entered and remained on restricted grounds during the riot, telling the court that he entered the West Front of the Capitol and stood on stacks of chairs and other equipment with another person, believed to be InfoWars founder Alex Jones.
He said he then made his way to the East Side of the Capitol.
"Americans are ready to fight," Shroyer admitted he told a crowd gathered at Freedom Plaza for a rally in support of then-President Donald Trump on Jan. 5, 2021, according to court documents. "We're not sure what that's going to look like perhaps in a couple of weeks if we can't stop this certification of the fraudulent election of Joe Biden."
Shroyer also called rallygoers "the new revolution" and said they would "restore" and "save the republic."
On Jan. 6, 2021, he took a bullhorn and compared the crowd of rioters to American patriots fighting in 1776, saying: "Today, on January 6, we declare death to tyranny! Death to tyrants! Death to tyrants! Death to tyrants!"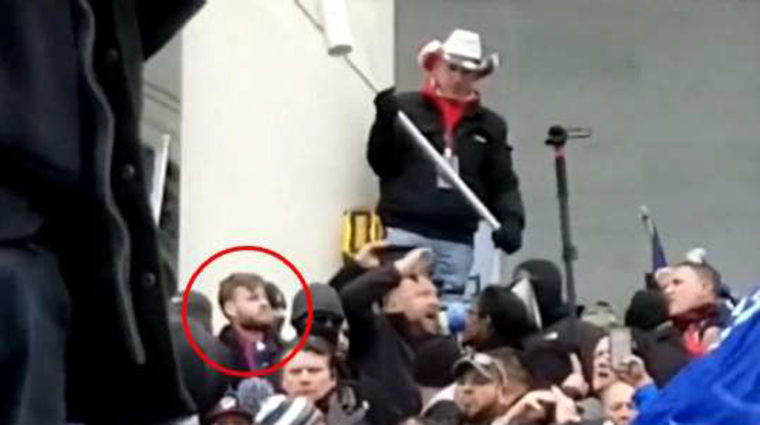 Shroyer is facing up to six months in federal prison, and his sentencing hearing has been set for September 12th at 10 a.m.
Most of the more than 1,000 Jan. 6 defendants who have been charged so far either entered the U.S. Capitol or committed acts of violence or destruction outside.
Shroyer's case is unique in that he had previously signed a deferred prosecution agreement in another case, connected to an incident in 2020 in which he interrupted a congressional hearing. As part of that deal, he had agreed not to utter "loud, threatening, or abusive language, or to engage in any disorderly or disruptive conduct, at any place upon the United States Capitol Grounds."