An Iowa judge on Monday temporarily blocked a new six-week abortion ban from remaining in effect.
Polk County District Judge Joseph Seidlin's order means the law — which Republican Gov. Kim Reynolds signed into law Friday — will remain on hold while the legal challenge plays out in the court system.
"The court will grant the temporary injunction requested here. In doing so, it recognizes that there are good, honorable and intelligent people — morally, politically and legally — on both sides of this upsetting societal and constitutional dilemma. Patience and perseverance are also hallmark traits on both sides, traits that continue to deserve respect," Seidlin wrote.
"The court believes it must follow current Iowa Supreme Court precedent and preserve the status quo ante while this litigation" moves forward, he added.
Reynolds signed the ban at a prominent political gathering hosted by an evangelical Christian group. She told attendees, including several Republican presidential candidates, that it represented "an ironclad commitment to the smallest and most vulnerable among us."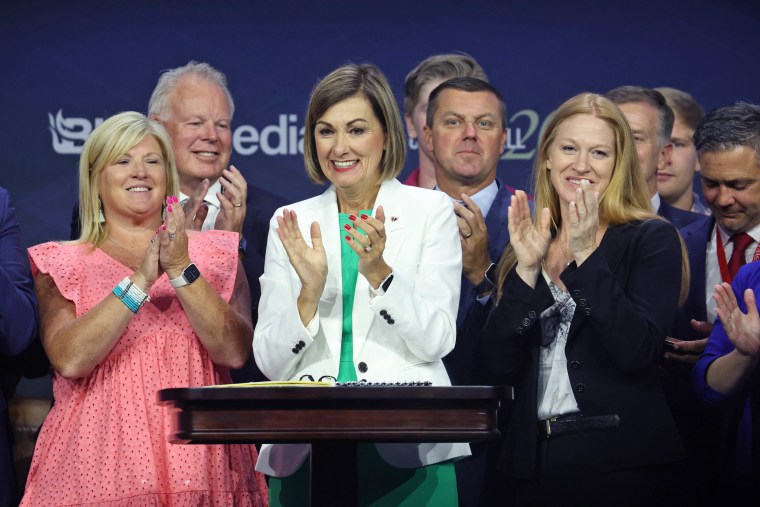 "The abortion industry's attempt to thwart the will of Iowans and the voices of their elected representatives continues today, but I will fight this all the way to the Iowa Supreme Court where we expect a decision that will finally provide justice for the unborn," Reynolds said in a statement Monday in response to the injunction.
The law went into effect the moment Reynolds signed the bill, but it was frozen by the temporary injunction Monday afternoon. With the law blocked for the time being, abortion restrictions in the state will revert to the previous law, which allowed abortion until the 20th week of pregnancy.
The state's Republican-controlled Legislature passed the new law last week during a marathon, 15-hour special session that Reynolds had called for the sole purpose of enacting what she called "pro-life legislation."
The new law includes exceptions for the life of the woman, miscarriages and fetal abnormalities deemed by physicians to be "incompatible with life," as well as for pregnancies resulting from rape and incest. For those exceptions to apply, a rape must have been reported to law enforcement or a "public or private health agency" — which includes a family doctor — within 45 days, and incest must have been reported to any of those officials or entities within 140 days.
Reproductive rights advocates have said a six-week ban amounts to a total ban because many women don't even know they are pregnant that early.
Planned Parenthood of the Heartland, the American Civil Liberties Union of Iowa and the Emma Goldman Clinic, a women's health care facility in Iowa City, sued to block the law from going into effect Wednesday — less than 12 hours after the Legislature passed it — arguing it violates the Iowa Constitution.
Reproductive rights groups had said that if the law went into effect immediately, it would send abortion clinics and patients in the state scrambling. Officials with Planned Parenthood said clinics in the state stayed open Thursday until 10 p.m. providing care in anticipation of Friday's signing.
In their challenge, they had asked Seidlin to block the law from going into effect at all.
At a hearing Friday that ran concurrent to Reynolds' signing ceremony, Seidlin said that their request "requires my strong and lengthy attention" and that he "could not think of anything that could be more insulting" than rapidly issuing a ruling on the challenge.
Reproductive rights groups welcomed Monday's ruling.
"Today's ruling means patients across Iowa will be able to access abortion care and retain control over their bodies and futures," Ruth Richardson, the president and CEO of Planned Parenthood North Central States, said in a statement. She added that the group "will continue to oppose this egregious, unconstitutional ban as it works its way through the courts."
The new law came just weeks after the state Supreme Court issued a split decision allowing an earlier six-week abortion ban — which was enacted in 2018 — to remain permanently blocked.
While the new one is almost identical to the six-week ban that remains blocked, the outcome of the challenge this time around could be different, because there will be a full state Supreme Court issuing a decision.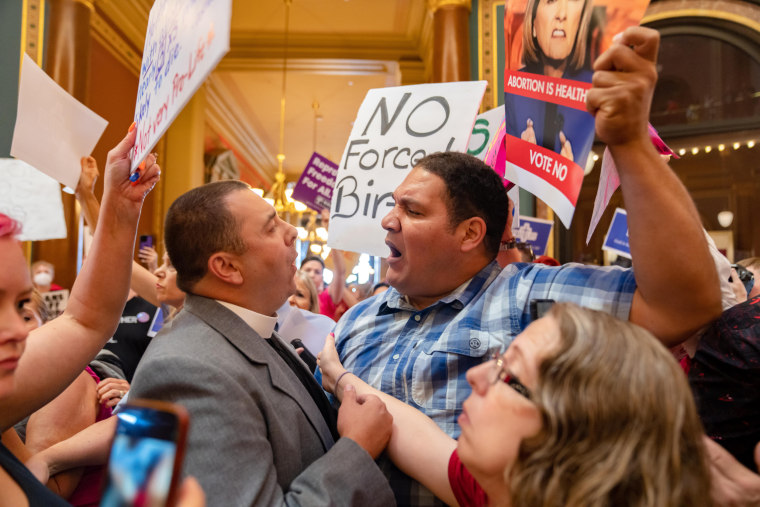 The state Supreme Court's split ruling last month was a narrowly tailored decision based largely on procedural grounds, meaning it remains possible — if not likely — that a full seven-member court could find legal consensus on a new ban.
One of the court's seven justices, Dana Oxley — a Reynolds appointee — recused herself from the challenge to the 2018 law because her former law firm represented an abortion clinic that was a plaintiff in the original case.
The split decision last month featured three justices suggesting they could support a legal standard — known as "rational basis" — that could allow a six-week abortion limit to stand in the future.
If Oxley were part of the next decision, a clear, legally binding majority on a six-week ban would most likely result.
On the other hand, in their challenge to the latest law filed last week, reproductive rights groups argued that a higher standard — called the "undue burden" standard — remains applied by judges.
While that standard was struck down on the national level in the U.S. Supreme Court's Dobbs ruling last year, which overturned Roe v. Wade, it still remains in effect in Iowa.