The Biden administration will send active-duty troops to the southern border as it braces for what is expected to be a surge in migration after Covid restrictions are lifted next week.
At the request of the Department of Homeland Security, the Defense Department is expected to temporarily add 1,500 military personnel for 90 days to augment the 2,500 military personnel currently providing support at the border, DHS said in a statement. The troops would be active-duty, not National Guard, and they would not be armed. They would not use force or make arrests, but they would support border patrol as needed, in compliance with the Posse Comitatus Act, which prevents the military from enforcing law within U.S. borders.
Follow along for live updates on the end of Title 42
"DoD personnel will be performing non-law enforcement duties such as ground based detection and monitoring, data entry, and warehouse support," DHS said. "DoD personnel have never, and will not, perform law enforcement activities or interact with migrants or other individuals in DHS custody. This support will free up DHS law enforcement personnel to perform their critical law enforcement missions."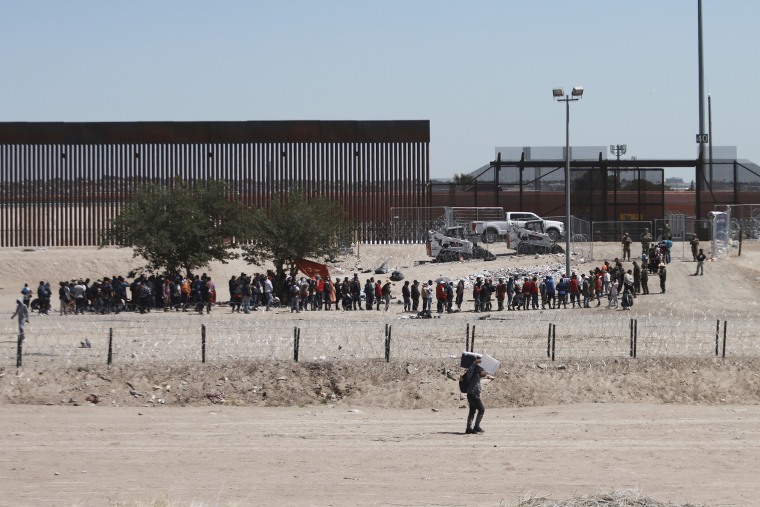 The Pentagon press secretary, Air Force Brig. Gen Pat Ryder, confirmed the request and provided more details.
"Right now I think we'll see these troops arrive as early as May 10th and then in the coming weeks," Ryder said.
"In terms of the specific units, these forces will come from the Army and the U.S. Marine Corps," he added.
DHS added that U.S. Customs and Border Protection is "investing in technology and personnel to reduce its need for DoD support in coming years," and said that it continues to call on Congress to support its efforts.
"While this request is for 90 days, DoD has supported DHS on the border every year since 2006," DHS said.
More than 5,000 troops were sent to the border during the Trump administration.
Covid restrictions, known as Title 42, are set to end May 11, prompting the administration and its border officials to brace for a surge in migrants when they are lifted. Federal immigration authorities said last month that local officials are already short on the money and space needed to handle migrants.
Fox News was first to report the administration was considering sending troops.
Sen. John Cornyn, R-Texas, the ranking member of the Judiciary subcommittee that works on immigration and border security policy, expressed skepticism when he was asked about the administration's expected move.
"They may help around the margins, but this is gonna get a lot worse before it gets better," Cornyn said.
The Border Patrol union has criticized Homeland Security Secretary Alejandro Mayorkas, alleging he has failed to address the surge of migrants along the border and demanding he be impeached.
Mayorkas called for congressional support to fix the "broken immigration system" ahead of the expected migrant surge in an interview Sunday on NBC News' "Meet the Press."
"So I just want to be clear that we are working within significant constraints," he said. "We need people, we need technology, we need facilities, we need transportation resources, all of the elements of addressing the needs of a large population of people arriving irregularly at our southern border."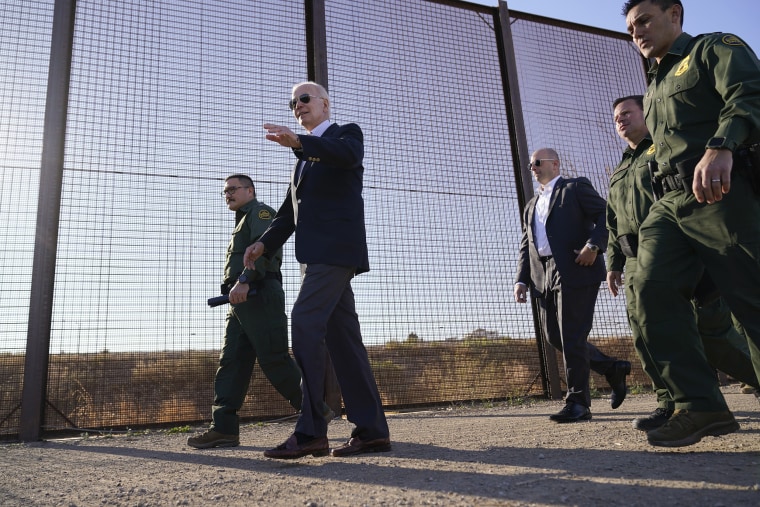 Mayorkas also said he aims to draw support from Congress to help agents along the border: "I look at their needs. I try to fulfill their needs. We go to Congress and seek support."
The acting commissioner of Customs and Border Protection, Troy Miller, told Congress last month that he expects about 10,000 migrants to cross the border daily when the ban ends, doubling the current flow.
Lifting Title 42 next week would mark the third time the Biden administration has sought to end the measure. The restrictions have blocked migrants from crossing into the U.S. to seek asylum more than 2.5 million times since they were put in place at the start of the pandemic.