President Joe Biden on Thursday visited parts of California recently hit by deadly storms and vowed to provide federal support for recovery efforts "until it's all fixed."
Biden surveyed Santa Clara and Santa Cruz counties along the state's central coast, where recent storms caused floods and landslides.
"While the situation is still treacherous, we're cautiously optimistic that the worst part is behind," Biden said at Seacliff State Beach after he toured affected areas. "To the people in California, the country is here for you and with you, we are not leaving until things are built back and built back better than they were before."
He also highlighted the harmful effects of climate change and promised his administration would invest in stronger infrastructure that is "more resilient" to extreme weather and disasters.
Earlier Thursday, Biden was joined on Marine One by Democratic Gov. Gavin Newsom, Sen. Alex Padilla, D-Calif., and Deanne Criswell, the head of the Federal Emergency Management Agency, along with others, for an aerial tour of affected areas.
He later spoke with Democratic Reps. Zoe Lofgren and Jimmy Panetta of California and Watsonville Mayor Eduardo Montesino, and he met with business owners and residents in Capitola who were affected by the storms.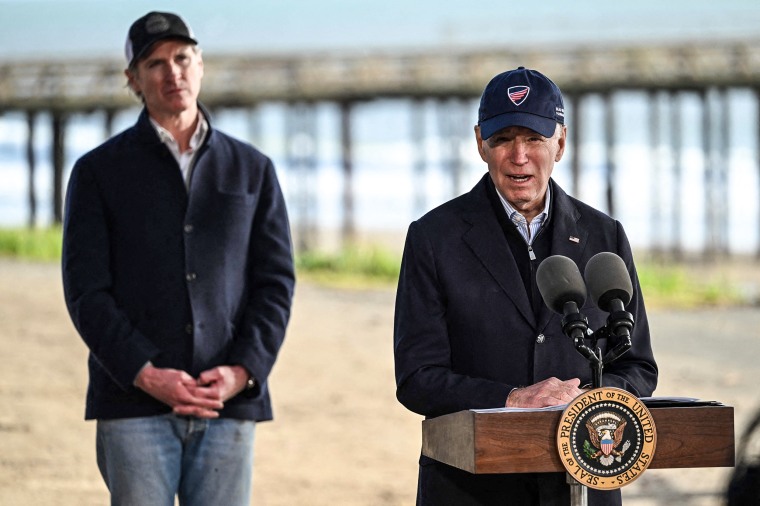 White House press secretary Karine Jean-Pierre told reporters Wednesday that Biden has been closely monitoring the situation in California in recent weeks and is regularly briefed by his homeland security team. He has remained in contact with Newsom and local officials.
The White House announced Saturday that Biden approved a disaster declaration for California focusing federal aid on three hard-hit counties: Merced, Sacramento and Santa Cruz. The declaration provides federal support for debris removal, emergency protective measures and individual assistance for homes that have been damaged by the storms. More than 500 FEMA and other federal personnel have been deployed to aid the response and recovery operations, Jean-Pierre said.
California has been battered by a series of storms since late December, killing at least 21 people, according to an NBC News tally.
After his remarks at Seacliff State Beach, Biden took a question from reporters about the classified records found at his home in Wilmington, Delaware, and an old office in Washington, D.C.
Asked whether he had any regrets for not having disclosed in November that the documents had been found, Biden defended how he and his attorneys have handled the debacle.
"We immediately turned them over to the Archives and the Justice Department. We're fully cooperating and looking forward to getting this resolved quickly," Biden said.
"I have no regrets on following what the lawyers have told me they want me to do. It's exactly what we're doing. There's no there there," he said.