President Joe Biden and first lady Jill Biden traveled to Maui, Hawaii, on Monday to meet with residents affected by the wildfires this month, the deadliest in modern U.S. history.
The president toured Lahaina, surveying the charred town where 850 people are believed to still be missing. He promised that the federal government would do all it can to help with the recovery.
"The country grieves with you, stands with you and will do everything possible to help you recover, rebuild and respect culture and traditions," Biden said in detailing search-and-rescue efforts that he said involved 450 search-and-rescue experts "working around the clock."
He also referred to what he described as a more than 100-year-old banyan tree that stood amid the wreckage nearby.
"Today it's burned, but it's still standing," Biden said. "Trees survive for a reason. I believe it's a powerful, a very powerful symbol, of what we can and will do to get through this crisis."
"The fire cannot reach its roots," he added later. "That's Maui. That's America."
Maui County Mayor Richard Bissen said overnight on Instagram and Facebook that at least 114 people died in the wildfires. Of the victims, 27 have been identified, with families of 11 of them notified. More than 1,285 people have been located safe, he said.
The Bidens landed around 5 p.m. ET and were greeted by Gov. Josh Green and Hawaii first lady Jaime Green, along with Democratic Sens. Brian Schatz and Mazie Hirono and Democratic Rep. Jill Tokuda. They visited during their weeklong vacation in the Lake Tahoe, Nevada, area.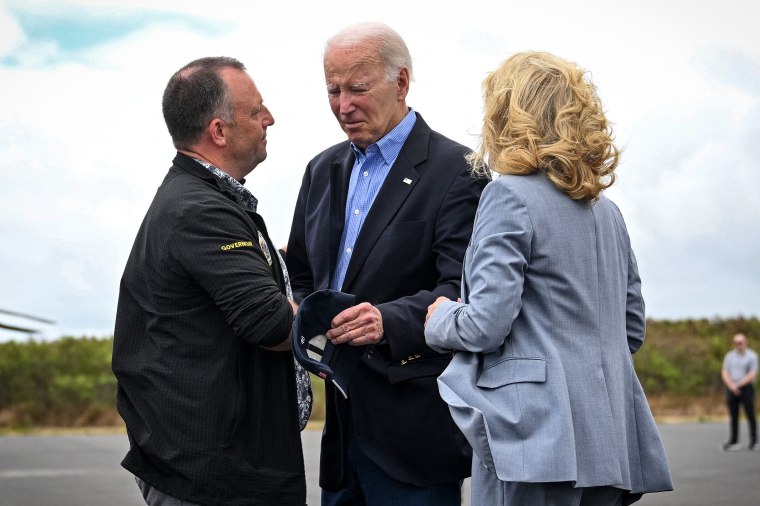 Before he spoke alongside lawmakers and the governor, Biden walked past blackened trees and crumbled facades. The Bidens later took part in a blessing ceremony with Lahaina elders and attended a community event.
In a statement ahead of his trip, Biden said: "I know how profoundly loss can impact a family and a community and I know nothing can replace the loss of life. I will do everything in my power to help Maui recover and rebuild from this tragedy. And throughout our efforts, we are focused on respecting sacred lands, cultures, and traditions."
Biden has been in close contact with the governor since the onset of fires and has received regular briefings from the administrator of the Federal Emergency Management Agency, Deanne Criswell, and homeland security adviser Liz Sherwood-Randall, the White House said in a release.
Biden signed a major disaster declaration for the state this month that made federal aid funding available to help Maui County residents recover.
As of Sunday, more than 1,000 federal personnel were on the ground assisting residents, including almost 450 search-and-rescue team members, the White House said. The administration has also approved more than $8 million in assistance to almost 2,500 households, including almost $3 million in initial rental assistance. FEMA has made more than 50,000 meals, 20,000 gallons of water, 5,000 cots and 10,000 blankets and other shelter supplies available to the county government for distribution, the release said.
Before Biden's visit, Republicans had criticized him for his silence on the devastating wildfires, although he addressed the wildfires during a speech in Salt Lake City this month. Biden also addressed the catastrophe in remarks in Milwaukee last week, saying of the timing of his trip that he hadn't wanted "to get in the way" of the response efforts.
White House press secretary Karine Jean-Pierre announced the Bidens' travel to Maui last week "to see firsthand the impacts of the wildfires and the devastating loss of life and land that has occurred on the island, as well as discuss the next steps in the recovery effort."
In addition to Green, Biden had been in contact with Criswell, Hirono and Schatz before the trip, the White House said.
In his remarks Monday, Biden said losing his infant daughter and his first wife in a car accident made him personally familiar with the feelings of grief faced by the local community.
"We're with you for as long as it takes, I promise you," he said.