President Joe Biden on Wednesday strongly condemned Russian President Vladimir Putin's move to suspend his country's involvement in the last remaining arms control treaty with the U.S.
Biden was asked about his reaction to Putin's pulling out of the New START nuclear treaty upon arriving at the Polish Presidential Palace in Warsaw ahead of a meeting with leaders of the so-called Bucharest Nine group of eastern European countries and NATO Secretary General Jens Stoltenberg.
"I don't have time," Biden said. Pressed again for his reaction, Biden said, "Big mistake."
Putin announced Tuesday that Moscow was suspending participation in New START, a key nuclear arms control treaty between the world's two largest nuclear powers, amid tensions between the U.S. and Russia one year into the war in Ukraine. The news came as a disturbing surprise to multiple former officials who negotiated the pact and nonproliferation experts committed to ending the expansion of nuclear forces, NBC News reported Tuesday. 
Putin said in his speech Tuesday that Russia would not be the first to use a nuclear weapon and accused the West of having started Russia's war with Ukraine. Russia has previously referred to its nuclear capabilities and threatened Ukraine's nuclear power plants with bombs and shells.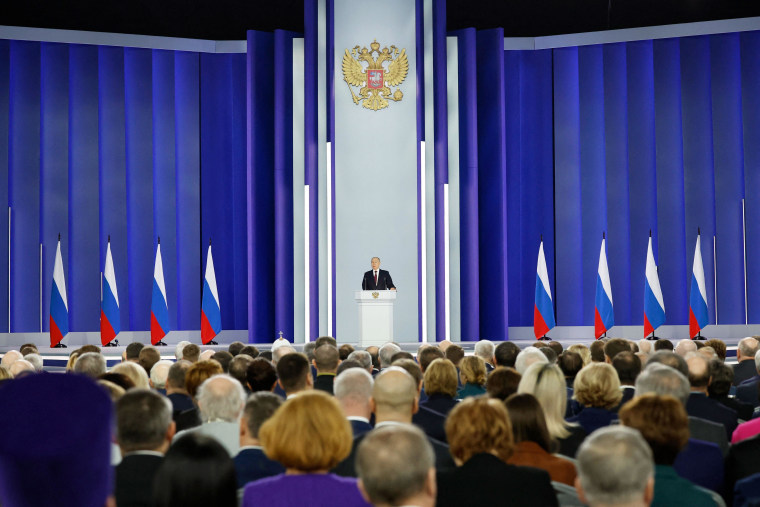 Biden assailed Putin in a speech in Warsaw on Tuesday after his surprise visit to Ukraine, marking a year since Russia's invasion. Biden said Putin had gravely underestimated Ukraine by assuming that it would swiftly crumble and that its democratic allies would disperse as Russian forces advanced. Biden said Putin has presided over a series of humiliating defeats since the start of the invasion.
"One year ago, the world was bracing for the fall of Kyiv," Biden told an audience of thousands gathered outside the Royal Castle. "Well, I've just come from a visit to Kyiv, and I can report Kyiv stands strong. Kyiv stands proud. It stands tall. And most important, it stands free.
"When President Putin ordered his tanks to roll into Ukraine, he thought we would roll over," he added. "He was wrong! The Ukrainian people are too brave. America, Europe, a coalition of nations from the Atlantic to the Pacific — we were too unified. Democracy was too strong. Instead of an easy victory he perceived and predicted, Putin left with burned-out tanks and Russian forces in disarray."
Biden, however, did not address Putin's decision to "suspend" the New START treaty in the speech, which was filled with triumphant messaging.
Within his first month in office, Biden reached an agreement with Putin to extend New START for five years. (It had been set to expire in February 2021, after the Trump administration failed to hammer out an agreement.) Just last year, the U.S. and Russia committed to create a new agreement "to achieve deeper, irreversible, and verifiable reductions in their nuclear arsenals," according to a joint statement.