WASHINGTON — President Joe Biden has made it clear to his closest aides in no uncertain terms that he not only will reject any political advice that he try to limit his son Hunter's public visibility but that he also doesn't want to hear such suggestions, according to three people familiar with the discussions.
His message, as one of the sources described it, was: "Hands off my family."
The blunt directive helps explain why in recent months the father-and-son public appearances seem to have increased in tandem with intensified scrutiny of Hunter Biden's legal troubles.
But the public displays of parental support, to the dismay of some Democrats, aren't just about a loving father or a stubborn president's defiance. For Biden, keeping his son — a recovering drug addict — close means keeping him safe, people close to the president say. Behind the Hunter Biden photo-ops and the state dinner invitations, they say, is an existential concern that weighs on the president daily: If he loosens his grip on his son, who or what will replace it — and to what end?
"It's consumed him," a person close to the president said.
For months as Hunter Biden's legal woes persisted and he prepared to mount a public defense against Republican attacks after several years largely staying silent, Biden's closest political and legal advisers have had to balance their instincts to protect their boss with his parental desire to protect his son, according to the people familiar with the dynamic. That has resulted in tensions between legal teams for the president and Hunter Biden and very delicate attempts by the president's advisers to explain to him how his son's elevated public profile may not be in his best interest when it comes to political goals — specifically winning re-election in what could be a rematch of the 2020 race against Donald Trump, these people said.
Some of Biden's most senior aides have tried in the past to discuss the various potential dynamics with the president where his son is concerned, people familiar with the discussions said. But the president's responses to those sorts of entreaties have run from defensive to outright angry, these sources said, and he resents that anyone would suggest that he distance himself from his son because of what he views as unfair and outrageous GOP attacks.
Those close to the president have given up trying, even in the most gingerly of ways, to explain to him the potential political fallout, accepting that he and the first lady's family-first approach to public office won't change. 
"This is the reality of their family ethos," a person close to the president said.
Another summed up the mood of the president's aides when it comes to political concerns about Hunter Biden as "it is what it is, and we're dealing with it."
White House spokesman Ian Sams said in a statement that "the President and First Lady love their son and support him as he continues to rebuild his life."
In recent weeks, Hunter Biden has appeared alongside his father regularly, including accompanying him to and from the presidential retreat at Camp David, Maryland, last weekend on Marine One.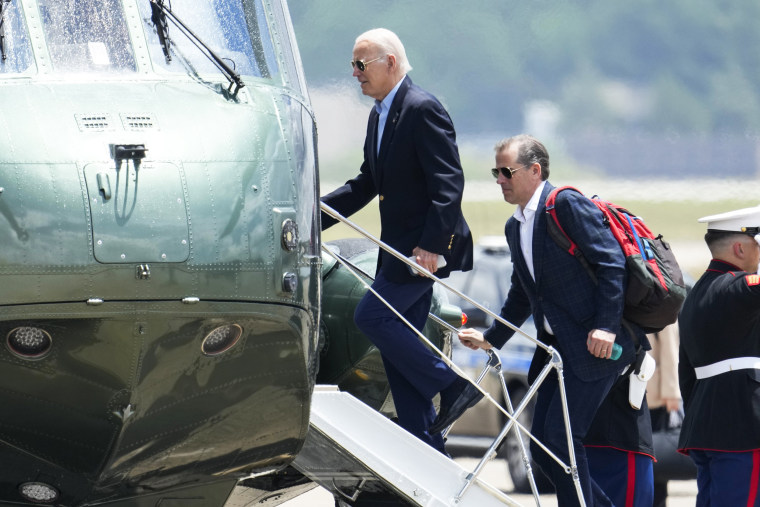 The younger Biden, 53, is often a fixture by his father's side at family-focused events, like the White House Easter Egg Roll. But he has also accompanied the president on official government trips, such as when Biden went to Ireland in April.
The White House says Hunter Biden paid his own way to Ireland, consistent with practices in previous administrations when family members accompanied the president for foreign travel.
And, most notably, Hunter Biden was a guest at a White House state dinner for the leader of India just two days after the public learned of a plea agreement he reached with the Justice Department over tax evasion and gun charges. Hunter Biden and Attorney General Merrick Garland were among the 400 guests at the dinner as Republicans accused the president's son of having gotten a "sweetheart" plea deal. Some Democrats privately cringed at the decision.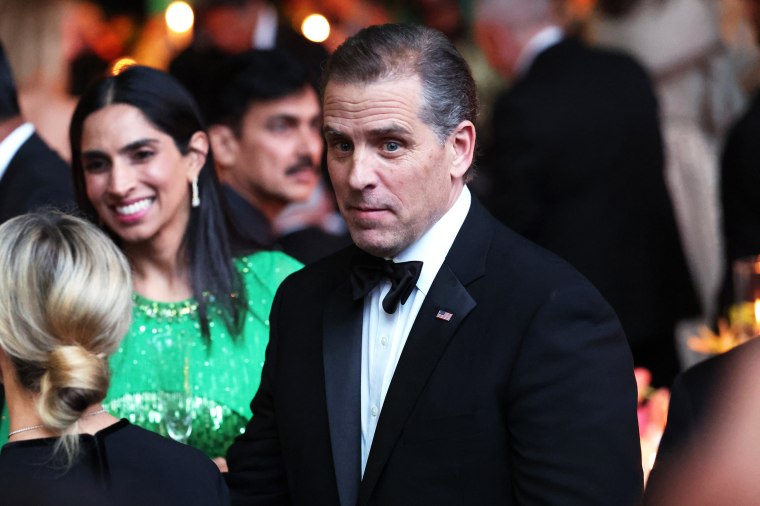 A Democratic member of Congress, who didn't want to be named criticizing the White House, urged the president to consider the "optics" in the wake of GOP allegations that his son got preferential treatment in the Justice Department's investigation.
"He's a loving a father whose son has had a real drug problem, and he's got to use some common sense," the lawmaker said. "He's got to become more sensitive to the optics. He's up for re-election." 
Others defended Biden for having invited his son to the state dinner.
"He's the president's son," said Rep. Ro Khanna, D-Calif. "It's normal for the president to invite family members to one of the biggest events in his presidency."
Rep. James Clyburn, D-S.C., a close ally of the president, said it was "absolutely not" a mistake for Biden to have invited his son to the state dinner.
"It may be a problem for some people, but for me it was not a problem," Clyburn said on NBC's "Meet the Press Now." "It was him being a dad."
It wasn't a question for the president and the first lady that Hunter Biden would be invited to the state dinner last week, because he's family, people familiar with the matter said.
As for whether Hunter Biden could decide to step back from the spotlight or decline state dinner invitations, a longtime associate of the president said, "He's doing this with a father who is deeply afraid, as he should be, of what happens to many people struggling with addiction, as any father of any person who has struggled with addiction would be, about relapse."
The president and White House officials have chosen not to comment on the federal case against Hunter Biden or push back against Republican accusations that he got special treatment from the Justice Department. But White House officials quietly solicited help from outside allies to deliver messages about the plea deal, specifically to counter the GOP criticism that he got off easy because of who his father is.
"There is a sentiment that Hunter should basically not be talked about and that he's a liability," said a person familiar with the White House dynamics involving the president's son. "And there's another view from those closer into the Biden family that a vigorous defense is necessary, and they welcome that coming from the outside."
Politically, Biden's view is that Americans will find his relationship with his son relatable from a family perspective and that sticking by someone in recovery is just as important as the recovery itself, people close to the president said. The president also views Hunter Biden's expected guilty plea to tax evasion and gun charges as his son's taking responsibility for his actions, they said.
A White House official pointed, unprompted, to a Reuters/Ipsos poll last week that found that 60% of Americans believe Biden is being a good father by supporting his son as he navigates legal troubles.
But the poll also found that half of respondents believe Hunter Biden is receiving favorable treatment from the Justice Department because he's the president's son. And 58% said his plea deal won't have any impact on the likelihood of their voting for his father in the 2024 presidential election.
John McLaughlin, one of Trump's pollsters, said the former president's 2024 campaign plans to continue focusing on Hunter Biden and his business dealings.
"I can tell you the Trump campaign is going to keep pressing the Biden corruption issue," McLaughlin said. "It's our job to get that out there."