Lawyers for Hunter Biden sent letters Wednesday requesting investigations into allies of former President Donald Trump who they say trafficked in stolen information from his laptop — a dramatic shift in strategy for the president's son after years of GOP attacks.
Among the letters, which were obtained by NBC News, was one sent Wednesday asking the Justice Department's National Security Division for an investigation into "individuals for whom there is considerable reason to believe violated various federal laws in accessing, copying, manipulating, and/or disseminating Mr. Biden's personal computer data," including Rudy Giuliani, who was Trump's lawyer at the time.
Biden lawyers wrote a similar letter to the Delaware attorney general's office, requesting a probe into the same people, alleging they violated "various Delaware laws" in accessing Biden's information from what Trump has called "the laptop from hell."
The Justice Department declined to comment. A spokesperson for the Delaware attorney's general office did not immediately respond to a request for comment.
Information from the laptop has raised questions about Biden's finances, which have been separately under investigation by federal prosecutors in Delaware since 2018. It has also been the source of several salacious stories from conservative media outlets, many focused on his drug use.
Biden has largely kept a low profile during the years of stories — Trump would ask "Where's Hunter?" during campaign rallies in the 2020 election — but a person familiar with the first son's strategy said he has had enough.
"This marks a new approach by Hunter Biden and his team. He is not going to sit quietly by as questionable characters continue to violate his rights and media organizations peddling in lies try to defame him," the person said.
Giuliani has acknowledged having passed on a copy of the computer's hard drive to the New York Post shortly before the 2020 presidential election. The letters to investigators also recommend an investigation into John Paul Mac Isaac, who has said Biden abandoned the water-damaged laptop at his Wilmington, Delaware, computer repair store.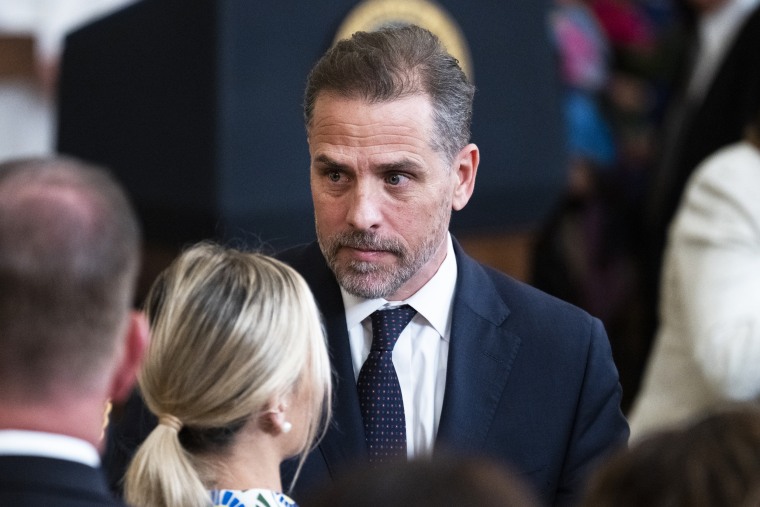 "Mr. Mac Isaac chose to work with President Donald Trump's personal lawyer to weaponize Mr. Biden's personal computer data against his father, Joseph R. Biden, by unlawfully causing the provision of Mr. Biden's personal data to the New York Post," the letter says.
It accused Mac Isaac and others of "theft of computer services" and Giuliani and others of "possession of stolen property."
A representative for Giuliani said in a statement to NBC News: "The work order is as clear as it can be. The laptop became abandoned property under John Mac Isaac's control. Raising concerns now, after so many years, indicates just how devastating the texts and videos from Hunter's laptop truly are."
Also singled out in the letters is former Trump adviser Steve Bannon, who claimed in September 2020 that he "possessed a copy of Mr. Biden's computer data." The letter says he and others "accessed the hard drive's contents at different points, without authorization from the owner."
Reached for comment Wednesday, Bannon responded in part, "I thought Biden told us it was all Russian disinformation."
While Biden has previously deflected comment about whether the various emails and pictures were legitimate, the letters seem to acknowledge that at least some are — but they said Biden is unsure of how much.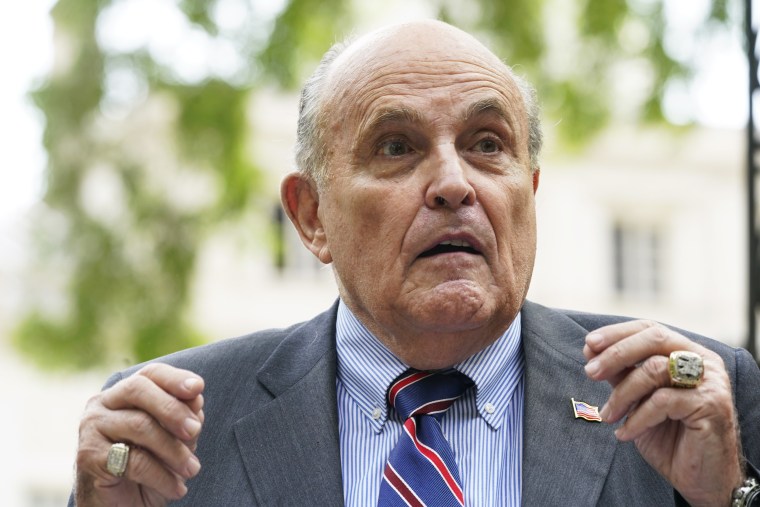 The letters say evaluating the data has been "exceedingly difficult because, for months, neither the New York Post 'nor its source for the material, President Donald Trump's attorney Rudy Giuliani, were willing to share' that data with the public."
"More recently, downstream recipients of what has been purported to be Mr. Biden's hard drive have reported anomalies in the data, suggesting manipulation of it," they say.
Hunter Biden attorney Abbe Lowell told NBC News on Wednesday night: "These letters do not confirm Mac Isaac's or others' versions of a so-called laptop. They address their conduct of seeking, manipulating and disseminating what they allege to be Mr. Biden's personal data, wherever they claim to have gotten it."
In another letter sent Wednesday, Lowell asked the IRS to review the tax-exempt status of Marco Polo, a charitable organization run by Garrett Ziegler, who Biden said uploaded the data he got from Giuliani to the organization's website.
The letter said the organization has "operated as little more than a thinly disguised political operation to attack the Biden administration and the Biden family," contrary to regulations that say such groups "may not participate in any campaign activity for or against political candidates."
In response to a request for comment, Ziegler provided a statement attributed to his organization that said "the letter to the IRS about Marco Polo is full of speculations and basic misunderstandings about the case law surrounding 501(c)(3) organizations. Hopefully, federal and state investigators will see this for what it is: a desperate attempt by Hunter and his family to get the attention off of their crimes."
The IRS did not immediately respond to a request for comment.
Biden's lawyers also sent a letter to Fox News host Tucker Carlson demanding a retraction of "false and defamatory statements made by Mr. Carlson on his show" about Biden.
The story falsely implied that Biden was involved in a "money laundering scheme to finance President Biden's lifestyle" by paying him $50,000 a month in rent. The story was quickly debunked, but Carlson never retracted it, the letter says.
The letter also puts Carlson and the network "on notice of potential litigation" and demands they preserve all documents relating to the story.
Fox News did not immediately respond to a request for comment.