President Joe Biden delivered his first joint address to Congress on Wednesday, outlining his vision for the country and speaking to what he sees as his administration's initial accomplishments as he approaches 100 days in office.
Biden told Congress that it must that "prove democracy still works" and that it "can deliver for the people," according to excerpts released by the White House before the speech.
The address, which lasted an hour and five minutes, was held in the House chamber and due to security concerns following the Jan. 6 Capitol attack and Covid-19 safety measures, only about 200 people were in attendance.
This live coverage has ended. For more politics coverage, head to NBCNews.com.
-'Help is here': 100 days of the Biden doctrine
-Timeline of President Biden's first days in office
Photo: A socially distanced standing ovation for the president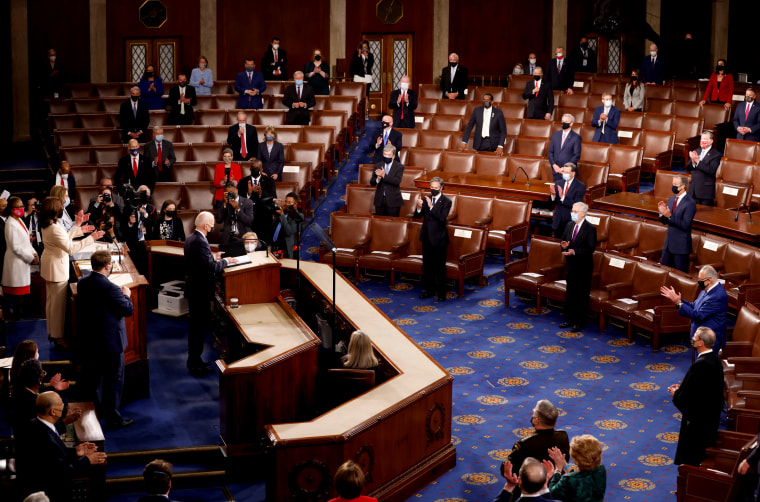 Biden announced by first Black House sergeant-at-arms
There are a number of historic firsts tonight, including Army Maj. Gen. William Walker's leading President Biden into the House Chamber and announcing his entry. 
He is the first Black House sergeant-at-arms. House Speaker Nancy Pelosi picked Walker, then the head of the Washington, D.C. National Guard, for the post in March, and he was officially sworn in this week. The change of leadership follows the deadly Jan. 6 Capitol riot, after which the heads of security in both the House and the Senate resigned, along with the chief of the Capitol Police. 
Photo: First lady and second gentleman from the upper level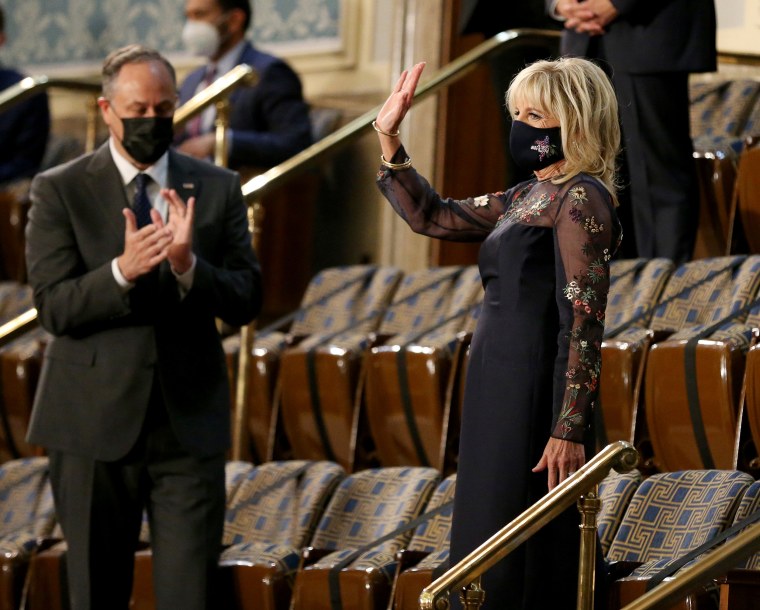 Who Biden gave fist bumps to on his walk through the House chamber
Biden entered the chamber just after 9 p.m. and gave a series of fist and elbow bumps to lawmakers, as well as a half-hug with Sen. Bernie Sanders, I-Vt.
Biden acknowledged a number of mask-clad lawmakers as he walked toward the podium. Recipients of fist bumps or other acknowledgments included Reps. Liz Cheney, R-Wyo., and Eric Swalwell, D-Calif.; Sen. Patrick Leahy, D-Vt.; Senate Majority Leader Chuck Schumer, D-N.Y.; and Chief Justice John Roberts.
Harris as she made her way through Rotunda
Biden arrives at the Capitol
The presidential motorcade departed from the South Lawn driveway at 8:30 p.m. and took a short trip up to the Capitol complex as Biden, approaching his 100th day in office, prepares to address the nation. 
This is the president's first trip to the Capitol since his inauguration and his first major address to the nation following the deadly Jan. 6 attack. He will preside over a historic moment with the first female vice president and the first female House Speaker. 
An elbow bump greeting as Harris takes her place next to Pelosi
Vice President Harris took her place next to House Speaker Pelosi in a historic moment before Biden arrives at the Capitol — and the pair greeted each other with an elbow bump
Harris led a group of Democratic lawmakers in the House, masked and wearing a pale yellow pantsuit.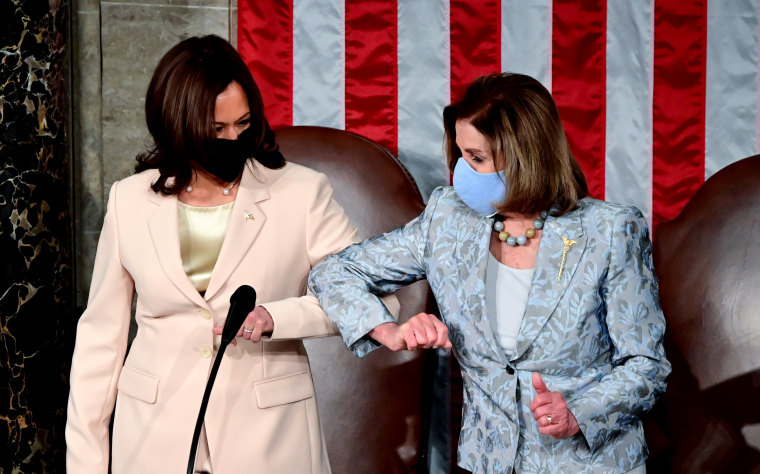 Photos: Social distancing limits crowd in House chamber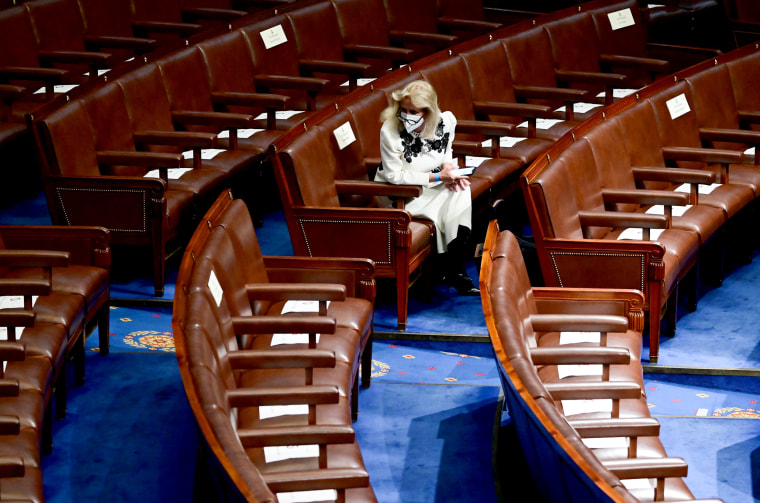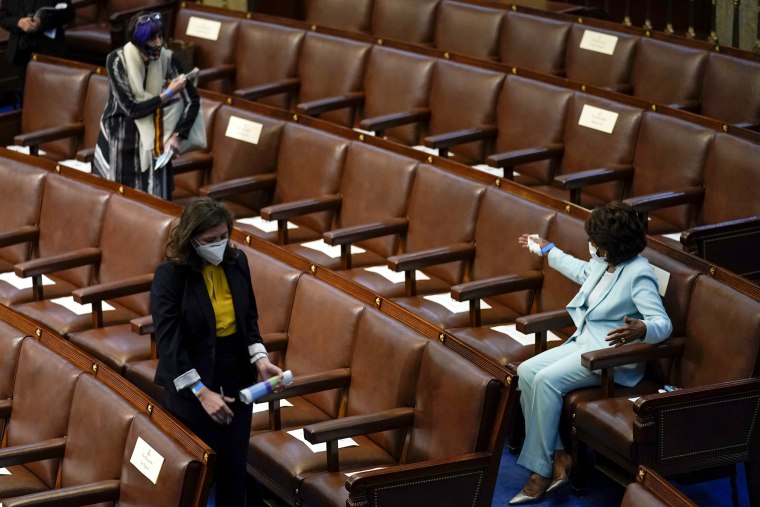 Cheney, McCarthy to sit near each other as the GOP leaders take different paths post-Jan. 6
Rep. Liz Cheney, R-Wyo., will be separated by seven seats from House Minority Leader Kevin McCarthy, R-Calif., tonight. It will be interesting to see how the two top Republicans — Cheney is the No. 3 in the conference — react to Biden's address.
McCarthy and Cheney have taken opposite paths in laying out the future of the GOP after the Jan. 6 attack at the Capitol. Cheney has wanted the party to put former President Donald Trump in the rearview mirror, while McCarthy has sought to remain close with him. 
When they are seated near each other, it will be easy to see whether they have any varying reactions to Biden's address — particularly if and when the president addresses the Capitol riot.
With the room much less filled than for a typical address, any individual reactions will be amplified.
Cruz calls it a 'privilege' to be attendance for speech, but still makes Biden basement crack
'Lost in the shuffle': Republicans battle around Biden — for now
Republicans have spent the past few months under President Joe Biden waging a campaign against "cancel culture" and locking horns with corporate America.
In state legislatures, GOP lawmakers have prioritized contentious bills to tighten voting access, crack down on protests, further limit abortion access and ban transgender athletes from school sports.
But in many of the battles the Republican Party has fought during Biden's early days in office, there's one person the GOP has largely ignored: Biden himself.
"It's not really a unified front against him," a Republican Senate aide said, adding that Republicans need to better link progressive policies and culture war issues that enthrall the GOP voter base to the president. "He sort of gets lost in the shuffle sometimes."
Click here to read the full story.
Biden to propose free community college. One GOP state already has a model program.
With Biden set to propose free community college, advocates for affordable higher education across the political spectrum are pushing a simple approach: Look to the states.
One state in particular — a Southern, reliably Republican one — has risen above the rest, lawmakers, education and policy think tanks said: Tennessee.
The Volunteer State's Tennessee Promise program, passed in 2014 by the GOP-controlled Legislature and signed into law by then-Gov. Bill Haslam, a Republican, offers two years of tuition-free community college or technical school to all high school graduates. An expansion of the program adopted in 2017, called Tennessee Reconnect, guaranteed two years of free community college or technical school to all adults in Tennessee who didn't already have degrees or credentials.
Click here for the full story.
A timeline of President Joe Biden's first 100 days in office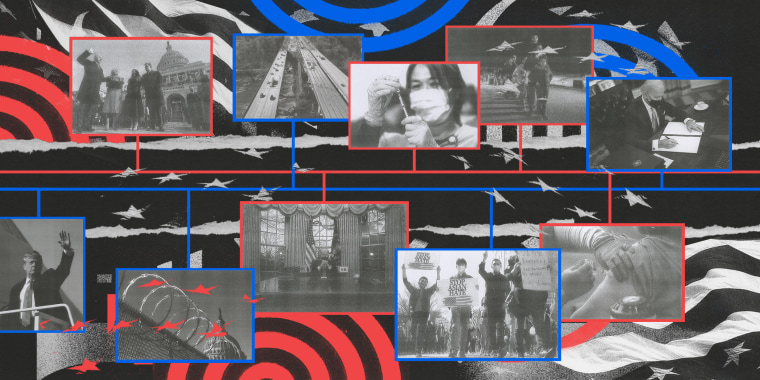 President Joe Biden took the oath of office more than three months ago during a pandemic after a violent attack on the U.S. Capitol and the second impeachment of his predecessor.
And in the nearly 100 days since then, the nation has witnessed the impeachment trial and an acquittal, multiple mass shootings, passage of Biden's $1.9 trillion Covid-19 relief package, milestones and presidential promises in the battle against the coronavirus, an influx of unaccompanied migrant children at the border, a U.S. airstrike in Syria, a guilty verdict in the trial over the death of George Floyd and one formal presidential news conference, as well as one in-person meeting with a foreign leader.
Read the full timeline of what has happened during Biden's presidency as he approaches 100 days in the Oval Office.
Just one Supreme Court justice will be there for the speech
The Supreme Court says only Chief Justice John Roberts will be in attendance when President Biden speaks.
The court says that because of the pandemic, the chief justice was the only member of the court who was invited and that he plans to attend.
Limited number of lawmakers to attend Biden's address
A limited number of lawmakers will be in the audience at Biden's first address to a joint session of Congress because of Covid-19 restrictions. 
A final determination of the number of attendees has not been made yet, but around 200 people total are likely to be in the House Chamber. For context, about 1,600 people are usually packed into the chamber for a joint session.
Both Senate Majority Leader Chuck Schumer, D-N.Y., and Minority Leader Mitch McConnell, R-Ky., plan to attend, according to their offices. The total number of House Democrats and Republicans attending has not been disclosed, but it is estimated to be 25 from each side, including House caucus chairs. Here's a list of senators indicating they will attend, according to an NBC News tally:
Democratic senators
Tammy Baldwin (Wisconsin), Michael Bennet (Colorado), Richard Blumenthal (Connecticut), Ben Cardin (Maryland), Tom Carper (Delaware), Bob Casey (Pennsylvania), Chris Coons (Delaware), Catherine Cortez Masto (Nevada), Dick Durbin (Illinois), Dianne Feinstein (California), Kirsten Gillibrand (New York), Maggie Hasan (New Hampshire), Martin Heinrich (New Mexico), John Hickenlooper (Colorado), Mazie Hirono (Hawaii), Amy Klobuchar (Minnesota), Patrick Leahy (Vermont), Joe Manchin (West Virginia), Ed Markey (Massachusetts), Bob Menendez (New Jersey), Jeff Merkley (Oregon), Jon Ossoff (Georgia), Alex Padilla (California), Jack Reed (Rhode Island), Jacky Rosen (Nevada), Bernie Sanders (Vermont), Jeanne Shaheen (New Hampshire), Tina Smith (Minnesota), Debbie Stabenow (Michigan), Chris Van Hollen (Maryland), Elizabeth Warren (Massachusetts) and Sheldon Whitehouse (Rhode Island). 
GOP senators 
John Barrasso (Wyoming), Marsha Blackburn (Tennessee), Roy Blunt (Missouri), Shelley Moore Capito (West Virginia), Ted Cruz (Texas), Joni Ernst (Iowa), Deb Fischer (Nebraska), Lindsey Graham (South Carolina), Bill Hagerty (Tennessee), John Hoeven (North Dakota), Cindy Hyde-Smith (Mississippi), John Kennedy (Louisiana), Roger Marshall (Kansas), Lisa Murkowski (Alaska), Rob Portman (Ohio), Jim Risch (Idaho), Mitt Romney (Utah), Rick Scott (Florida), Dan Sullivan (Alaska), John Thune (South Dakota), Tommy Tuberville (Alabama) and, likely, Todd Young (Alaska). 
Inside the Capitol ahead of Biden's speech, stark differences from past years
Heightened security and social distancing have caused Biden's address to look and feel very different. The event is normally attended by over 1,000 people — this year, just 200 will be in the chamber.
The chamber itself looks completely different from past years. Chairs that have white papers sitting on them are blocked because of Covid-19 restrictions.
Every seat where a guest will be has a printed placard on top of it to show the assigned seats.
Security screening at the Capitol is extraordinarily tight — even for members of the House. In the past, members of Congress haven't had to go through security screening to attend joint addresses or State of the Union speeches — although it's consistent with the new rules of the House, which post-Jan. 6 require magnetometer screenings before people go onto the House floor.
House members also have to provide proof of vaccinations or negative Covid-19 tests to attend. Again, this is very unusual in a building that typically gives every prerogative to members of Congress. (NBC News has not yet been able to confirm whether senators are also being subjected to health and security screening; most members of the Senate have been vaccinated.) 
Staffers and security personnel are lined up waiting to go through health screening; members are being screened at different locations. The goal is to prevent crowding around the House floor.
Under normal circumstances, 1,600 people are in the chamber, and the hallways after the speech are packed. This year, just 200 people will be in the chamber. The Capitol itself feels like a ghost town in comparison to past addresses, although there are more people inside here than I think I've seen since the pandemic started.
Major focus of speech will be on racial justice
Even as most of the White House discussion this week has been about Biden's economic agenda, officials said viewers should expect racial justice, and specifically police reform, to be front and center.
Biden's first 100 days have been dominated by his administration's response to the coronavirus, which was also the primary focus of his campaign last year. But closely behind that was what he has said is a national reckoning over racial justice, and officials said he will discuss the moment that animated so much of that movement less than a year ago: the murder of George Floyd.
The connection Biden made with the Floyd family will be the centerpiece of that part of his speech, with Biden invoking the words of Floyd's daughter when he met her last summer: "Daddy changed the world." And he plans to make what an official said would be an "effusive push" for the legislation that bears Floyd's name, hoping to add momentum to bipartisan negotiations to push the House-passed bill through the Senate.
Click here for more on what to watch for in tonight's address. 
What to watch for in Biden's first address to Congress
When President Joe Biden marks his 99th day in office by giving his first address to a joint session of Congress on Wednesday, he will lay out his goals for his next 100 days and beyond in front of a socially distanced chamber that will look starkly different from the one that greeted his predecessors.
And few know the night's usual scene better than Biden. After six full Senate terms and two as vice president, it's possible that no president has addressed Congress with more experience as a member of the audience: It has been 47 years since he sat in the House chamber for his first State of the Union address, listening to President Richard Nixon tell lawmakers, "One year of Watergate is enough."
Biden is expected to stick with the message he has been hammering away at for more than a year, focusing on vaccinations, infrastructure and child care — topics that have polled well with both Republicans and Democrats.
Click here for the full story.
In GOP response to Biden, Tim Scott to credit Trump for receding pandemic
Sen. Tim Scott, R-S.C., will tout the pre-coronavirus economy and credit the Trump administration for the pandemic's receding in the Republican Party's official response to his speech to Congress.
"This administration inherited a tide that had already turned. The coronavirus is on the run!" Scott will say, according to excerpts of his prepared speech. "Thanks to Operation Warp Speed and the Trump administration, our country is flooded with safe and effective vaccines."
Scott will say the pre-Covid-19 era was the "most inclusive economy in my lifetime," which he will attribute to Republican policies, including tax cuts and criminal justice reform.
"Our best future won't come from Washington schemes or socialist dreams. It will come from you — the American people," he will say, according to the excerpts.
McConnell: Curious to hear how Biden 'squares his rhetoric with the administration's actions'
Minority Leader Mitch McConnell, R-Ky., spoke on the Senate floor this morning ahead of President Biden's joint address to Congress tonight, saying, "I'll be curious to hear how the president tries to square his rhetoric with the administration's actions over the past 100 days."
McConnell hammered the administration over immigration to climate to troop withdrawal from Afghanistan. "Over a few short months, the Biden administration seems to have given up on selling actual unity in favor of catnip for their liberal base, covered with a hefty coat of false advertising."
"But it's not too late," McConnell stressed. "This White House can shake off its daydreams of a sweeping socialist legacy that will never happen in the United States. ... That is what the American people want."
White House releases speech excerpts; Biden will ask Congress to turn 'crisis into opportunity'
President Joe Biden will tell Congress on Wednesday night that it must that "prove democracy still works" and that it "can deliver for the people," according to excerpts released by the White House before the speech.
"Now — after just 100 days — I can report to the nation: America is on the move again. Turning peril into possibility. Crisis into opportunity. Setback into strength," he will say, according to the excerpts.
Biden will sell his $2.25 trillion infrastructure and jobs plan as one that would create "millions of jobs," predominantly for those without college degrees or associate's degrees. He'll call it "a blue-collar blueprint to build America."
Biden discusses whether democracy can work in 21st century
Biden sat down Wednesday with several representatives from the major news networks at a luncheon — a tradition in modern American politics — to discuss his speech and recap his first 100 days in office before his address to Congress tonight.
NBC News' Lester Holt attended the luncheon on behalf of the network. Much of the conversation was off the record, but on the record, the president said that he feels an urgency to shepherd America's recovery and that this moment in history will be written about as a crossroads. 
"About whether or not democracy can function in the 21st century. Not a joke. [Or] whether autocracy is the answer," he said, adding that Chinese President "Xi does not believe we can. That's what he's betting on."
He also said he didn't want his American Rescue Plan to fail. 
"I kept saying to the staff: 'We can't afford to lose out of the box. We cannot afford to lose this first effort. We got to make sure whatever we pick and what we do, we can't afford to lose,'" he said. 
Harris and Pelosi will be making history
The address will be the first time two women will be sitting behind the president for a formal speech to Congress: Vice President Kamala Harris and Speaker Nancy Pelosi.
It was just 14 years ago that Pelosi became the first woman to sit behind a president (George W. Bush) for an address to Congress.
Because of the pandemic, attendees will be required to wear masks, including Harris and Pelosi, per a source. 
Biden's first 100 days as consoler-in-chief
Joe Biden wanted a vacation. Instead, he got another funeral.
It was May of last year. Biden had recently secured the Democratic presidential nomination, and he wanted to take some time off the virtual campaign trail to coincide with the fifth anniversary of the death of his son Beau.
But then George Floyd was killed, the country exploded into a racial reckoning, and the man who has been dubbed "America's Grief Counselor," the "Emissary of Grief" and the "Designated Mourner" felt compelled, once again, to eulogize.
"Unlike most, you must grieve in public," Biden told Floyd's family at the funeral. "And it's a burden. A burden that is now your purpose."
Public grieving has been Biden's burden and purpose since he was first sworn into the Senate from a podium erected next to the hospital bed where his sons were convalescing from the car accident that had killed their mother and sister.
And it's the burden Biden now carries for the nation 100 days into being president of a country that has lost more than 570,000 people to a pandemic while martyrizing people like Floyd.
Click here for the full story. 
Biden to propose free preschool, community college in address to Congress
President Biden will announce a roughly $1.8 trillion plan to invest in universal preschool, free community college and expanded access to child care in his joint address to Congress on Wednesday night, the White House said.
The proposal, which the White House calls the American Families Plan, would also increase taxes on the wealthy to offset the cost over 15 years. It is the second phase of Biden's two-part push to reshape the economy, following the $2 trillion American Jobs Plan, which he announced last month..
The American Families Plan would provide universal preschool to all 3- and 4-year-olds, as well as two years of free community college. Both programs would be available regardless of income. The plan would also extend the expansion of the federal child tax credit in the American Rescue Plan through 2025 and permanently make the tax credit fully refundable.
Click here for the full story