President Joe Biden arrived in Colorado on Wednesday as part of a four-day trip that includes stops in California and Oregon as he looks to promote his domestic policy agenda less than four weeks before the midterm elections.
Shortly after arriving, Biden made his first national monument designation by signing a proclamation creating the Camp Hale Continental Divide National Monument, a move that extends long-term protections to the federal land. The area holds significance for Native Americans, including the the Ute tribes, and was home to a World War II Army facility where soldiers trained to withstand harsh mountain conditions in winter warfare.
"We're doing this not just for today but for all the ages," Biden said. "And it's for the people of Colorado, but it also goes well beyond the people of Colorado. It's for all the people across America in the world. It's a permanent, permanent decision and action that no future president can overturn."
Biden added that his administration will continue to extend similar protections to other areas through the $555 billion infrastructure law signed last year.
"We're investing billions of dollars to protect our iconic outdoors, preserve our historic sites, and addressing the devastating effects of climate change," he said.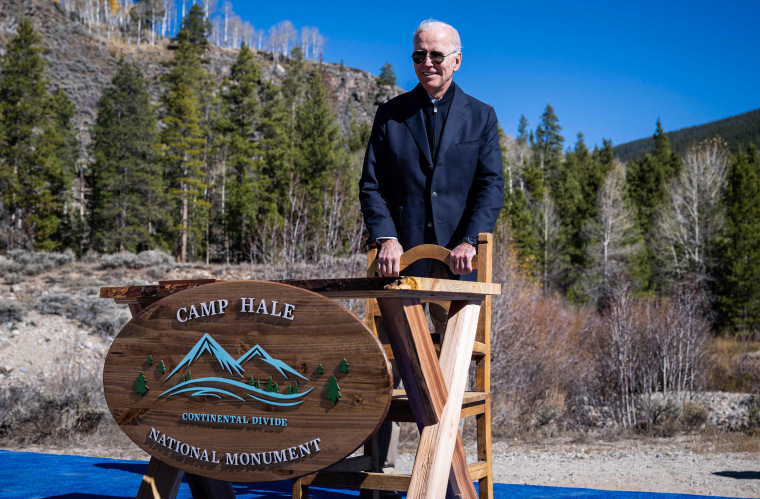 The White House has indicated Biden will be increasingly active on the campaign trail in the lead-up to the November midterm elections, where he aims to give fellow Democrats a boost and contrast his policies with those of Republicans.
Speaking at Wednesday's event with Biden was Democratic Sen. Michael Bennet, who will be on the ballot next month. Bennet leads his Republican rival by more than 7 percentage points, according to the RealClearPolitics polling average.
After Colorado, Biden is scheduled to travel to California before he ends the trip with two days in Oregon. He will participate in events "highlighting his efforts to lower prescription drug costs, protect Medicare and strengthen Social Security and to fight efforts by congressional Republicans to put Medicare and Social Security on the chopping block," said White House press secretary Karine Jean-Pierre.
While Democrats face a competitive governor's race in Oregon, the statewide and congressional races in Colorado and California have not drawn nearly as much attention as those in neighboring Arizona and Nevada, where Senate races in each state could determine which party controls the chamber for the next two years.
The White House has not publicly detailed Biden's schedule for Oregon and California, a fundraising hot spot for Democrats.
Biden has been sharpening his midterm message by emphasizing legislative accomplishments, including the bipartisan infrastructure law, climate change initiatives and coming changes designed to lower prescription drug costs. He has also gone on the offensive against Republicans, arguing they have no plan to address inflation or climate change, and painting allies of former President Donald Trump as threats to democracy.
Biden's last trip out West was in June, when he was in California for the Summit of the Americas. On that trip, he also stopped in New Mexico to discuss preparations for the wildfire season.