In a major blow for the government, a federal judge approved former President Donald Trump's request for a special master to oversee all the evidence the FBI seized last month from his Mar-a-Lago estate and temporarily blocked parts of the Justice Department's investigation.
U.S. District Judge Aileen Cannon — a Trump appointee — said in her ruling Monday that the special master should be able to review the seized documents both to address questions of attorney-client privilege and to litigate claims of executive privilege.
Government employees screening the documents had set aside only ones that might have been protected by attorney-client privilege and argued that executive privilege was not at play here.
"In addition to being deprived of potentially significant personal documents, which alone creates a real harm, Plaintiff faces an unquantifiable potential harm by way of improper disclosure of sensitive information to the public," she wrote.
Trump had requested that a special master, a third-party attorney, review the material seized Aug. 8 to assess it for potential attorney-client or executive privilege issues.
Trump's attorneys argued in a recent court filing that "left unchecked, the DOJ will impugn, leak, and publicize selective aspects of their investigation with no recourse for [Trump] but to somehow trust the self-restraint of currently unchecked investigators."
The Justice Department had argued against the special master request, saying a special master "is unnecessary and would significantly harm important governmental interests, including national security interests." Justice Department spokesman Anthony Coley said in a statement Monday, "The United States is examining the opinion and will consider appropriate next steps in the ongoing litigation."
Cannon allowed a national security review of the records to continue but temporarily blocked the government from reviewing and using them for its "investigative purposes." She systematically rejected the Justice Department's arguments that Trump's special-master request was filed too late, that it was superfluous and that Trump had no right for review because he didn't own the documents in question that were seized.
Cannon did not immediately grant Trump's request to get back more of his property more quickly.
In a statement posted on his Truth Social website after the ruling, Trump attacked the Justice Department and the FBI as "totally corrupt."
Even in ruling largely for Trump, Cannon agreed with the government that there was no evidence of "callous disregard" for Trump's constitutional rights.
"With respect to the first factor, the Court agrees with the Government that, at least based on the record to date, there has not been a compelling showing of callous disregard for Plaintiff's constitutional rights," Cannon wrote.
Cannon also said she was mindful of the historic nature of the case.
"The Court takes into account the undeniably unprecedented nature of the search of a former President's residence," she wrote, also noting that Trump's "former position as President of the United States, the stigma associated with the subject seizure is in a league of its own."
"A future indictment, based to any degree on property that ought to be returned, would result in reputational harm of a decidedly different order of magnitude," she said.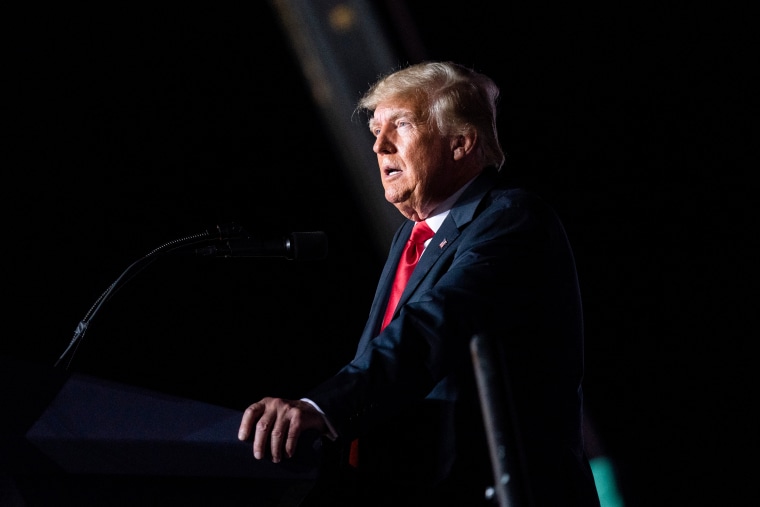 Cannon also faulted the way the Justice Department's filter team had examined the sensitive records, allowing them to be seen by a separate team of investigators.
The ruling "temporarily enjoins the Government from reviewing and using the seized materials for investigative purposes," Cannon wrote, noting that the national security review can continue.
Trump had more than 11,000 government documents at his estate in Palm Beach, Florida, when the FBI executed the search warrant Aug. 8, according to a detailed list of the seized property. The total number of pages of government documents bearing classified markings that were obtained from Mar-a-Lago in January, June and August — at bare minimum — is more than 900, although the actual number is much higher.
According to government records, federal investigators have seized or been given 60 documents marked "TOP SECRET," 162 labeled "SECRET" and 103 classified as "CONFIDENTIAL." In addition, Trump was found in possession of 48 empty folders with a "Classified Banner" and 42 more empty folders with the notation to "Return to staff secretary military aide."