A Senate panel hearing Tuesday to vote on Alabama Republican Sen. Jeff Sessions as U.S. attorney general was as much a fiery rebuke by Democrats of his nomination as it was of President Donald Trump's immigration-related executive order.
Top-ranking Democrats on the Senate Judiciary Committee began the hearing pushing back at Sessions' record — on civil rights, women's health care and his hard-line immigration stance — while questioning whether he can be nonpartisan while enforcing the nation's laws independent from what the White House would want.
Sessions, who was not in attendance at the hearing, was the first senator to endorse Trump's candidacy for president.
"I have no confidence that Sen. Sessions will do that," Sen. Dianne Feinstein, D-Calif., said of him remaining independent. "Instead, he has been the fiercest, the most dedicated, the most loyal [supporter] of the Trump agenda."
After the morning Judiciary panel hearing stretched into the afternoon, the expected party-line vote to approve Sessions was delayed by Democrats until Wednesday. It would clear the way for the full Senate to vote on the four-term senator to become head of the Department of Justice — a role thrown into sudden upheaval hours after the firing of the acting attorney general.
The Judiciary Committee's hearing lasted longer than usual as Republicans used their time to support Sessions as someone who believes in "equal justice for all," while Democratic members took shots against Trump's executive order widely criticized as a ban against Muslims.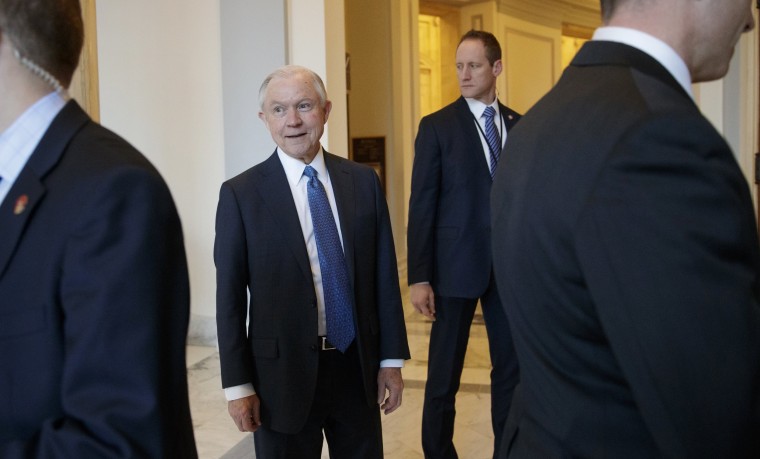 Feinstein had introduced two bills in the Senate to rescind Trump's immigration ban, although Republicans on Monday blocked them.
Feinstein labeled Sessions as a "staunch campaign partisan for the president" and said Trump's executive order "effectively bans one religion: the Muslim faith," which the White House claims is not its intention.
She had asked the attorney general nominee last week about his past involvement in writing executive orders on behalf of the White House.
Sessions in a written response Monday denied any part in crafting the executive order that bars certain refugees and people from entering the U.S. from seven Muslim-majority countries: "Neither I, nor any of my current staff, had such a role."
Related: Mother of Matthew Shepard Speaks Out Against Sessions Confirmation
Acting Attorney General Sally Yates was fired by Trump on Monday night after her refusal to direct the Justice Department to enforce the immigration ban. She was replaced by Dana Boente, the U.S. Attorney for the Eastern District of Virginia.
Sen. Patrick Leahy of Vermont, who is leading a vote to block Sessions, said at Tuesday's hearing that he spoke with Yates to thank her for her decades of service and upheld her as a "person of integrity."
Opposing Sessions, however, "has nothing to do with friendship with Sen. Sessions, somebody I have known. It has to do with whether he can be the independent person we need as attorney general for all of the country," Leahy said. "I have very serious doubts."
Sen. Dick Durbin, D-Ill., who ripped into Trump's "disgraceful" language on the campaign trail in reference to refugees, also questioned Sessions' influence on the president's immigration ban.
"You will come to realize what is at stake here: It is our reputation in the world," Durbin said. "And when President Donald Trump offers these executive orders authored by Sen. Sessions' former staffers, of course we have questions and we should."
Democrats also brought up Sessions' record on civil rights, which was a focal issue during his testimony at hearings earlier this month. He denied decades-old racism charges against him, including that he sympathized with the KKK. Those charges cost him a seat on the U.S. District Court for the Southern District of Alabama in 1986 after being nominated by President Ronald Reagan.
Related: Sessions Once Told Yates: You Have 'to Say No to President'
"These are damnably false charges," Sessions said this month.
At Tuesday's hearing before the vote, Sen. Lindsey Graham, R-S.C., defended Sessions against those who might oppose him chiefly because of his support of Trump.
"You can't lose the election and expect to have the government represent what you think we should be doing," said Graham, adding that he believes Sessions is an "honorable man."
Should his nomination clear the Judiciary panel and go before the full Senate, he would need a simple majority to approve him. Republicans control the majority of the Senate with 52 seats, which means Sessions is expected to easily win confirmation.