WASHINGTON — The widow of a police officer who died by suicide after he was assaulted during the Jan. 6 attack on the U.S. Capitol has been found eligible for a federal benefits program for the families of fallen officers.
Erin Smith, the widow of Jeffrey Smith, was instrumental in the passage of a renewed version of the Public Safety Officer Support Act that President Joe Biden signed into law last August.
The legislation made the families of officers who died by suicide eligible for the federal benefits that go to first responders, so long as their death is found to have been linked to their official duties and exposure to a traumatic event.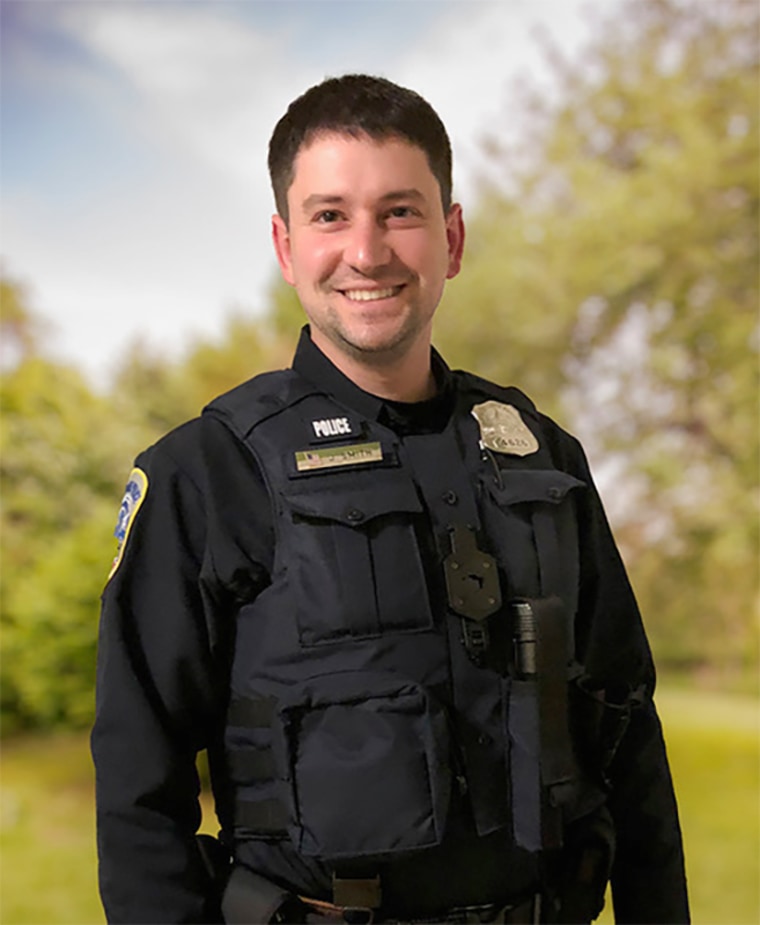 The Justice Department's Public Safety Officers' Benefit Office informed Smith's lawyer of the decision on Friday.
"It is an honor to inform you that the Public Safety Officers' Benefits (PSOB) Office has approved your claim for death benefits," Hope D. Janke, the director of the office, wrote in a letter to Erin Smith. "The entire PSOB Office staff extends our condolences to you and your family, and our gratitude for Officer Smith's public safety efforts and commitment to his community."
Erin Smith said that "Jeffrey's injuries clearly caused his death" and that she was proud that the work she did would mean that family members of officers who died by suicide would not go through what she did.
"When my husband died, I was denied the line of duty benefits that he deserved," she said in a statement to NBC News. "But I knew from the beginning that Jeffrey died in the line of duty from the injuries he suffered on January 6th."
Smith was standing at a pharmacy counter after her husband's death when she learned that the benefits she received through his employment had been discontinued. She said she "did not want any future widow, or widower, to ever go through" what she went through after her husband's death.
"I am pleased that on the one-year anniversary of the law's passage, Jeffrey's death has finally been ruled to be line of duty under federal law," she said. "We have fought so long to reach this point, first with the MPD, then with the Police and Firefighters' Retirement and Relief Board, and now with the United States government." Dr. David P. Weber, an attorney representing Smith, was also pleased with the outcome.
"The time has come to #smashthestigma surrounding law enforcement officer mental health, the scientific causation between brain injuries and suicide, and to acknowledge the silent injuries suffered by many heroes," Weber said in a statement. "It is time to remove the stigma suffered by Mrs. Smith and all the future widows and widowers who have lost their loved ones to their law enforcement duties. There can no longer be any serious debate that Police Officer Jeffrey Smith died in the line of duty."
Weber said they would now turn to fighting to make sure that Smith is inurned in Arlington National Cemetery, where Brian Sicknick, a U.S. Capitol Police officer who died hours after defending the Capitol on Jan. 6, was buried.
"Today, we know he died a hero, in the line of duty," Weber said. "But at the time, Mrs. Smith watched as other officers lay in state, while she mourned very much alone, with no support or acknowledgement from the nation or city."
Jeffrey Smith was involved in at least two altercations on Jan. 6, 2021. He had grappled with rioters as police tried to force them out of the building, and later that night, Smith was struck in the face by a flying metal pole outside the Capitol, according to a video.
David Walls-Kaufman, who admitted that he "scuffled" with officers and who placed his hands on Smith's baton inside the Capitol, was sentenced to two months in federal prison.
Taylor Taranto, who was sued by Erin Smith in connection with her husband's death, was arrested near former President Barack Obama's home in June and ordered detained. He was separately charged over weapons found in the van he drove to Obama's home.
The person who threw the flying metal pole that stuck Smith in the face has not yet been identified.
The D.C. Police and Firefighters' Retirement and Relief Board found in March of last year that Smith had died in the line of duty, ruling that he "sustained a personal injury on January 6, 2021, while performing his duties and that his injury was the sole and direct cause of his death."