WASHINGTON — A retired U.S. Capitol Police officer who told a Jan. 6 rioter to take down his posts about storming the Capitol was sentenced to 120 days of home incarceration Thursday. Michael Riley was found guilty in October of one of two counts of obstruction of justice. After the Capitol attack, he messaged Jan. 6 rioter Jacob Hiles, a boat captain he knew from Facebook, telling Hiles he was "a capitol police officer who agrees with your political stance" and saying Hiles should "Take down the part about being in the building they are correctly investigating and everyone who was in the building is going to be charged. Just looking out!"
Riley was convicted for deleting his messages with Hiles after he found out Hiles had been speaking with the FBI. The jury did not reach a verdict on whether Riley's initial messages to Hiles were unlawful.
His home incarceration will be served as part of a two-year period of probation.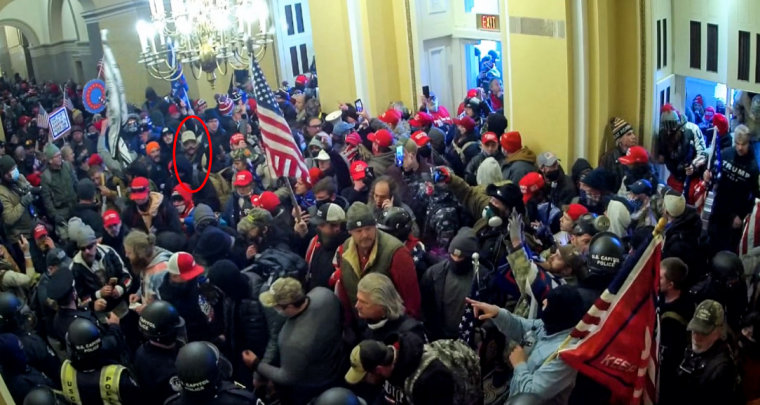 In court Thursday, Assistant U.S. Attorney Chris Howland said that Riley's actions were a "fundamental betrayal" of the defendant's oath and that Riley "didn't hold the line," like so many other officers had on Jan. 6, 2021.
"If anyone should have known the gravity of what happened on Jan. 6, it was the defendant," he said.
U.S. District Judge Amy Berman Jackson, who handed down Riley's sentence Thursday, said it was "shocking conduct for any member of law enforcement" and was even worse for someone who served at the Capitol on Jan. 6.
Riley apologized in court Thursday and said that he had lost a lot of friendships over his actions, which he said had had a severe impact on his family and his health.
"The burden is overwhelming," he said, adding that the actions of rioters on Jan. 6 have "no place in our society."
Riley said that what he did after the riot was "stupid and reckless" but that he "never thought I was breaking the law." He said he is remorseful for his actions every day.