WASHINGTON — Hours before jurors began deliberating the fate of five Proud Boys charged with seditious conspiracy in connection with the attack on the U.S. Capitol, the former head of the far-right organization said federal prosecutors were unfairly using "locker room" talk against Jan. 6 defendants, echoing a defense used by Donald Trump during the 2016 presidential campaign.
"What they were trying to do, what people are trying to do — and this is in general, again, I'm speaking in general — what they are trying to do is manipulate how we talk to each other in the locker room," Tarrio said, speaking Tuesday night from jail in a Twitter Spaces event hosted by the far-right website The Gateway Pundit. "It's not fair, it really isn't. ... It's just not right. It's not the justice system that we grew up in civics class learning about."
Tarrio said that sitting through the three-month trial has opened his eyes to the overreach of the criminal justice system. Tarrio — along with Joe Biggs, Ethan Nordean, Dominic Pezzola and Zachary Rehl — are facing nine counts, including the rare charge of seditious conspiracy for their actions on Jan. 6.
Tarrio was initially arrested on separate charges just before the Jan. 6 attack and spent the day at a hotel in Baltimore. Tarrio and the four other Proud Boys were indicted on seditious conspiracy charges in 2022, and a member of the organization who testified during the trial — Jeremy Bertino — pleaded guilty to seditious conspiracy in October 2022.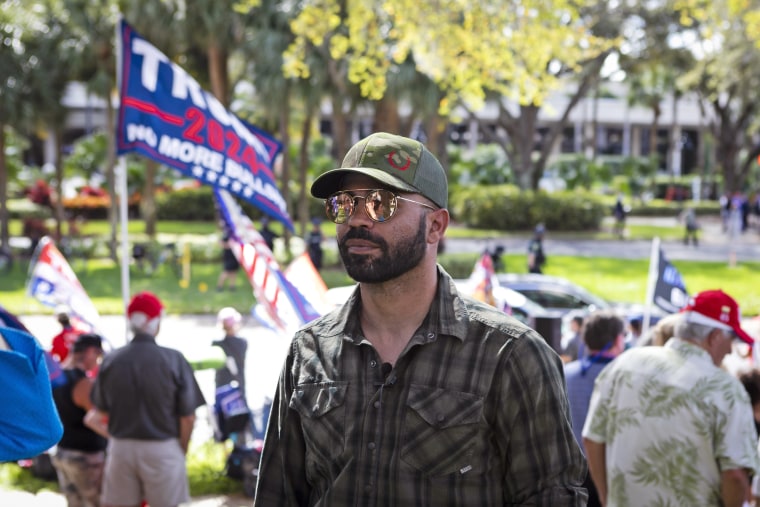 Tarrio said Tuesday night he believes the Justice Department has been "weaponized" against Jan. 6 defendants, and that the criminal conspiracy charges against some Jan. 6 defendants were overreach.
"I'm going to be dead honest: If you walked in the building, you know, I agree, maybe you should get hit with trespass. If you assaulted a police officer, fine, get hit with assault on a police officer. If you broke something, if you stole something, get charged that way," Tarrio said. "What we're seeing here with a lot of these cases is they're overcharging these cases, they want to give multiple years, decades, in some of these cases."
During closing arguments on Tuesday, Tarrio's attorney placed blame for the attack on Trump, while federal prosecutors told jurors on Monday that the Proud Boys wanted to serve as Trump's "army" and were "thirsting for violence and organizing for action" ahead of the attack.
Asked by NBC News whether he agreed with his defense attorney in blaming Trump for Jan. 6, Tarrio demurred, saying he didn't want to discuss trial strategy, but said you could "take my attorneys for what they said."
Tarrio said he would not be able to answer some questions on Tuesday night because the trial was ongoing, and said he believed the jury could be "very fair." He said that the Proud Boys were incarcerated "not because of the actions that we've taken, but the words that we've spoken."
Tarrio said the Proud Boys were "standing on principle, and we haven't given up on each other, and we're not going to give up on each other, ever." He said he hoped Rep. Jim Jordan, R-Ohio, who is leading a House committee on the "weaponization" of the federal government that has targeted the Justice Department, would call upon Jan. 6 defendants to testify about their experiences.
Tarrio said he ultimately didn't testify in the trial because his defense team was worried about the prosecution using his past words against him.
"Anything that I said, you know, ranging from 2015, 2016, 2017 is fair game, and it has nothing to do with Jan. 6," Tarrio said. "We were afraid that they were going to use statements, old statements, and just try to muddy up the waters."
Tarrio said the biggest surprise to him over the course of the trial was seeing how the criminal justice system works, as well as how much the government was able to argue on rebuttal, the last word jurors heard before beginning deliberations.
"I think a lot of Americans don't know how court proceedings work, and I'll be honest with you, I was one of those people," Tarrio said.
Despite spending more than a year in pre-trial detention because of Jan. 6, Tarrio said he still supports the former president and wants him to be president again.
"I hope it's Donald Trump," Tarrio said.
Tarrio said he is hoping for a position in the Trump administration: Justice Department inspector general.