FBI agents on Tuesday swarmed the home of Russian oligarch Oleg Deripaska in Washington, D.C., an agency spokesperson confirmed to NBC News.
The reason for their presence wasn't immediately clear. The spokesperson said the agency is conducting "law enforcement activity at the home" but wouldn't elaborate.
The investigation is being led by federal investigators in New York City, according to two officials briefed on the matter.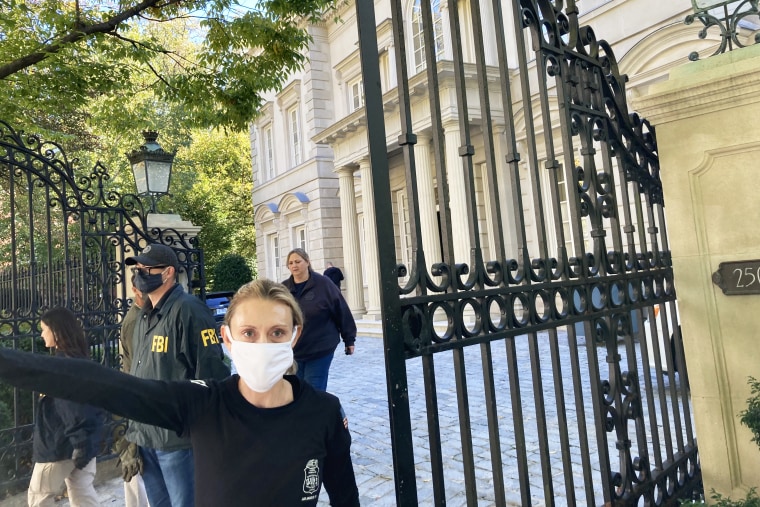 A spokeswoman for Deripaska, a billionaire oil tycoon who was placed under U.S. sanctions three years ago, said the FBI also searched a home in New York City. She said both properties belong to Deripaska's relatives.
"The searches are being carried out on the basis of two court orders, connected to U.S. sanctions," the spokeswoman said. "The houses do not belong to Mr Deripaska."
Lawyers for Deripaska did not immediately return requests for comment. Asked about the spokeswoman's claim that the investigation is tied to sanctions, the FBI spokesperson declined to comment.
The 11,000-square-foot home sits on one of the most exclusive blocks in Washington.
Next-door neighbor George Conway, the husband of former President Donald Trump senior counselor Kellyanne Conway, walked over to the house Tuesday afternoon to snap a photo of the law enforcement activity. Conway said he has never seen Deripaska at the home.
Deripaska, who is a longtime associate of former Trump campaign chairman Paul Manafort, was among two dozen Russian oligarchs and officials who were sanctioned by the Treasury Department in April 2018.
A news release announcing the sanctions said Deripaska has been investigated for money laundering and accused of "threatening the lives of business rivals, illegally wiretapping a government official, and taking part in extortion and racketeering."
He sued the U.S. over the sanctions, but a federal court judge dismissed the case in June. Deripaska has appealed the ruling.
NBC News reported in January 2018 that the Russian tycoon had been repeatedly denied a visa to enter the United States over his alleged ties to organized crime.