WASHINGTON — The now-husband of a Jan. 6 defendant who was identified by her ex after the FBI posted viral images of her wearing a pink beret during the Capitol attack has also been charged with federal crimes.
Spencer Geller, the husband of "Pink Beret," now identified by the FBI as Jennifer Inzunza Vargas Geller, faces a felony count of obstructing, impeding or interfering with officers during civil disorder, along with misdemeanor charges. The couple were in Washington, D.C., on Jan. 6, 2021, and split up once they got to the Capitol. Vargas Geller ended up inside, while Geller, her husband, remained outside and was at the location of some of the most violent scenes of the day.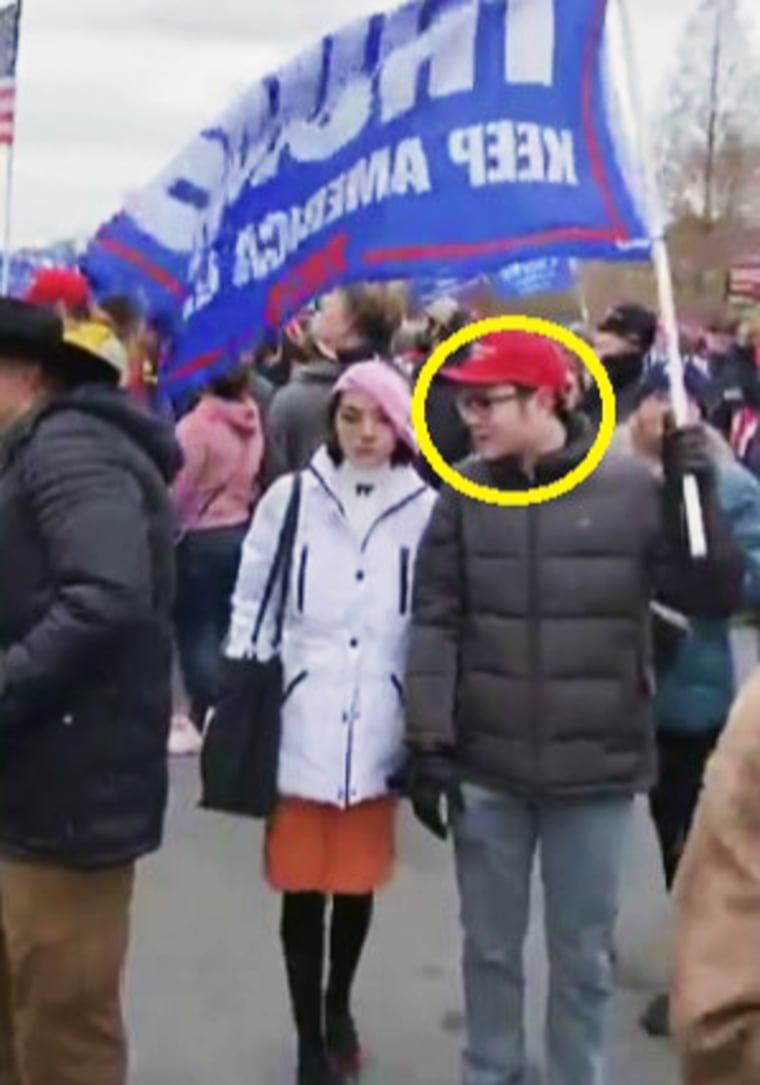 As NBC News first reported, "Pink Beret" has long been a subject of interest to online "Sedition Hunters" who have aided in hundreds of Jan. 6 cases and who have identified hundreds of additional Capitol rioters who have not been arrested. But it was not until the FBI tweeted images of "Pink Beret" in April that her photos went viral and were seen by an ex, who was standing in line at a Joann Fabric and Crafts store when his buddy showed him the FBI tweet on his phone.
"I stopped dead in my tracks," the ex said. "I'm like, 'That's Jenny.'"
The ex reported Vargas Geller to the FBI, and she was charged with several misdemeanors on May 8. But she was not arrested because she was out of the country. The FBI affidavit in her husband's case indicates that a tipster believed the couple were traveling in Japan, and online sleuths have surfaced numerous photos and videos of the couple, who appear to be living in Asia with a baby.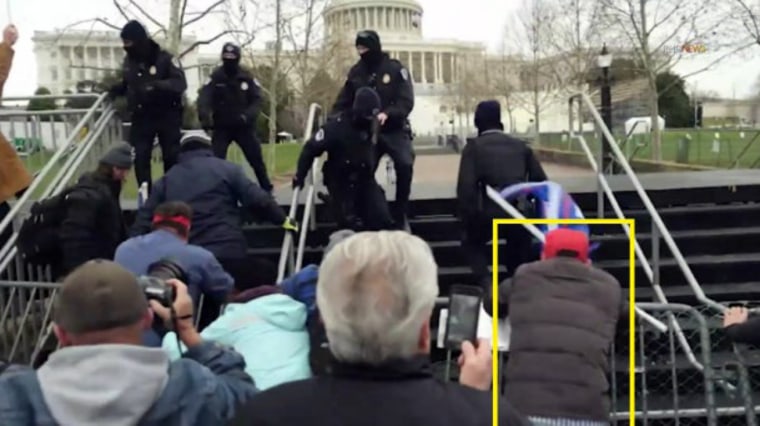 On Jan. 6, Geller "was one of the first individuals to arrive at the West Plaza," the FBI affidavit says, and he can be seen on video "pushing bike racks" during the initial breach of the barricade around the Capitol.
He eventually made his way up to the entrance to the lower west tunnel, where some of the most violent scenes took place, according to the FBI affidavit.
The FBI first posted images of "Pink Beret" after a defense lawyer for another Jan. 6 defendant suggested that the woman was a "femme fatale" government operative who lured defendants into the Capitol.
No lawyer was listed for Geller who could be asked to comment.