WASHINGTON — A federal judge on Friday sentenced a man who was armed with a wooden tire knocker and engaged in a series of assaults on officers during the Jan. 6 attack to 14 years and two months, the longest sentence for a Capitol rioter yet.
Peter Schwartz, who has 38 prior convictions, said he regretted the riot's damage.
"I do sincerely regret the damage that January 6th has done to so many people and their lives," said Schwartz, a 49-year-old welder from Uniontown, Pennsylvania.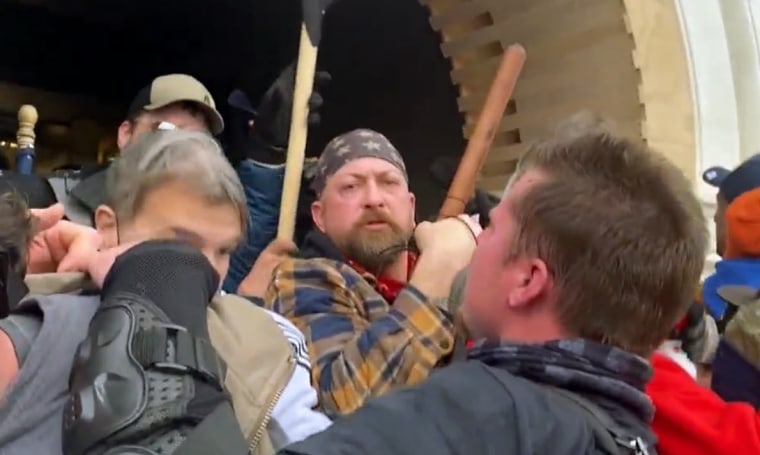 U.S. District Judge Amit Mehta said he did not buy Schwartz's remorse. "You are not a political prisoner Mr. Schwartz," the judge said while imposing the sentence. "You are not Alexei Navalny," Russia's most prominent opposition politician.
The sentencing guidelines indicated a 262-month sentence. The Justice Department requested 294 months, or 24.5 years — in federal prison. During sentencing, the judge Mehta called that request "pretty dramatic," noting that it was 2.5 times longer than the longest Jan. 6 sentence — one he handed down. 
Schwartz, who was convicted in December, will also be under 36 months of supervised release and must pay $2,000 to the Architect of the Capitol in restitution.
Prosecutors said Schwartz was the first to throw a folding chair at the line of officers protecting the Capitol's Lower West Terrace.
"By throwing that chair, Schwartz directly contributed to the fall of the police line that enabled rioters to flood forward and take over the entire terrace," they wrote in a sentencing memo.
Schwartz then used chemical munitions, including pepper spray, that had been left behind by the fleeing officers to attack the officers as they "desperately tried to escape the growing and increasingly violent mob," prosecutors wrote.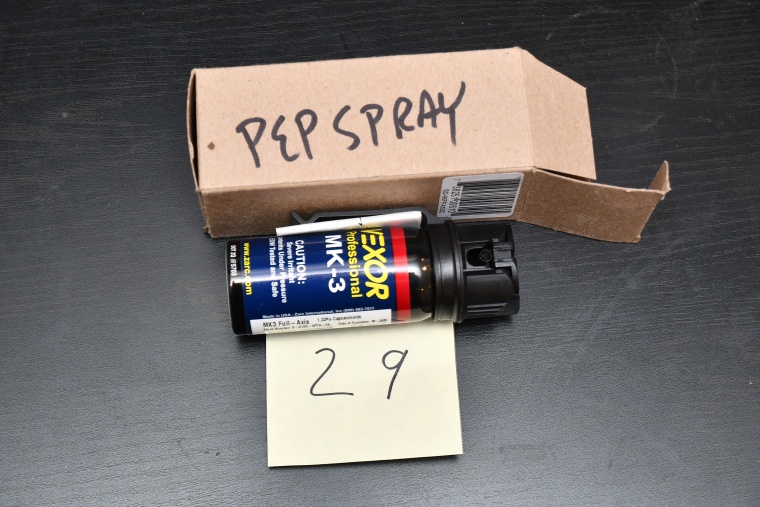 Schwartz later made his way to a tunnel entrance, which officers had spent hours defending against rioters who tried to force their way into the Capitol building.
Working with two other co-defendants, Markus Maly and Jeffrey Brown, Schwartz again wielded pepper spray against officers, officials said. Brown was sentenced to 4.5 years in prison last week, and Maly is yet to be sentenced.
The Justice Department said that Schwartz has "demonstrated zero remorse for his conduct, giving repeated interviews from the D.C. Jail claiming that he is a completely innocent victim of a biased prosecution and has done nothing wrong."
Federal prosecutors had also sought a fine of $71,541, which is how much they say Schwartz has raised on a crowdfunding platform in which he branded himself "Patriot Pete Political Prisoner in DC."
The judge rejected the fine.
In their own memo, Schwartz's lawyers wrote that his actions "were not motivated by any desire for personal financial gain or any other type of benefit" but rather "by a misunderstanding as to the facts surrounding the 2020 election," and that Schwartz "knew next to nothing about the 2020 election and listened to sources of information that were clearly false."