Federal prosecutors in New York City have indicted a co-director of a Maryland-based think tank on a host of charges stemming from what they allege was his unregistered advocacy of Chinese causes while he was trying to sell weapons on behalf of a Chinese company to a number of foreign countries.
Gal Luft, a dual Israeli and American citizen and a co-director of the Institute for the Analysis of Global Security, was also charged with violating Iranian sanctions and making false statements to federal agents, according to the November indictment, which was unsealed Monday.
Luft, 57, is a fugitive, prosecutors said. He was arrested on the charges in Cyprus in February but fled after having posted bail.
In recent months, Luft has made headlines by alleging in so-far unsubstantiated public statements promoted by House Republicans that the Biden family received payments from Chinese nationals tied to Chinese intelligence and that Hunter Biden, the president's son, had a mole inside the FBI.
"He is very credible," House Oversight Committee Chairman James Comer, R-Ky., told Newsmax last week.
Comer stood by that characterization in remarks to reporters Tuesday, while adding that he has never spoken to Luft.
Luft didn't respond to a request for comment.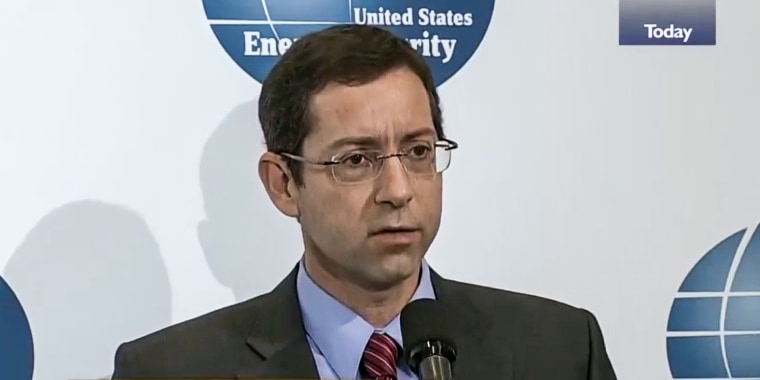 Prosecutors allege he has been engaged in "multiple international criminal schemes" spanning several years.
"He subverted foreign agent registration laws in the United States to seek to promote Chinese policies by acting through a former high-ranking U.S. Government official; he acted as a broker in deals for dangerous weapons and Iranian oil; and he told multiple lies about his crimes to law enforcement," said Damian Williams, the U.S. attorney for the Southern District of New York.
The indictment alleges he struck a $350,000-a-year deal with the head of a non-governmental organization affiliated with a Chinese energy company in 2015 to promote Chinese causes.
Luft was later tasked with working to "recruit" and "educate" a "former high-ranking U.S. Government official" to make public statements that were in China's interest for a fee, the indictment says. The official became "an adviser to the then President-elect," Donald Trump, in 2016, the indictment says.
The indictment, which identifies the former official only as "Individual-1," refers to pro-China articles written by James Woolsey.
Woolsey was the director of the CIA from 1993 to 1995 under President Bill Clinton, and he joined the Trump campaign as a senior adviser before the 2016 election and had a stint on the Trump transition team, public reporting shows.
A representative for Woolsey had no immediate comment.
Luft also "conspired with others and attempted to broker illicit arms transactions with, among others, certain Chinese individuals and entities" and foreign countries, including Libya, the United Arab Emirates and Kenya, prosecutors alleged.
The deals took place from 2014 to 2017, with munitions that included bombs, rockets and grenade launchers, the indictment says.
Luft also allegedly worked on a plan for China to buy Iranian oil, despite U.S. sanctions against Iran. The indictment says he instructed a co-conspirator to identify the oil as coming from Brazil, not Iran.
Luft is also charged with making false statements to federal agents when they questioned him about the allegations of arms trafficking and sanctions evasion in an interview in Brussels in March 2019.
He apparently gave a different account of the substance of the meeting to the House Oversight Committee.
"Gal Luft, a very credible witness on Biden family corruption, provided incriminating evidence to six officials from the FBI and the DOJ in a meeting in Brussels in March 2019. We have no reason to believe the FBI & DOJ acted on this info," Comer tweeted Friday.
"Americans deserve answers," he wrote.
In a Newsmax interview that same day that Comer linked to in the tweet, he acknowledged that Luft was the informant he said had disappeared in May. "The people on MSNBC who made fun of me when I said we had an informant that was missing, they should feel like fools right now. This is their worst nightmare," he said.
In a statement Tuesday, Comer noted that the Chinese energy company Luft worked for had financial ties to Hunter Biden.
NBC News has reported that Hudson West III, a venture funded by the company and its chairman, paid about $4.8 million to a company controlled by Hunter Biden called Owasco P.C. The payments were made in 2017 and 2018, according to a report by Senate Republicans — after Biden's father had left office as vice president.
"Gal Luft was interviewed by the FBI and allegedly provided information about the Bidens" and the Chinese energy company, Comer said in his statement Tuesday. "The House Oversight Committee intends to obtain these records at the FBI."
He also shrugged off the relevance of the criminal allegations.
"Many of the individuals who are connected to the Biden family's business dealings have been charged with crimes or are in prison," he alleged.
Sen. Ron Johnson, R-Wis., who has been promoting Luft's claims and called for him to testify before Congress, also didn't express any concerns about the allegations. Asked Tuesday whether the charges undermine his claims against the Bidens, Johnson said: "It may be that that's exactly what the Justice Department is trying to do. I do not trust the Department of Justice."
While the indictment was unsealed only on Monday, Luft, who prosecutors said hasn't returned to the U.S. since 2017, had been complaining about the charges for months, suggesting he was the victim of a conspiracy.
"I've been arrested in Cyprus on a politically motivated extradition request by the US. The US, claiming I'm an arms dealer. It would be funny if it weren't tragic. I've never been an arms dealer. DOJ is trying to bury me to protect Joe,Jim&Hunter Biden," he tweeted in February. James Biden is the president's younger brother.
Luft said in a recording published by the New York Post last week that he met with the FBI and "volunteered to inform the US government about a potential security breach and about compromising information about a man vying to be the next president," claiming that he was "now being hunted by the very same people who I informed."
He also said he skipped bail because "I did not believe I will receive a fair trial in a New York court."