WASHINGTON — A host of the far-right media outlet Infowars was sentenced Tuesday to 60 days in prison for his role in the Jan. 6 attack on the U.S. Capitol.
Owen Shroyer is one of only a handful of Jan. 6 participants charged with a crime despite having neither entered the Capitol building nor been accused of committing violence or destruction on Capitol grounds. Prosecutors charged Shroyer because he had previously signed a deferred prosecution agreement after he interrupted a congressional hearing in 2019 and had agreed as part of that case not to utter "loud, threatening, or abusive language, or to engage in any disorderly or disruptive conduct, at any place upon the United States Capitol Grounds."
About 1,100 defendants have been charged in connection with the Capitol attack in 2021, and more than 600 have been sentenced, more than 370 of them to periods of incarceration.
"Democrats are posing as communists, but we know what they really are: They're just tyrants; they're tyrants," Shroyer said on a bullhorn as he led a crowd to the Capitol on Jan. 6. "And so today, on Jan. 6, we declare death to tyranny! Death to tyrants!"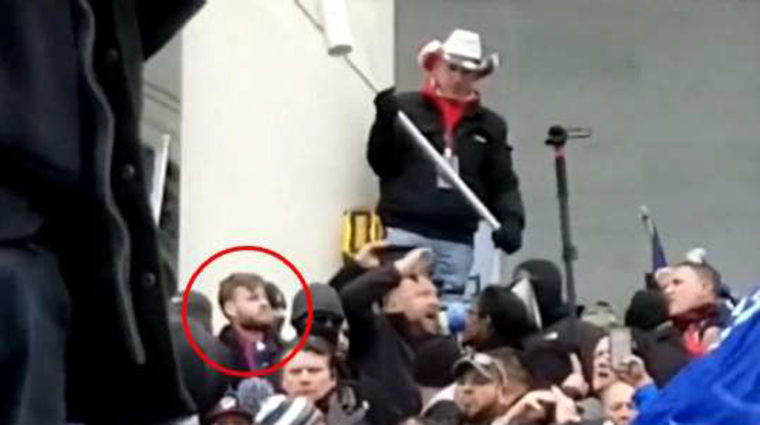 The government sought 120 days of incarceration, saying that while Shroyer did not step foot inside the Capitol, "many of those who listened to him" did.Shroyer's defense team said the case had been "characterized by a cooperative spirit between the defense and the Government" and asked that he be spared prison time. When he was at the Capitol on Jan. 6, Shroyer "wore two hats: one was that of outraged citizen who believed that an election had been rigged, the other as full-time journalist and commentator who sought a front-row seat at an historic event," his defense team wrote.
At Tuesday's sentencing hearing, Shroyer told the court, "I was not a part of any larger plan for illegal activity or violence that day."
Shroyer was sentenced by U.S. District Judge Timothy Kelly, who last week sent Proud Boys founder Enrique Tarrio to federal prison for the longest term yet for a Jan. 6 defendant: 22 years.
CORRECTION (Sept. 12, 2023, 10:38 a.m.): A previous version of this article misstated when Shroyer interrupted a congressional hearing. It was in 2019, not 2020.