WASHINGTON — A Jan. 6 defendant who was charged alongside the Donald Trump supporter who drove a stun gun into the neck of a Washington, D.C., police officer during the Capitol attack was convicted Tuesday on three counts.
The verdict was announced the same day former President Donald Trump was set to appear in court in Manhattan to be arraigned on charges related to hush money paid to adult film star Stormy Daniels.
Ed Badalian was arrested in November 2021 after he was indicted for conspiracy, obstruction of an official proceeding and aiding and abetting, and tampering with documents or proceedings. He was found guilty of conspiracy to commit an offense against the United States, obstruction of an official proceeding, and a misdemeanor count. He was found not guilty of a tampering count because the judge found that a government witness, a fellow Jan. 6 rioter, was a "hot mess" on the stand.
Badalian was charged alongside Daniel Rodriguez, a MAGA-hatted rioter who admitted that he had electroshocked Washington Police Officer Mike Fanone when Fanone was abducted by the mob. Rodriguez is set to be sentenced in May. A third man, known to online sleuths as #SwedishScarf and referred to in court as "Jeff," was indicted alongside the other two men, but has not yet been arrested. Law enforcement officials believe that he has fled the country.
U.S. District Court Judge Amy Berman Jackson, who presided over Badalian's bench trial this year, delivered the verdict on Tuesday. She allowed Badalian to remain on release until his sentencing but ordered him to wear an ankle monitor. Walking out of the courtroom on Tuesday, Badalian called that "cruel and unusual punishment."
Jackson described Badalian as a "very self-satisfied young man" who seemed impressed by his own intelligence and charm.
Jackson said Badalian was "extremely well aware" of the electoral college proceedings on Jan. 6 and how the process worked. "This defendant knew exactly what Jan. 6 was all about," she said. His focus was not on antifa, but on arresting politicians, Jackson said, pointing to messages in which Badalian talked about arresting President-elect Joe Biden and then-Speaker Nancy Pelosi, D-Calif.
"No, Mr. Badalian, the Constitution does not give you the right" to arrest the House speaker, Jackson said.
Badalian drove a rented van across the country along with Rodriguez and told members of the groups that he had packed a respirator, masks, snow goggles, kneepads and baseball helmets for the group, according to his indictment.
"Our duly elected leader has called his marching orders, we gotta show up," Badalian wrote in the "Patriots 45 MAGA Gang" chat on Dec. 21. Jackson said Tuesday that the Trump tweet gave the group "the focus it needs," by giving them a time and location.
"We don't want to fight antifa lol we want to arrest traitors," Badalian wrote before the Jan. 6 attack. When then-Attorney General William Barr finally said the election wasn't stolen, Badalian considered him a traitor, too.
At the Capitol, Badalian was at the western front when he pulled a man who was smashing a window away from the building, according to court documents and video. That man, who wore a green helmet covered in Trump stickers, has been listed as identified on the Sedition Hunters website for more than a year, since at least January 2022. Members of the crowd, including several Jan. 6 defendants, believe the man was antifa, and right-wing commentators have recirculated that conspiracy theory, suggesting that the man was a fake Trump supporter in recent weeks. But online sleuths told NBC News that he is, in fact, a Trump supporter, not a member of antifa. The U.S. Attorney's Office and the FBI Washington Field Office declined to comment on when the man would be arrested.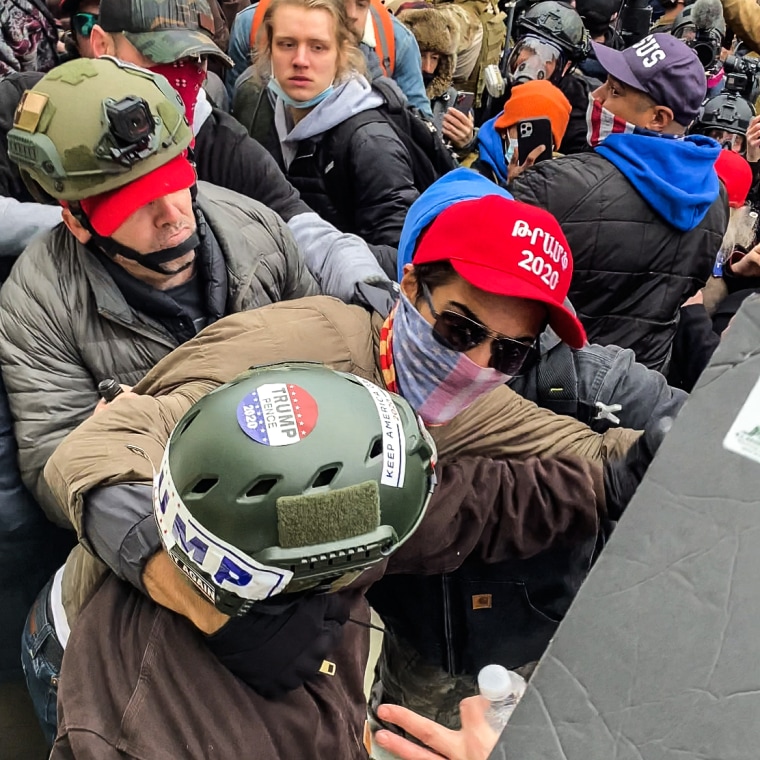 Badalian later stormed the building through the broken window, video shows, entering a suite of "hideaway" offices for U.S. senators, including Sen. Jim Risch, R-Idaho. Inside, rioters moved a conference table to use as a barricade and broke into another office. Rodriguez, Badalian and #SwedishScarf were inside the suite — along with the man in the green helmet — and Rodriguez and #SwedishScarf were some of the last rioters to leave the building. Rodriguez searched the room looking for "intel," and also tried to smash out the window to Risch's office to let more rioters in the building.
Judge Jackson said Tuesday that "Mr. Back the Blue" — Badalian — didn't turn in Rodriguez, nor did he do much to stop the attacks on law enforcement on Jan. 6. He also didn't take action against any others he thought were "antifa" once they get inside the building, she said.
"If he thought they were antifa, he wasn't much of an antifa fighter," she said.
Gina Bisignano, a Jan. 6 defendant who had pleaded guilty, testified during Badalian's trial as part of a plea agreement. She did not travel to Washington with Badalian but saw him in Washington and took a photo with him. Bisignano knew Rodriguez, Badalian and "Jeff" from pro-Trump events in the Beverly Hills area.
"I don't want to hurt anybody," Bisignano said on the stand. "I'm fighting for my life, I just want to tell the truth."
After the Capitol attack, Bisignano and Badalian appeared together on an InfoWars segment, in which Badalian went by the name "Turbo." On air, Bisignano accidentally referred to him as "Ed," and testified that was a mistake. "I just forgot at that moment," she said.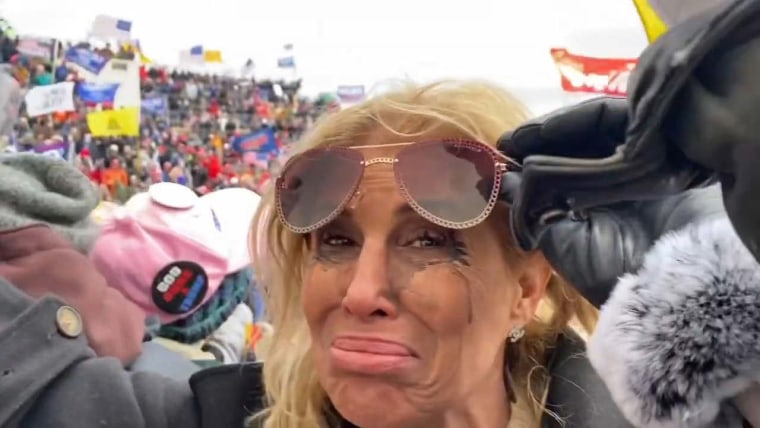 The indictment said that Badalian, Rodriguez and "Jeff" went to Bisignano's home when they arrived back from Washington and that "Jeff" unplugged her Alexa. They wanted her to get rid of the evidence. But on the stand, Bisignano said that Badalian didn't intimidate her, and had trouble recalling whether Badalian was even present that day.
"He's never been nasty or anything to me. Ever," Bisignano said. She said that Badalian wanted to get ahead of things by going to law enforcement.
Jackson said Bisignano was a "hot mess" on the stand, and said she was one of the worst witnesses she'd ever seen because of her inconsistent testimony.
While Jackson agreed with a defense witness' testimony about the "Patriot Paintball" sessions that Badalian organized — "two little boys playing war" — she said that while Badalian's organizing might be "incredibly immature," he thought of it as serious. She pointed to messages in which Badalian talked about how another Trump supporter needed to "grow a pair" and a message about the need to water the tree of liberty with the blood of tyrants.
Jackson set Badalian's sentencing hearing for mid-July.