A New York man pleaded guilty Friday to charges in connection with the Jan. 6 assault on now-former Metropolitan Police Officer Michael Fanone during the attack on the U.S. Capitol.
Thomas F. Sibick of Buffalo pleaded guilty to assaulting, resisting or impeding an officer and two counts of theft in a federal court hearing in Washington, D.C. He's the third person to be convicted of assaulting Fanone, who prosecutors said "suffered significant and painful injuries" during the insurrection.
In the plea agreement, prosecutors said sentencing guidelines call for between 33 and 41 months in prison. Sibick is scheduled to be sentenced by Judge Amy Berman Jackson on July 28.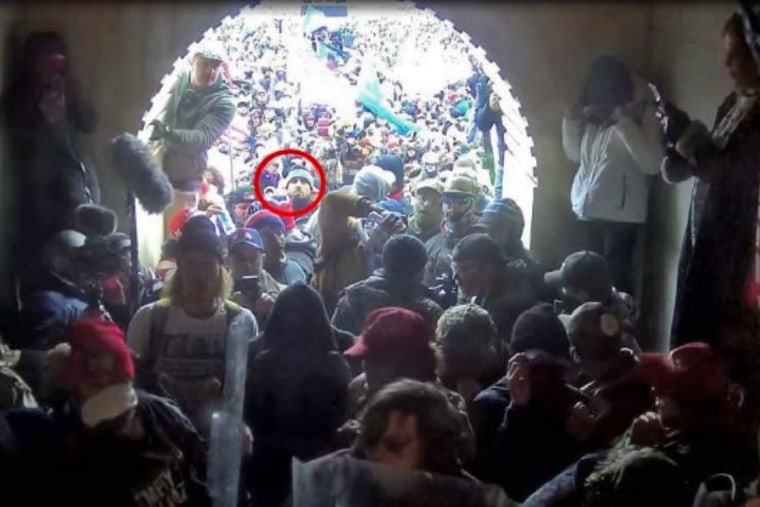 In a statement of offense, Sibick acknowledged taking video of himself during the riot on the Capitol grounds, where he said, "Just got tear-gassed, but we're going, baby! We're going!" He then took a pan shot of the crowd which he posted to Instagram with the caption, "Wildest experience of my life!"
The court filing also recounted the attack on Fanone, who was "tased, kicked, punched, pushed, grabbed and hit with objects by the crowd." While Fanone was being restrained by the mob, his body-worn camera showed Sibick "forcibly removing the officer's badge and radio, both of which were securely fixed to the officer's tactical vest," the filing said.
A short time later, Sibick "posed for a picture of himself holding and pointing to a (U.S. Capitol Police) riot shield," the filing noted.
He later claimed to the FBI that he'd been trying to help Fanone and had pressed the emergency button on the radio, but prosecutors said the button wasn't pushed until 16 minutes after Fanone had been escorted to safety. Sibick "changed his story three times" and later admitted he'd buried Fanone's badge in his back yard, the statement of offense said. The radio was never recovered.
An attorney for Sibick did not immediately respond to a request for comment.
Fanone suffered a heart attack and a traumatic brain injury on Jan. 6, and in December 2021 resigned from the D.C. police department, where he had served for 20 years.
Another of Fanone's attackers, Kyle Young of Iowa, was sentenced to more than seven years in prison in September.
The rioter who tased Fanone, Daniel Rodriguez of California, pleaded guilty to the assault last month. His sentencing hearing is scheduled for May, with guidelines calling for between 7 and 10 years in prison.