WASHINGTON — Federal prosecutors are seeking 14 years in federal prison for a violent Jan. 6 rioter who his lawyers say "idolized" Donald Trump and thought of the former president as the "father figure" he never had.
Daniel "D.J. " Rodriguez pleaded guilty in February, admitting that he battled law enforcement officers on the steps of the U.S. Capitol on Jan. 6, 2021, and stunned former Washington Police Officer Mike Fanone in the neck before he stormed the building and smashed out a window. The government, in a sentencing memo filed late Friday, sought 168 months in federal prison, along with restitution of $98,927, saying Rodriguez's crimes were acts of terrorism that deserve an upward departure from the sentencing guidelines. U.S. District Judge Amy Berman Jackson will sentence Rodriguez on June 21.
Rodriguez, his defense attorneys wrote in a separate sentencing memo, "struggled to find a place where he felt he truly belonged" and "found a cause that gave his life meaning" when he became a part of the "Make America Great Again" movement in California. Rodriguez saw Trump as "the father figure and leader Mr. Rodriguez never had in his life," his attorneys wrote, adding that he "trusted Trump blindly and admired Trump so much" that he referred to Trump as "dad" in messages he sent to a "PATRIOTS 45 MAGA Gang" group on Telegram.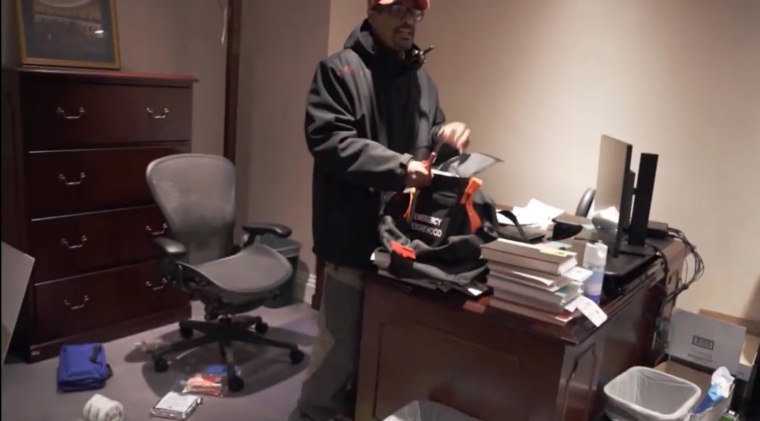 "It was Mr. Rodriguez's unwavering belief in the words of the former president that drove him to lose all sense of right and wrong and led him to take part in the tragic actions that unfolded in Washington, D.C. on January 6th," Rodriguez's lawyers wrote, seeking a sentence of a little more than five years in federal prison.
"Mr. Rodriguez, who grew up without a father and who never completed high school, was someone who believed the former president's lies because Mr. Rodriguez deeply respected and idolized Trump," they wrote of Rodriguez, who they said held "low-level employment" in retail and factories for 20 years. "He believed Trump was someone to be admired: a multimillionaire who graduated from Wharton Business School, with his name massively displayed in gold on buildings across the United States."
Rodriguez — who called himself "so stupid" and a "f---ing piece of s--t" in an interview with the FBI — also denigrated his own intelligence in a letter to Fanone filed in court. (Fanone has called Rodriguez a "moron" who was "manipulated" by Trump.)
"I wish I was smarter," Rodriguez wrote. "I want to apologize to your children as well. If I could go back and change what I did, I would. I hope it makes you feel better that I am going through a very tough time in jail."
Rodriguez has been held in custody for more than two years, since his arrest in March 2021, about a month after he was named in a HuffPost story following his identification by online sleuths and anti-fascist activists in the Los Angeles area.
Jackson has sentenced at least two other defendants in connection with the assault on Fanone, giving Kyle Young, an HVAC worker from Iowa, more than seven years in federal prison in September and giving Albuquerque Head, of Tennessee, 7.5 years in federal prison in October.
Rodriguez was indicted alongside two co-defendants: Ed Badalian and a man known to online sleuths as "Swedish Scarf." Badalian was convicted on most charges in April and will be sentenced in mid-July, while "Swedish Scarf" — whose name has been redacted in court documents but whose identity is known to the FBI — is believed to have fled the country.