WASHINGTON — A retired firefighter who went to a "cult deprogramming" expert to figure out how he came to believe Donald Trump's lies about the 2020 presidential election was sentenced to more than four years in federal prison Tuesday for chucking a fire extinguisher at police officers as they protected the U.S. Capitol on Jan. 6.
Robert Sanford, wearing prison orange, told Senior U.S. District Judge Paul L. Friedman that he was embarrassed, ashamed and disgusted by his behavior on Jan. 6, 2021. Sanford, who worked as a firefighter in Chester, Pennsylvania, was arrested in mid-January 2021 and has already spent roughly eight months in custody, which will be shaved off his 52-month sentence. He will also serve three years of supervised release.
"Mob mentality is real, and I got caught up in it," Sanford said, apologizing to the officers he assaulted and to first responders who saw his conduct that day, saying he'd been proud of the work he'd done as a firefighter.
"I never wanted to tarnish that reputation. On Jan. 6, I did," Sanford said.
Sanford, his attorney said, had worked with a person who specializes in "cult deprogramming" and was "confronted with facts about the 'stolen election' conspiracy theory among others and how psychological manipulation is used to indoctrinate the followers of a conspiracy."
In court Tuesday, defense attorney Andrew Stewart said that Sanford had "clearly overreacted" to the actions of law enforcement officers as they tried to control the violent mob on Jan. 6 and that he was "totally remorseful" for his conduct.
Stewart said Sanford was willing to sit down and take a hard look at the lies he believed and how he ended up "going down the proverbial rabbit hole," which set him apart from other Jan. 6 defendants who still can't acknowledge basic reality, Stewart said.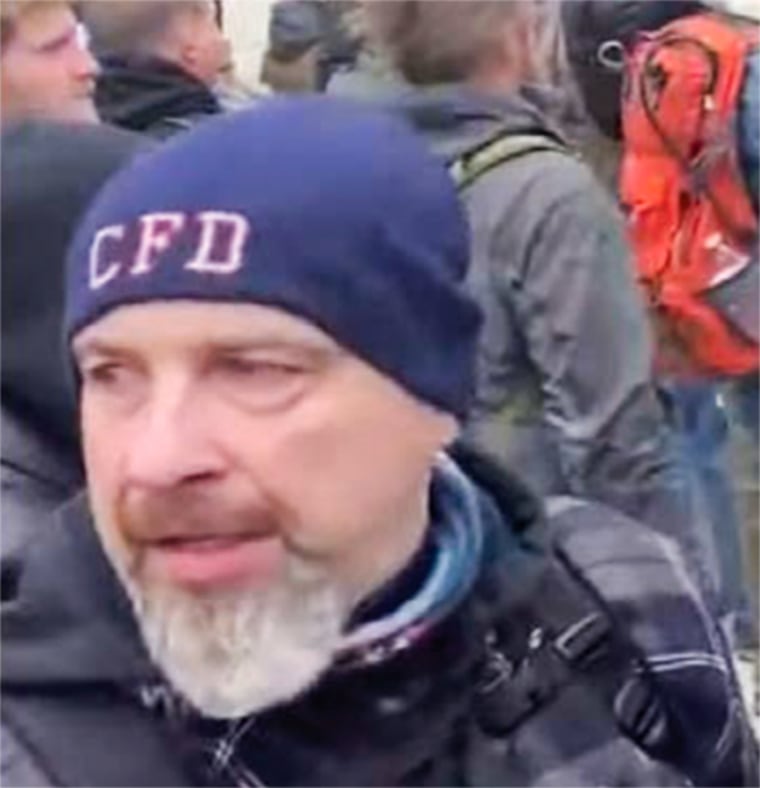 Judge Friedman said Sanford "should have known better than most" what law enforcement was facing that day and should have known what sort of damage a heavy fire extinguisher could do.
Friedman reiterated that defendants can't be punished "just because they believe that the election was rigged" or "just because they believe in Donald Trump" or for "their words and their speech." What they could be punished for are the illegal actions they took that day, he said. Friedman said thousands of people at the Capitol had contributed to the mob mentality.
Friedman also talked about the importance of general deterrence, saying many people still believe in Trump and believe the election was stolen, although he noted that "not many of them showed up" in Manhattan when Trump was arraigned last week. Alluding to the investigation Trump faces by special counsel Jack Smith, Friedman said he suspects people will see what happens at the federal courthouse in Washington "in a few months" if Trump is indicted.
Former U.S. Capitol Police Sgt. Aquilino Gonell, whom Sanford struck with a traffic cone, gave a victim impact statement. He noted that he'd given half of his life to public service, that more than 140 officers were injured on Jan. 6 and that many officers didn't seek medical attention immediately because they "felt obligated to be there" and to protect the building. He said there would have been a "bloodbath of elected officials" if police had simply walked away and not done their jobs on Jan. 6.
If "the former guy" — Trump — were to call upon Sanford to go to the Capitol again, Gonell said, he had no doubt that Sanford would be there.
Some officers who were injured may not come to the sentencing hearings because they are discouraged by what they perceived as the relatively low sentences being given to Jan. 6 rioters, Gonell said.
"I still think that it is worth it," Gonell said. "That's why I'm here today."
Gonell retired in December, in part because of the injuries he sustained on Jan. 6.
About 1,000 people have been arrested in connection with the Jan. 6 attack on the Capitol, and around 1,000 cases are expected to be brought forward before the statute of limitations expires in 2026. More than 3,000 people engaged in activity that could result in criminal charges by either entering the Capitol building or engaging in violent or destructive activity outside.