WASHINGTON — A military veteran who stormed the U.S. Capitol with the Oath Keepers on Jan. 6 was sentenced to 8½ years in federal prison Friday after apologizing for her actions.
Jessica Watkins told U.S. District Judge Amit Mehta that her actions were "reprehensible," and apologized for the impact that her conduct had on the country.
"My actions and my behaviors that fateful day were wrong, and as I now understand, criminal," she said. "Violence is never the answer."
Watkins, recalling her testimony during her trial, said once again that she was "just another idiot" running around the Capitol on Jan. 6, and apologized to the officers.
"I was just another idiot running around the Capitol," she said. "But idiots are held responsible, and today you're going to hold this idiot responsible."
Watkins' sentence came the day after Mehta sentenced Oath Keepers founder Stewart Rhodes to 18 years in federal prison and Florida Oath Keeper Kelly Meggs to 12 years.
Mehta said that Watkins' behavior was not as bad as that of Rhodes or Meggs, but that it was still serious and that she also played a role in bringing others to Washington on Jan. 6.
"Nobody would suggest you're Stewart Rhodes, and frankly, I don't think you're Kelly Meggs," the judge said. But she was more than just a foot soldier, he added.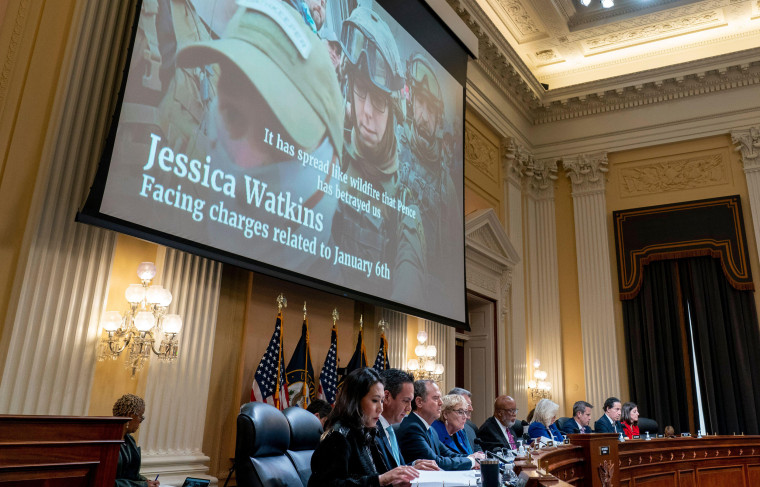 Mehta said that Watkins, who is trans, has a "fairly compelling life story." Assistant U.S. Attorney Alex Hughes said that the government does not dispute or minimize what Watkins went through personally, saying that she "has our sympathies, but she does not have an excuse."
Watkins complimented Mehta, saying he'd proven to be "an impartial arbiter" and said she understood how the jury — which convicted her of obstruction of an official proceeding and aiding and abetting, but acquitted her on a charge of seditious conspiracy — came to its conclusion.
She said she was "watching Infowars" and Alex Jones and was "hearing that Dominion servers were being invaded by the Chinese" prior to the Jan. 6 attack. She said she still believes that the country needs to take a closer look at the 2020 election.
Mehta said he gave Watkins credit for her apology and for being willing to plead, although she never reached an agreement with the government.
Meta also sentenced Kenneth Harrelson, a low-level Oath Keeper from Florida, to 4 years in prison later Friday, saying he did not bear the "same degree of responsibility and culpability as others."
Harrelson told the court before being sentenced that he didn't come to Washington on Jan. 6 because of politics. "I never voted for a president in my life," he said. "I don't care about politics I didn't care then. I don't care now."
He also apologized to U.S. Capitol Police Officer Harry Dunn, who testified at the group's trial, choking up as he said, "I didn't know" police "were being attacked or I would have tried to stop it. I could have done more, and I apologize."
Additional members of the Oath Keepers will be sentenced next week.