WASHINGTON — Four members of the far-right Proud Boys organization were found guilty Thursday of seditious conspiracy in connection with the Jan. 6 attack on the U.S. Capitol.
Enrique Tarrio, Joseph Biggs, Ethan Nordean and Zachary Rehl were found guilty of the rare charge of seditious conspiracy under a Civil War-era statute. Dominic Pezzola, another member of the group, was found not guilty of seditious conspiracy. Tarrio, Biggs, Nordean and Rehl were also found guilty of conspiracy to obstruct an official proceeding, while U.S. District Judge Timothy J. Kelly declared a mistrial on that count for Pezzola after the jury said it could not come to an agreement.
All five Proud Boys members were charged with nine counts in connection with the attack on Jan. 6, 2021, while Pezzola — who was caught on video smashing in a window with a Capitol Police shield during the breach and who admitted to his behavior on the stand — was separately charged with a 10th count of stealing the police shield and found guilty Thursday.
Pezzola was also found guilty of assaulting, resisting or impeding certain officers, while the four other defendants were acquitted on that charge.
The jury reached only a partial verdict, and Kelly declared a mistrial on several other counts on which it did not come to a conclusion.
The trial unfolded over four months, with jury selection beginning in December and opening arguments starting in early January. It was the third seditious conspiracy case to go before jurors since the Capitol attack: Six members of the far-right Oath Keepers group, including founder Stewart Rhodes, were convicted on that charge across two trials in November and January.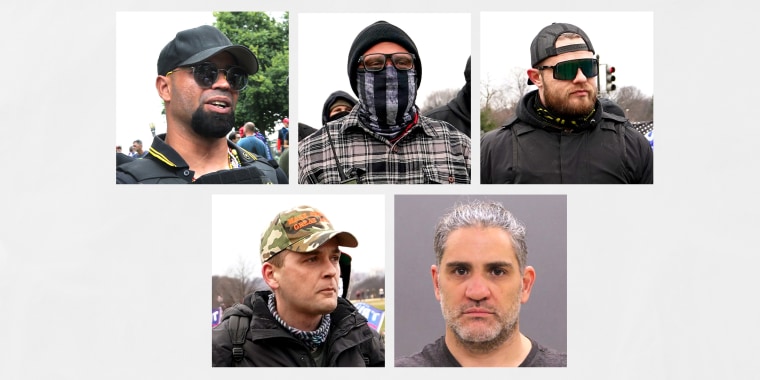 Jeremy Bertino, a high-level member of the Proud Boys who pleaded guilty to seditious conspiracy in October, testified for the prosecution in this latest trial as part of a plea deal, telling jurors that Proud Boys believed they "had to do anything that was necessary to save the country."
Prosecutors argued that the Proud Boys were "thirsting for violence" on Jan. 6 and had organized in advance to stop certification of President Joe Biden's win by "any means necessary, including by force."
Defense attorneys countered that the Justice Department was using the group as a scapegoat for the real person to blame for Jan. 6: Donald Trump.
Two defendants testified at the trial: Rehl, the head of the organization's Philadelphia chapter, and Pezzola, a floor installer from New York whom members of the organization called "Spaz." Just before Rehl was set to be cross-examined, online sleuths surfaced videos that appeared to show him deploying a can of pepper spray toward officers; Rehl, who was not charged with assaulting police, denied it at trial. Pezzola got heated on the stand, bringing up conspiracy theories about another Jan. 6 participant, Ray Epps, and ranting about the "fake" charges and the "phony" trial.
The biggest challenge prosecutors faced was convincing a jury that Tarrio, the former Proud Boys chairman, was a part of the conspiracy, given that he spent Jan. 6 at a hotel in Baltimore after he was banned from Washington the day before. Tarrio, in encrypted messages revealed during the trial, acknowledged receiving a message from someone who wanted to "storm the Capitol" but did not directly endorse that plan, and prosecutors seemed to concede that much of what happened on Jan. 6 happened spontaneously. What they were able to show was that Tarrio said he wanted a "spectacle" on Jan. 6 and that he celebrated the attack on the Capitol after it happened, giving the Proud Boys credit for the breach.
Several other Proud Boys have pleaded guilty for their actions on Jan. 6, and another went to trial while the larger seditious conspiracy trial was underway. Joshua Pruitt, a Washington, D.C., bartender who joined the Proud Boys and stormed the Capitol, was sentenced to 4.5 years in prison in August. Nicholas Ochs, the founder of the Hawaii chapter of the Proud Boys, was sentenced to four years in prison in December.
Judge Kelly will ultimately sentence the defendants.