WASHINGTON — The Justice Department has opened an investigation into last week's collapse of Silicon Valley Bank, three sources familiar with the matter confirmed Tuesday.
The department's probe is in its early stages, and part of it will examine whether bank executives sold any stock prior to the collapse, two sources familiar with the matter said.
A team of FBI agents based out of the bureau's San Francisco field office that specializes in white collar crime is leading the preliminary investigation, a senior law enforcement official said.
The Securities and Exchange Commission has opened its own investigation as well, two sources said.
The investigations come days after the California Department of Financial Protection and Innovation took over and closed Silicon Valley Bank to protect deposits, naming the Federal Deposit Insurance Corp. as its receiver.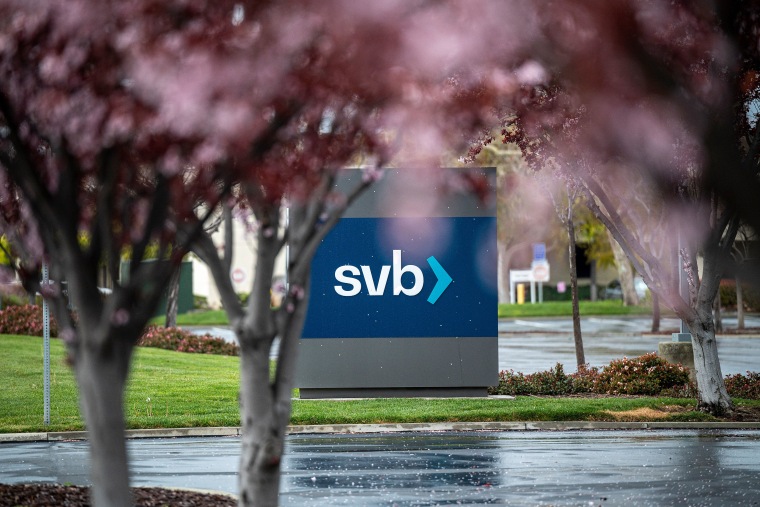 The closure was the biggest bank failure since the 2008 financial crisis and the second-largest on record after Washington Mutual collapsed during that industry-wide meltdown, according to the FDIC.
The Wall Street Journal first reported the DOJ and SEC investigations, citing people familiar with the matter. That report also said the probes are in the beginning stages, adding that they might not lead to charges or allegations of wrongdoing.
The DOJ declined to comment. The SEC and Silicon Valley Bank did not immediately respond to requests for comment.
On Sunday, the Treasury Department, the Federal Reserve and the FDIC said the government would back Silicon Valley Bank deposits beyond the federally insured ceiling of $250,000.
President Joe Biden, meanwhile, sought to reassure the public about the situation Monday after Signature Bank also failed.
"Thanks to the quick action of my administration over the past few days, Americans can have confidence that the banking system is safe," Biden said in brief remarks from the White House. "Your deposits will be there when you need them."