WASHINGTON — The Department of Justice filed a lawsuit Tuesday arguing that Idaho's near-total abortion ban violates federal law — the Biden administration's first legal action to protect abortion access since the Supreme Court overturned the 1973 Roe v. Wade decision in late June.
In making the announcement at DOJ's headquarters, Attorney General Merrick Garland told reporters that Idaho's ban violates a federal law that requires medical providers to offer emergency medical treatment.
Under the Emergency Medical Treatment and Labor Act (EMTALA), every hospital in the U.S. that receives Medicare funds must provide "necessary stabilizing treatment to patients who arrive at their emergency departments while experiencing a medical emergency," the 17-page complaint reads. In some circumstances, the necessary medical treatment is an abortion.
"This may be the case, for example, when a woman is undergoing a miscarriage that threatens septic infection or hemorrhage, or is suffering from severe preeclampsia," Garland said.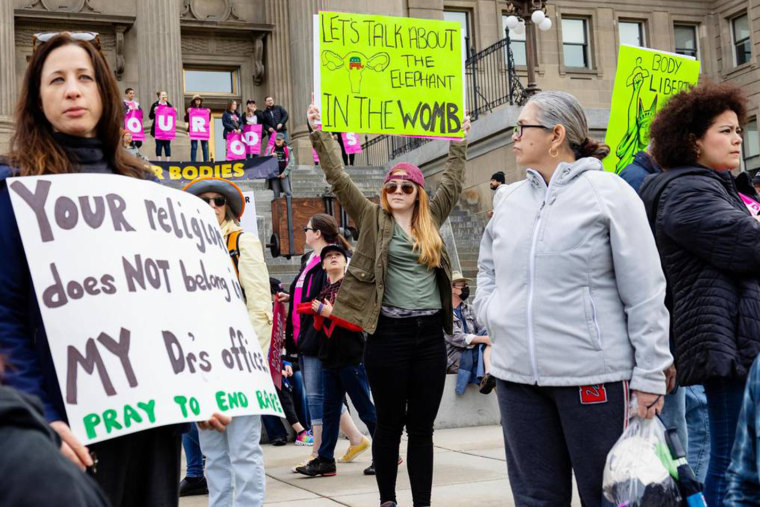 Idaho's law, which is set to take effect on Aug. 25, "will make it a felony to perform an abortion in all but extremely narrow circumstances," the complaint said, including when doctors provide emergency medical treatment required by federal law.
The suit seeks a declaratory judgment stating that Idaho's law violates the Constitution's Supremacy Clause and is preempted and conflicts with federal law. It also seeks a judgment that Idaho may not initiate a prosecution against or attempt to revoke the professional license of any medical provider who performs an abortion authorized under federal law. The department also called for a preliminary and permanent injunction against the state of Idaho to prohibit enforcement of its abortion ban when it conflicts with federal law.
"In the days since the Dobbs decision, there have been widespread reports of delays and denials of treatment to pregnant women experiencing medical emergencies," Garland said. "Today, the Justice Department's message is clear — it does not matter what state a hospital subject to EMTALA operates in. If a patient comes into the emergency room with a medical emergency, jeopardizing the patient's life or health, the hospital must provide the treatment necessary to stabilize that patient. This includes abortion, when that is the necessary treatment."
In a statement Tuesday, Gov. Brad Little, a Republican, said he would work with Idaho's attorney general to defend the state law "in the face of federal meddling."
"Our nation's highest court returned the issue of abortion to the states to regulate — end of story," Little said. "The U.S. Justice Department's interference with Idaho's pro-life law is another example of Biden overreaching yet again while he continues to ignore issues that really should demand his attention — like crushing inflation and the open border with Mexico."
Associate Attorney General Vanita Gupta, who leads the Justice Department's reproductive rights task force, said during the announcement Tuesday that Idaho's law places the burden on doctors to prove at trial, following arrest and indictment, that they are not criminally liable.
"Physicians can only do so by proving that the abortion they performed was necessary for one of two reasons: to prevent the death of a pregnant woman, or in response to a case of rape or incest that was previously reported to the police or in the case of a minor to Child Protective Services. Physicians who do not meet this burden face two to five years imprisonment and revocation of their medical license," Gupta said.
The legal action comes several weeks after Garland said the department would be advising federal agencies on their authorities when it comes to protecting access to abortions, bringing litigation and entering into lawsuits on the side of private parties with amicus briefs and statements of interest.
"The Justice Department is going to use every tool we have to ensure reproductive freedom," he told reporters. He also said that his office would file a motion to dismiss a Texas lawsuit challenging guidance from the Department of Health and Human Services requiring medical providers offer abortions in emergency situations.
The federal law on which the guidance is based "requires hospitals to provide stabilizing care for a patient who comes in with a medical emergency that seriously jeopardizes their life or their health," Garland said. "And where that stabilizing treatment is abortion, they must provide the abortion. They must do so notwithstanding a state law that is so narrow that it doesn't even protect a woman's life or health."
On Friday, Garland, Gupta and other DOJ officials convened a meeting of private law firms, law professors, bar associations and public interest groups at the White House to discuss legal representation for patients, providers and third parties lawfully seeking or offering reproductive health care services throughout the country.
The department is "working relentlessly to protect access to reproductive services" in recognition of "the crisis that it is," Garland said.
"It will take all of us — government lawyers, private pro bono attorneys, bar associations, public interest organizations — to do all we can to protect access to reproductive health care and to provide vigorous legal representation of patients, providers and third parties in need," he said.
Meanwhile, voters in Kansas will decide Tuesday on a constitutional amendment that will determine the future of abortion rights in their state — the first time anywhere in the U.S. that voters will cast ballots on abortion since the Supreme Court reversed Roe.