WASHINGTON — Longtime Washington operative W. Samuel Patten has admitted he made a $50,000 donation through a straw donor to President Trump's Inauguration Committee for a Russian and a Ukrainian, according to court documents made public Friday.
Prosecutors unsealed the "statement of offense," signed by Patten, who pleaded guilty Friday to failing to register as a foreign agent in connection with his work for a Ukrainian lobbying effort launched by Paul Manafort.
Patten has agreed to cooperate with federal prosecutors in Washington, D.C., as well as special counsel Robert Mueller, court documents show. The plea agreement specifically outlines the cooperation with Mueller's team.
In addition, the filing states that Patten's sentencing may be delayed pending his cooperation and testimony in various federal cases.
The statement details the payment from Patten to an unnamed person so the true source of the funds for four tickets to Trump's inauguration would be hidden. Patten bought the tickets on behalf of two foreign nationals, one from Russia, the other from Ukraine, according to the documents.
Patten paid the straw purchaser $50,000 and a day later the purchaser paid the Presidential Inauguration Committee the same amount for the four tickets.
Prosecutors say Patten also attended an Inauguration Committee event in Washington with an unidentified foreign person who they say is from Ukraine.
The documents do not suggest the Trump Inauguration Committee was aware of the straw purchase.
It is illegal for a foreign national or foreign corporation to donate to a Presidential Inauguration Committee.
Patten, 47, was named Friday in a criminal charging document, and pleaded guilty in federal court Friday morning in Washington. As part of the plea agreement, Patten could face a maximum of five years incarceration and up to three years of supervised release, and a fine of up to $250,000.
The charges were brought not by Mueller, but by the Office of the U.S. Attorney in Washington.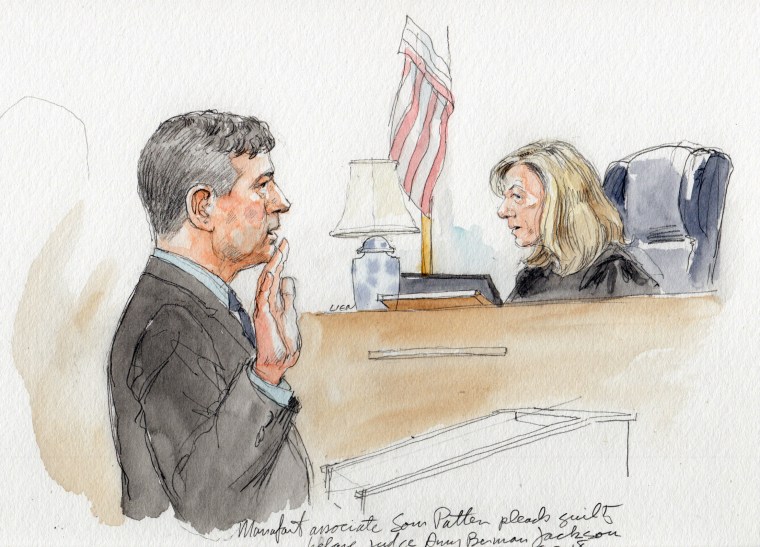 Nonetheless, Patten appears to have figured in a Ukrainian lobbying operation first launched by Manafort, according to court documents and previous news accounts. Manafort, Trump's former campaign chairman, was convicted last week in a Virginia federal court on eight counts of bank and tax fraud brought by the Mueller team.
The charging document says Patten lobbied for a Ukrainian party called the Opposition Bloc, which was launched by Manafort in 2014 after his longtime client, former Ukrainian President Viktor Yanukovych, fled to Russia.
According to his web site, Patten headed the Moscow office of the International Republican Institute (IRI), where he "provided technical assistance to a range of political parties and nongovernmental organizations."
In that job, according to published reports, he supervised Konstantin Kilimnik, a longtime Manafort associate who has been linked by Mueller's office to Russian intelligence. Kilimnik, who has been indicted along with Manafort on witness tampering charges, remains at large and is believed to be in Russia.
Prosecutors say Patten violated the law requiring foreign lobbyists to register because he accepted money to advocate on behalf of a foreign political party and then helped set up meetings between foreigners and Congressional staff. Payments were allegedly made by a Ukrainian oligarch to Patten's company through an offshore Cyprus bank account.
He also drafted op-ed articles for his Ukrainian clients and had them placed in U.S. media, the court documents say.
Prosecutors say Patten placed an op-ed written by his Ukrainian clients in a national U.S. publication in February 2017.
On Feb. 6, 2017, the web site U.S. News published an article by Serhiy Lyovochkin, the former chief of staff to Yanukovych, who hired Manafort to rebrand the pro-Russia Party of Regions in 2014.
The article was headlined, "Ukraine Can Win in the Trump Age."
Manafort faces trial next month in Washington on charges that also include violating foreign lobbying registration laws. He is accused of running an operation that employed consultants to lobby on behalf of Ukraine in the U.S.
The court documents do not directly link Patten with Manafort. Testimony in Manafort's Virginia trial made clear that he was running the operation and had authority over its various consultants.