WASHINGTON — The owner of a chain of funeral homes on Long Island, New York, was arrested by the FBI on Wednesday and charged in connection with the Jan. 6 attack on the U.S. Capitol, NBC News has learned.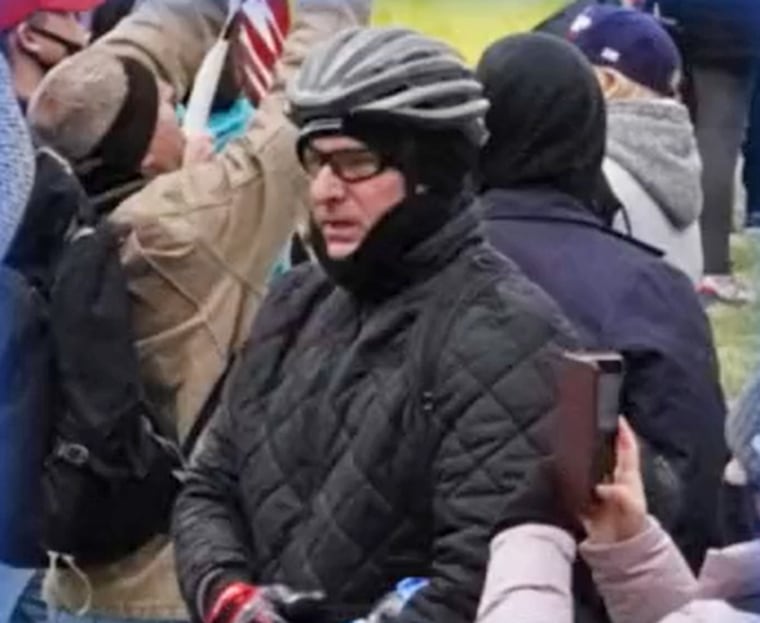 Peter G. Moloney of Bayport has been accused of spraying insecticide at police officers and assaulting members of the media, law enforcement officials said.
He faces charges of felony civil disorder; assaulting, resisting or impeding certain officers; assault by striking; and five additional misdemeanor counts, according to charging documents unsealed Wednesday.
"Moloney did not simply march to the Capitol with other protestors. He brought protective eyewear, a helmet, and a can of Black Flag Wasp, Hornet & Yellow Jacket Killer," an FBI agent stated in an affidavit against Moloney. "This indicates that he went to the Capitol on January 6, 2021, prepared for violence." The agent added that Moloney assaulted law enforcement officers with the can of spray.
Authorities said Moloney also assaulted an Associated Press photographer, as well as videographer Nick Quested — who was referred to by his initials, "N.Q.," in the affidavit — by pulling on their cameras and causing them to fall down some stairs.
Moloney's son accompanied his father to the Capitol on Jan. 6 but has not been charged with a crime, according to the charging document. The son — whom the FBI referred to as "Colleague 1" — works at the family's funeral home and has appeared in advertisements for the business.
Moloney was identified about two years ago by an online network of "Sedition Hunters," who have found the identities of hundreds of Capitol rioters since Jan. 6, 2021.
Some of the online sleuths had gone public with their frustration that Moloney had still not been arrested, as they saw on his social media accounts that he went on vacations even though he had long been identified to the FBI.
Sleuths even made jokes referring to Moloney's business, saying they were "dying" to see him arrested. The group of sleuths have identified hundreds of additional Jan. 6 participants who have not yet been arrested.
Moloney — known by sleuths as #BlackBonoHelmet — was No. 199 on the FBI's Capitol Violence webpage, which the agency uses to solicit help from the public in identifying Jan. 6 rioters.
In a statement, Dan Moloney, a co-owner of Moloney Family Funeral Homes, sought to distance the business from Peter Moloney's arrest.
"The alleged actions taken by an individual on his own time are in no way reflective of the core values of Moloney Funeral Home, which is dedicated to earning and maintaining the trust of all members of the community of every race, religion and nationality," he said.
More than 1,000 people have been charged in connection with the Jan. 6 attack on the U.S. Capitol, and hundreds of additional cases are still in the works. More than 580 of those charged have pleaded guilty, and a further 85 have been found guilty at contested trials.
Those defendants have received sentences from probation to 18 years in federal prison, which was the sentence imposed on Stewart Rhodes, the Oath Keepers founder who was convicted of seditious conspiracy.