With Jeff Sessions now out as attorney general, President Donald Trump's choice to fill his shoes, at least temporarily, is in the position to have a significant impact on the scope of special counsel Robert Mueller's investigation into Russia's interference in the 2016 election.
Matthew Whitaker, who has served as Session's chief of staff since late 2017, has been tapped to become acting attorney general and will therefore take over the role of overseeing Mueller's probe from Deputy Attorney General Rod Rosenstein.
Sessions had recused himself from overseeing the probe because of his involvement with the campaign, but Justice Department spokeswoman Sarah Flores said on Wednesday, "The acting attorney general is in charge of all matters under the purview of the Department of Justice."
For months, Trump publicly attacked Sessions for recusing himself from overseeing the probe, and blamed his decision for allowing Rosenstein to appoint a special counsel. Now, with Whitaker at the helm, Trump has someone leading the Justice Department who has already suggested that Mueller's probe should be reined in.
"If he was selected because he doesn't think it's an appropriate investigation, then I'm deeply concerned," said Chuck Rosenberg, a former U.S. attorney and general counsel at the FBI.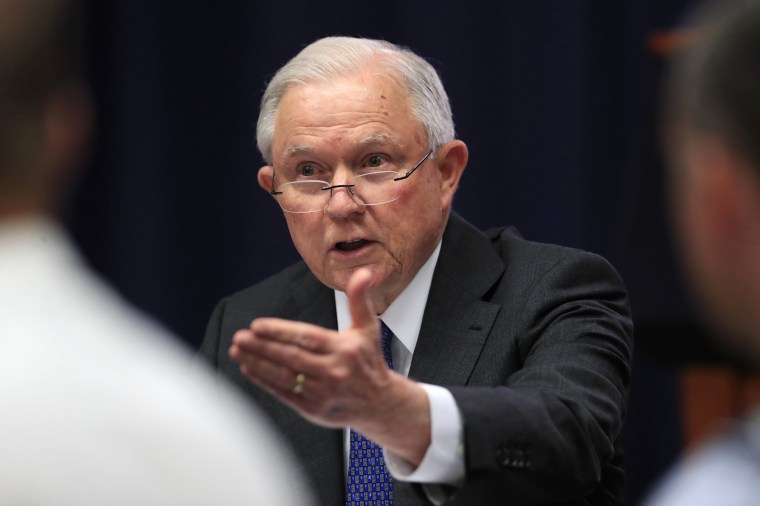 Before Whitaker came to the Justice Department in 2017, he wrote an op-ed for CNN that said Mueller's investigation was "going too far." He supported Trump's claim that the probe would be crossing a red line if it branched into the finances of Trump and his family.
As a legal commentator on CNN, Whitaker also said that Sessions could be replaced with someone who would reduce Mueller's budget.
"That attorney general doesn't fire Bob Mueller, but he just reduces his budget to so low that his investigation grinds to almost a halt," Whitaker said in July 2017.
Now Whitaker will be in the position to do just that. Previously, whenever Mueller has needed permission to expand his scope or add more resources, he went to Rosenstein. That responsibility will now fall to Whitaker.
Rosenstein has also stood up to Republicans in Congress who have sought to publicly disclose documents related to the Russia investigation — a battle Whitaker may not be willing to fight.
Trump's decision to replace Sessions with Whitaker rather than Rosenstein, the No. 2 at the Justice Department, has led to questions about the president's motives and whether the move strengthens Mueller's hand in pursuing an obstruction of justice case.
"I think we're watching obstruction of justice play out in plain sight," Frank Figliuzzi, the former assistant director of counterintelligence at the FBI, said on MSNBC.
Whitaker, 49, served as the U.S. Attorney for the Southern District of Iowa from 2004-09. Under the Federal Vacancies Reform Act, he does not need to be sworn in or approved by the Senate to serve as the acting attorney general. He is allowed to serve 210 days before a full-time replacement who has been approved by the Senate must fill his spot.