Federal prosecutors and defense attorneys delivered opening statements Thursday in the seditious conspiracy trial of former Proud Boys leader Enrique Tarrio and four other members of the far-right extremist group involved in the Jan. 6, 2021, attack on the U.S. Capitol.
All five defendants — Tarrio, Ethan Nordean, Joseph Biggs, Zachary Rehl and Dominic Pezzola — are charged with conspiring to oppose the lawful transfer of presidential power by force, assaulting and impeding law enforcement officers, obstructing a governmental proceeding, destroying government property, and preventing, hindering or delaying by force the execution of governing the transfer of power.
In the government's 80-minute opening statement, Assistant U.S. Attorney Jason McCullough said that in the days after the 2020 election the defendants had started "calling for action, calling for war, if their favored candidate was not elected."
Asked to condemn white supremacy at a presidential debate with Joe Biden in September 2020, then-President Donald Trump told the Proud Boys to "stand back and stand by."
McCullough alluded to Trump's remark Thursday. "They did not stand back. They did not stand by. Instead, they mobilized," he said, later showing a clip of that moment as he argued that it boosted the group's public profile.
After the election, Tarrio posted on social media that the presidency was being stolen and vowed that his group wouldn't "go quietly," prosecutors said. McCullough also cited messages from Tarrio on Jan. 6, including, "Make no mistake... We did this."
"Those are his words, his thoughts, just minutes after Congress had been forced to stop its work," McCullough said. "They did what they'd set out to do."
McCullough walked the jury through the creation of the Ministry of Self Defense, the Proud Boys chapter Tarrio formed to focus on Jan. 6. He described the chapter as an effort by Tarrio to "manipulate public perception."
The jury was shown video evidence recorded by the Proud Boys, including a clip in which a lower-level member nicknamed "Milkshake" yelled, "Let's take the f---ing Capitol!" In other clips, defendants could be seen celebrating on Jan. 6, with Biggs saying: "So we just stormed the f---ing Capitol! That was so much fun."
The Proud Boys also raised cash for members to travel to Washington and set up a command structure for the day of the rally, prosecutors said.
Tarrio was aware of discussions around a plan to storm the Capitol and was involved in discussions about occupying buildings, including in the Capitol complex, according to prosecutors.
Tarrio, who wasn't at the Capitol, messaged with members throughout the riot, prosecutors said. At 11:16 that night, he posted a message on social media that appeared to show him wearing a mask and a black cape in front of the Capitol. He captioned the picture "Premonition," court filings say.
McCullough also showed a video of the moment Pezzola, the defendant accused of using a stolen police shield to break a window in the Capitol, allowed rioters to gain access to the building.
"Even if you didn't know anything about what these men had said and done leading up to January 6, you could look at just their words and actions on that day and you could conclude that they had formed an agreement," McCullough said.
Attorneys for the defendants have denied that their clients planned or led an attack on the Capitol, and they argued at times that they were victims of selective prosecution and are being targeted because of their political beliefs.
Tarrio's attorney, Sabino Jauregui, told jurors Thursday that his client was being made a scapegoat because he "wrote and sent a lot of offensive things."
"Speaking what you think is not illegal in this country yet," he continued, before he closed with a quote from Martin Luther King Jr.: "Injustice anywhere is a threat to justice everywhere."
Rehl's lawyer, Carmen Hernandez, said her client came to the nation's capital simply to protest. "I submit to you that Mr. Rehl came to D.C. to exercise his First Amendment rights," she told the jury.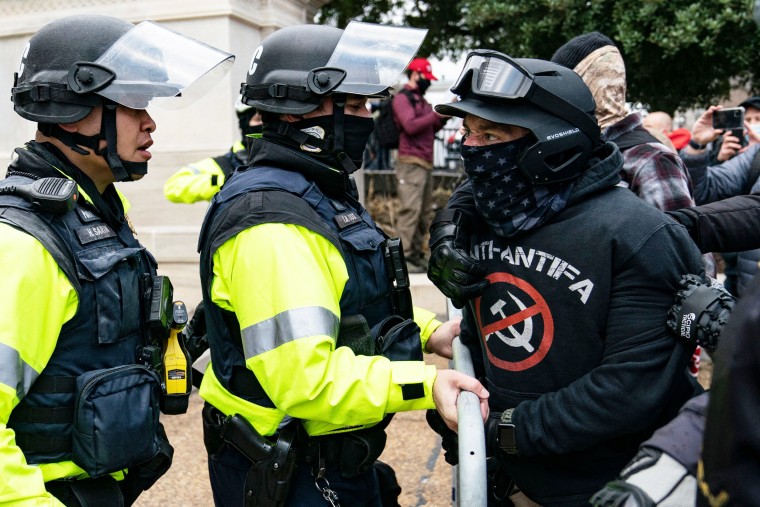 Nick Smith, a lawyer for Nordean, who led a Proud Boys chapter in Washington state, told jurors they would see no evidence of a "complicated, long-running plot."
"What you will see in the Telegram chats is a bunch of text messages that are tempting you to find guilt based on your dislike of these people," he said. "Do not take the bait."
Pezzola's lawyer, Roger Roots, downplayed the attack on the Capitol, which temporarily halted the counting of Electoral College ballots.
"Believe it or not, this entire case is about a six-hour delay of Congress," Roots told the jury. "The government makes a big deal out of this six-hour recess."
The seditious conspiracy case is the second of its kind to go to trial.
In November, a jury in the same courthouse convicted Oath Keepers founder Stewart Rhodes and Kelly Meggs, another member of the far-right organization, of seditious conspiracy. Three other members of the group were found not guilty of the charge. All five defendants were convicted of obstruction of an official proceeding and aiding and abetting for their actions on Jan. 6. They are expected to be sentenced in late May.
The seditious conspiracy charge carries a maximum penalty of 20 years behind bars.
Tarrio — who was ordered to stay out of Washington before Jan. 6 — met with Rhodes and other members of the Oath Keepers the day before the attack, prosecutors said.
The Proud Boys trial had been scheduled for August, but it was delayed after information relating to some of the defendants emerged during the hearings held by the House committee investigating the riot, including that the panel had interviewed Tarrio.
After lawyers for Biggs and Pezzola contended the transcripts were "must-haves" before the trial got underway, the government agreed and joined in the defense's request to postpone the trial until they obtained information from the House committee.
The case then had been expected to go to trial earlier this week, but it was delayed in part because the legal license of one of Biggs' lawyers, Norm Pattis, was suspended for six months last week after he was accused of improperly releasing files while representing conspiracy theorist Alex Jones in a defamation suit over his comments about the mass shooting in which more than two dozen people were killed at Sandy Hook Elementary School in Connecticut in 2012.
Pattis, who contended that the release was an "innocent mistake," had asked U.S. District Judge Timothy Kelly to allow him to remain on the case while he appeals his suspension, but he relented Wednesday, asking to withdraw because of differences with his co-counsel. Kelly formally rejected the request Thursday. Pattis' co-counsel, John Daniel Hull, also faces a separate conflict of interest, but Kelly allowed him to remain on the team after he signed a waiver.
As Thursday's proceedings drew to a close, Pattis told the judge his suspension had been stayed, meaning he is able to practice law again.