WASHINGTON — Five members of the far-right Proud Boys were "thirsting for violence, and organizing for action" before the Jan. 6 attack on the U.S. Capitol, the Justice Department said at closing arguments in their seditious conspiracy trial Monday.
What happened at the Capitol on Jan. 6, 2021, was "a national disgrace," Assistant U.S. Attorney Conor Mulroe told jurors as the three-month-long trial nears its end. But for the Proud Boys, Jan. 6 "was mission accomplished," Mulroe said. "They had done it. They had stopped certification of the election."
Five members of the Proud Boys — Enrique Tarrio, Ethan Nordean, Joseph Biggs, Zachary Rehl and Dominic Pezzola — face nine counts, including the rarely used charge of seditious conspiracy, a Civil War-era statute that has been used against a small subset of Jan. 6 defendants. Pezzola faces a 10th count, accused of allegedly stealing a police shield he used to smash out a Capitol window.
Two members of the Oath Keepers were convicted of seditious conspiracy in one trial in the fall, and four Oath Keepers were convicted at another trial in January in separate Jan. 6 cases. A few members of the Oath Keepers pleaded guilty to seditious conspiracy, as did a member of the Proud Boys, Jeremy Bertino, who testified at the Proud Boys trial.
Mulroe told jurors that the Proud Boys thought politics "meant actual, physical combat, a battle between good and evil in the most literal sense." The defendants conspired to "stop certification of the election" by "any means necessary, including by force," Mulroe said. A conspiracy "can be unspoken," he said, "a mutual understanding reached by a wink and a nod."
There's no magic date when jurors have to agree that the conspiracy began, Mulroe argued, telling jurors the defendants could be guilty of conspiracy even if the agreement did not begin until Jan. 6, when "those barricades at Peace Circle has already come down."
Mulroe said that they were motivated by their belief that the election had been stolen and their desire to keep President Donald Trump in office.
"People generally don't commit crimes for no reason," he said. "Using force against the government is not something that any group of people would take lightly."
Mulroe noted to jurors that the Proud Boys formed what they called a "Ministry of Self Defense" right after Trump's Dec. 19, 2020 "will be wild" tweet, in which he called on his supporters to come to Washington, D.C., on Jan. 6. The Ministry of Self Defense was not a "drinking club" or a men's fraternity, Mulroe said — it was "a violent gang that came together to use force against its enemies."
Mulroe said the defendants made their intentions known — they were not in Washington on Jan. 6 to see Trump's speech or to protest peacefully. They were there to threaten and, if necessary, use force to stop the certification of the election, he said.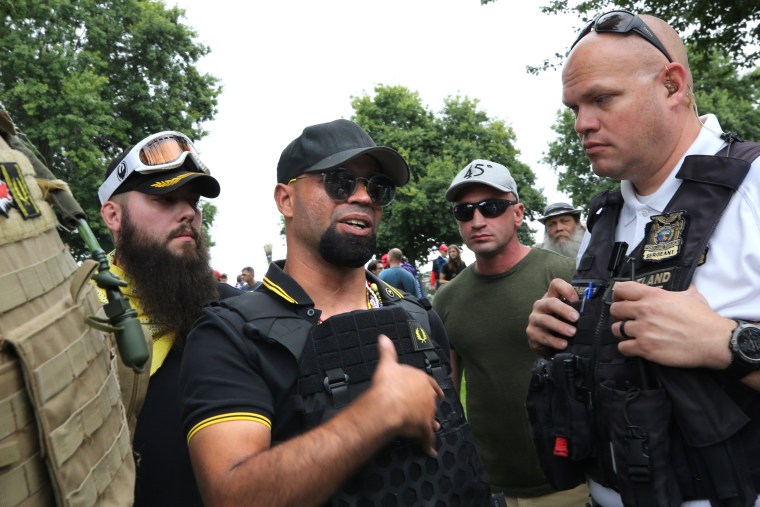 Two of the defendants — Rehl and Pezzola — testified in their own defense. Just hours before Rehl was set to be cross-examined last week, online sleuths turned up video that appeared to show him deploying pepper spray on a police line, video the FBI had missed over a two-year investigation.
Under cross-examination, Rehl claimed he could not "recall" whether he shot pepper spray at officers on Jan. 6.
Mulroe noted in closing arguments that Rehl's attorney asked Rehl over and over again on the stand whether he ever used force against officers and that Rehl said no, never.
"That was false," Mulroe said. "He did that. He did that, and he lied to you under oath about it."
The lie "belongs with all of Zachary Rehl's evasive, aggressive, implausible, testimony and tells you how much weight you should give anything he told you: zero."
Pezzola, who called the charges "fake" and the trial "phony" and "corrupt" in his testimony, and who raised conspiracy theories about Ray Epps — a man whom the far right has frequently accused, without evidence, of stoking the Jan. 6 riot as an undercover government agent — "was the first" to breach the Capitol by using a stolen police shield to smash a window, Mulroe said.
"They went into the building like soldiers in a conquered city," Mulroe said. "They showed total contempt for the seat of American democracy."
Defense attorneys began presenting their closing arguments Monday afternoon, and the arguments are expected to continue into Tuesday. After the government's rebuttal, the jury is likely to begin deliberating late Tuesday or Wednesday.