WASHINGTON — Republicans in Congress redoubled their attacks on the integrity of special counsel Robert Mueller's Russia investigation Wednesday, in what analysts believe is a concerted political strategy designed to discredit any potential Mueller findings that could argue for the impeachment of the president.
Seizing on newly released, politically charged text messages between two FBI officials who are no longer part of Mueller's investigation, Republicans used an oversight hearing of the House Judiciary Committee to accuse Mueller, a Republican, of conducting a tainted inquiry. They also charged that senior FBI officials have allowed political beliefs to influence the outcome of investigations.
"We are now beginning to better understand the magnitude of this insider bias on Mr. Mueller's team," said the chairman of the committee, Bob Goodlatte, a Republican from Virginia.
"I think the public trust in this whole thing is gone," said Rep. Jim Jordan, R-Ohio, who then urged the Justice Department to disband the Mueller inquiry.
The witness at the hearing, Deputy Attorney General Rod Rosenstein, appointed Mueller to head the probe and supervises the budgets and general direction of Mueller's investigation. He did not speak directly to the charge of bias, but he said he had found no good cause to fire Mueller and had seen no improprieties by anyone associated with the investigation.
Rosenstein later pointedly defended Mueller's character, pointing to his record as a Vietnam combat veteran who has spent most of his life in public service.
"I believe that based upon his reputation his service, his patriotism ... I believe he was an ideal choice" as special counsel, said Rosenstein.
"I think the public trust in this whole thing is gone."
Rosenstein also declined to rule out — by refusing to address the question — that Mueller could delve into Trump's personal finances, an area the president's lawyers have said should be out of bounds.
As the hearing concluded, he was asked by Goodlatte why on Dec. 6 he told WRC, the Washington DC NBC affiliate, that he was satisfied with the state of the Mueller investigation.
He replied: "Based upon what I know, I believe Director Mueller is appropriately remaining within his scope and conducting himself appropriately."
The text messages provided to Congress Tuesday night were between FBI agent Peter Strzok and FBI lawyer Lisa Page, who were romantically involved. They show "extreme bias against President Trump," Goodlatte said, and suggest that high-ranking FBI officials involved in the investigation of Hillary Clinton's use of a private email server "were personally invested in the outcome of the election, and clearly let their strong political opinions cloud their professional judgment."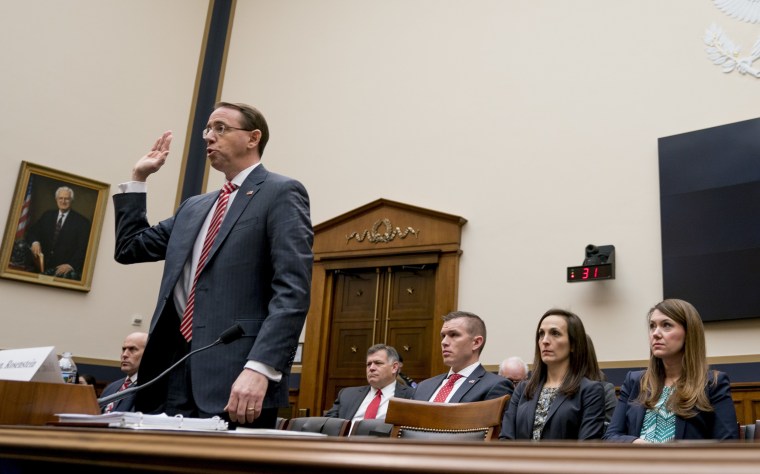 The messages were obtained as part of an investigation by the Justice Department's inspector general. When Mueller learned of them this past summer, he removed Strzok from his team. Page left a short time later.
At the House hearing, Rep. Lamar Smith, R-Texas, said the special counsel has hired at least eight attorneys who supported the Clinton or Obama campaigns. He asked Rosenstein whether that created an appearance of impropriety in violation of Justice Department standards.
"I am not aware of any impropriety," Rosenstein responded.
Rep. Steve Chabot, R-Ohio, went into detail about the political contributions made by some lawyers on the Mueller team to Democrats, and asked:
"How with a straight face can you say that this group of Democratic partisans are unbiased and will give President Trump a fair shake?"
Rosenstein responded that just because people express political opinions, it does not follow that they can't approach an investigation in an unbiased manner. Justice Department rules expressly state that FBI agents and prosecutors are free to voice private political views.
Randall Eliason, a former federal prosecutor who teaches white-collar criminal law at George Washington University, wrote in a Washington Post op-ed this week that "it's ridiculous to suggest that an FBI agent who holds strong political views or a prosecutor who has supported Democrats in the past somehow taint Mueller's entire investigation. Prosecutors deserve to have their actions scrutinized, but they should be judged on what they do as prosecutors, not on wild speculations based on their personal beliefs."
He added, "The mounting attacks on Mueller are misguided and dangerous. Those who would seek to undermine this cornerstone of our justice system based on such flimsy evidence should think twice about what they are doing. Norms and institutions are fragile things not easily restored once the public loses confidence in them."
Not all Republicans are ready to make the case that the Mueller investigation is compromised. Rep. Trey Gowdy of South Carolina, a member of the Judiciary and Intelligence committees and chairman of the House Oversight Committee, acknowledged in an interview with NBC News that he was "one of the increasingly small number of Republicans" defending him.
"I'm much more of a prosecutor at heart than I am a member of Congress. It's a hard job, it's a thankless job. On any given day you're going to irritate everyone," said Gowdy, a former assistant U.S. attorney. "I do think there are prosecutors that he could have found that had not donated to major political candidates. I wish he had found them. But ultimately this thing comes down to facts, and I'm going to give him the benefit of the doubt until otherwise necessary. And it hasn't reached that point for me."
Gowdy criticized the text messages at Wednesday's hearing but did not suggest that Mueller's work should end.
In an interview on "Fox News Sunday" last month, House Speaker Paul D. Ryan also rejected calls within his own caucus for Mueller to end his probe.
"We need to let these career professionals do their jobs, see it through," Ryan said. "I don't think he should be stepping down, and I don't think he should be fired. And the president has made it clear, he's not going to do that."
Democratic House members defended the FBI and Mueller.
Rep. Steve Cohen, D-Tenn., said he found the attacks on Mueller and the FBI "repugnant and awful," and noted that they came only after it became clear that the Mueller investigation posed a threat to the Trump presidency.
Chuck Rosenberg, a former federal prosecutor who ran the Drug Enforcement Agency and is now an NBC News analyst, said he found the political discussions in the text messages troubling evidence of bad judgment on the part of the FBI personnel who sent them. But he added that it was clear Republicans in Congress were pursuing a political strategy of trying to tar the Mueller investigation.
"I have seen this strategy many times," he said. "This is a little more virulent, a little more pointed than I have normally seen it."
Such a strategy does not normally derail an investigation or prosecution, he said. Impeachment could be another matter, though, because that is an inherently political process.
The impeachment process is handled by Congress, but Mueller could make a case for impeachment in a report to the House, which would have to decide whether to move forward.
Wednesday's hearing is the latest example of Republicans intensifying their criticisms of Mueller and the FBI. Last week, when FBI Director Christopher Wray appeared before the House Judiciary Committee, members made similar comments.
"If you kicked everybody off Mueller's team who was anti-Trump, I don't think there'd be anybody left," said Rep. Jordan of Ohio.
On Monday, a group of Republicans held a news conference calling for an investigation into how the Clinton email matter was pursued — something that is already being reviewed by the Justice Department inspector general.
On Tuesday, President Trump's legal team called for another special counsel to examine decisions and personnel at the Justice Department.
"The Department of Justice and FBI cannot ignore the multiple problems that have been created by these obvious conflicts of interest," Trump lawyer Jay Sekulow told NBC News. "These new revelations require the appointment of a special counsel to investigate."
However, there is no provision for the appointment of a special counsel to investigate anything other than crimes.
One issue that did not come up in the first 90 minutes in the hearing is the question of whether Rosenstein faces a dilemma in supervising the Mueller investigation when it appears he could be a witness, to the extent that Mueller is investigating the firing of former FBI Director James Comey. Rosenstein recommended firing Comey over Comey's handling of the Clinton matter, but Trump told NBC News he fired Comey with Russia on his mind.
Rosenstein has said in the past he saw no reason to recuse himself from his role, which he assumed because Attorney General Jeff Sessions recused himself from the Russia investigation.
A Justice Department spokeswoman, Sarah Isgur Flores, said, "As the deputy attorney general has said numerous times, if there comes a time when he needs to recuse, he will. However, nothing has changed."