WASHINGTON — The FBI's Office of Professional Responsibility has recommended the firing of former FBI Deputy Director Andrew McCabe, who remains on the payroll — a move that could put his pension at risk, according to officials familiar with the process.
It is now up to Attorney General Jeff Sessions whether to reverse that recommendation or to accept it.
McCabe — who has been attacked by President Donald Trump and other Republicans for alleged anti-Trump bias inside the FBI — has announced his intention to retire, effective this weekend. If Sessions fires him before then, it would jeopardize McCabe's federal pension.
The OPR recommendation that McCabe be thrown off the payroll follows an internal report from the DOJ inspector general that concluded he was not fully forthcoming in answers about whether he talked to a reporter concerning the FBI's investigation into the Clinton Foundation. The IG report has not been made public, but may be released soon.
McCabe, who has been with the FBI since 1996, is a civil service employee who can't be fired without evidence of wrongdoing.
When it became public in January the McCabe had decided to step aside, FBI Director Chris Wray made it clear in a message to all bureau employees at that time that his departure was tied to the inspector general report.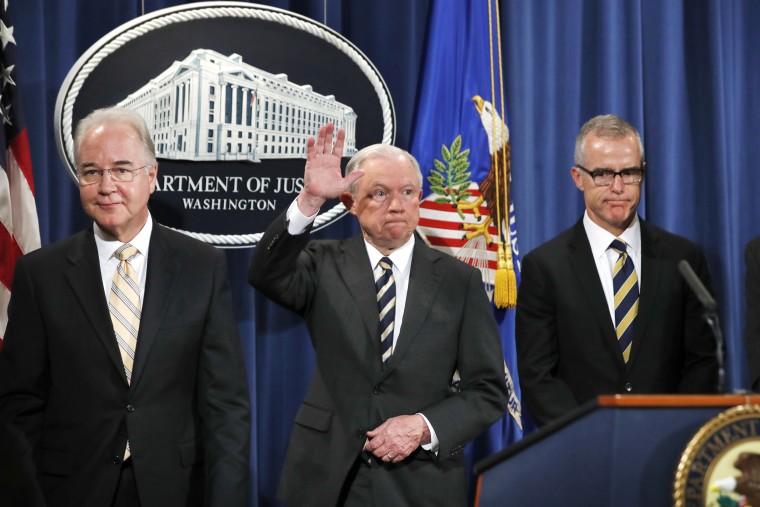 Several sources familiar with McCabe's move told NBC News that he made the decision to retire as a result of a meeting with Wray in which the inspector general's investigation was discussed.
The Department of Justice won't comment directly on the OPR report or Sessions' upcoming decision, which was first reported by The New York Times.
"The department follows a prescribed process by which an employee may be terminated," the DOJ said. "That process includes recommendations from career employees, and no termination decision is final until the conclusion of that process. We have no personnel announcements at this time."
Officials familiar with what's happening said Sessions will act on the OPR recommendations soon. The expectation is that the attorney general will accept it and fire McCabe.
Trump has been critical of McCabe and even tweeted that he was "racing the clock" in an attempt to retire with full benefits.
The president has also made derogatory references to the fact that McCabe's wife, who ran unsuccessfully for state Senate in Virginia, received large campaign donations from Democrats linked to Hillary and Bill Clinton.
Trump had publicly suggested over the last year that McCabe should not remain in FBI leadership. Last July, the president questioned why Sessions hadn't replaced McCabe, whom the president described as "a (former FBI director James) Comey friend who was in charge of Clinton investigation."
McCabe was not involved in the FBI's investigation into Hillary Clinton while his wife was running for office; he became involved in the probe in February 2016.
McCabe's departure comes during the investigation by special counsel Robert Mueller into whether Trump obstructed justice in Russia investigation and whether his campaign colluded with Moscow. Given his position at the FBI and his interactions with Trump, McCabe is likely to be of use to Mueller in the obstruction inquiry, NBC News has reported.
Late last year, McCabe was questioned for hours by congressional committee behind closed doors as part of their investigation of the FBI and its 2016 inquiry into Clinton's email practices when she was secretary of state.