WASHINGTON — Attorney General Jeff Sessions notified Congress on Thursday that he will not appoint another special counsel, despite pleas to do so from Republicans in Congress.
Some House and Senate Republicans urged him to launch an investigation of what they said was evidence of political bias in the FBI and irregularities in the way evidence was presented to the foreign intelligence court, seeking permission to eavesdrop on a former Trump campaign adviser.
But Sessions said in a letter to Congress that those matters are already being looked at — by the Justice Department's inspector general and by the U.S. attorney in Utah, John Huber, one of the few holdovers from Barack Obama's administration.
Sessions revealed for the first time on Thursday that he had asked Huber to lead that effort and the attorney general noted he is an experienced and well regarded prosecutor who has handled high-profile cases over the course of two administrations.
Sessions' letter to lawmakers comes less than two weeks after he fired former FBI Deputy Director Andrew McCabe — two days before he was to retire and become eligible for full pension benefits.
McCabe had been questioned by investigators about conversations FBI officials had with a reporter in October 2016 regarding the agency's investigation of the Clinton Foundation. The inspector general's report, which has not been made public, concluded that McCabe was not completely candid in answering questions about those conversations, according to officials familiar with the report.
But McCabe became a target of President Donald Trump and Republicans who questioned the FBI's impartiality in how the Clinton investigation was conducted.
When McCabe's wife, Jill, ran for the state Senate in Virginia in 2015, she accepted a donation from a political action committee controlled by Gov. Terry McAuliffe, a friend and supporter of Hillary Clinton's — and that became the basis for a series of Twitter attacks from Trump.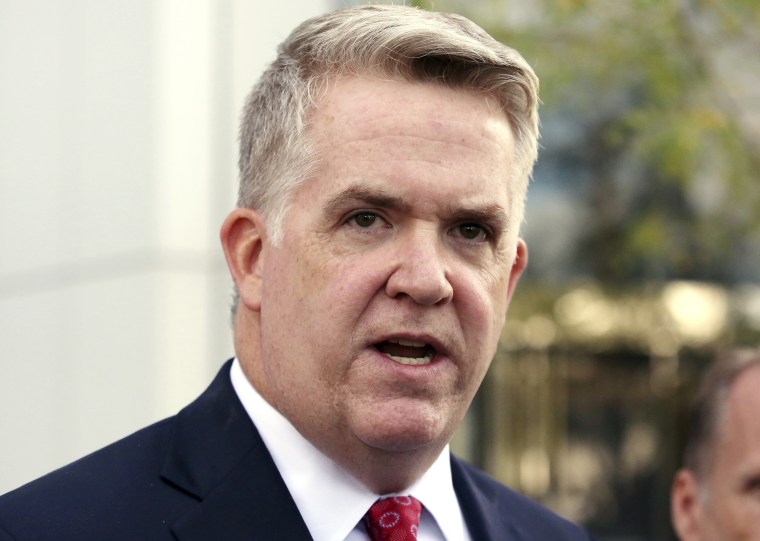 The president tweeted, "Why didn't (Attorney General) Sessions replace Acting FBI Director Andrew McCabe, a (former FBI director James) Comey friend who was in charge of the Clinton investigation?"
Some Republicans, claiming an anti-Trump bias within the FBI at high levels of the agency, also have alleged that the FBI used a phony dossier to obtain authorization from a FISA court to surveil Trump campaign adviser Carter Page.
On Wednesday, Inspector General Michael Horowitz announced that he was opening an investigation into the FBI's handling of the warrant from the Foreign Intelligence Surveillance Court to wiretap Carter Page, a former foreign policy adviser for the Trump campaign.
The handling of that warrant was the subject of dueling memos from the House Intelligence Committee.
Appointing a special counsel, Sessions said Thursday, is "by design, reserved for use in only the most extraordinary circumstances."
He noted that since the special counsel rules were established in 1999, they've been invoked only twice. In the meantime, Sessions said, the Justice Department "has successfully investigated and prosecuted many high-profile, resource-intensive matters."
Robert Mueller is the second person to be named special counsel. The first, John Danforth, investigated the FBI's botched raid on the Branch Davidian compound in Waco, Texas, in 1993.
Last November, a Justice Department official told congressional Republicans that many of their concerns were being examined by "senior federal prosecutors."
"I receive regular updates from Mr. Huber," Sessions said.