ATLANTA — Georgia Secretary of State Brad Raffensperger has complied with a recent subpoena from special counsel Jack Smith seeking security video from a polling site that was the subject of election fraud claims by former President Donald Trump and allies, his office told NBC News on Wednesday.
The May 31 subpoena, first reported by the Atlanta Journal-Constitution, sought Election Day video from State Farm Arena in Atlanta from Raffensperger's office.
The subpoena, obtained by NBC News, requested: "Any and all security video or security footage, or any other video of any kind, depicting or taken at or near the State Farm Arena in Atlanta, Georgia, on or about November 3, 2020, and any associated data."
A spokesperson for the special counsel, who is leading an investigation into the Jan. 6 riot and efforts to overturn the 2020 election, declined to comment on the subpoena.
The State Election Board said last month that it had dismissed its yearslong investigation into election fraud allegations linked to the polling location.
Trump and his former attorney Rudy Giuliani had repeatedly promoted false claims that a pair of election workers stationed at the arena engaged in fraud while they were counting ballots.
Trump said Tuesday that he had received a letter from Smith informing him he is a target of an investigation by a federal grand jury looking into the riot on Jan. 6, 2021, and efforts to overturn the 2020 election.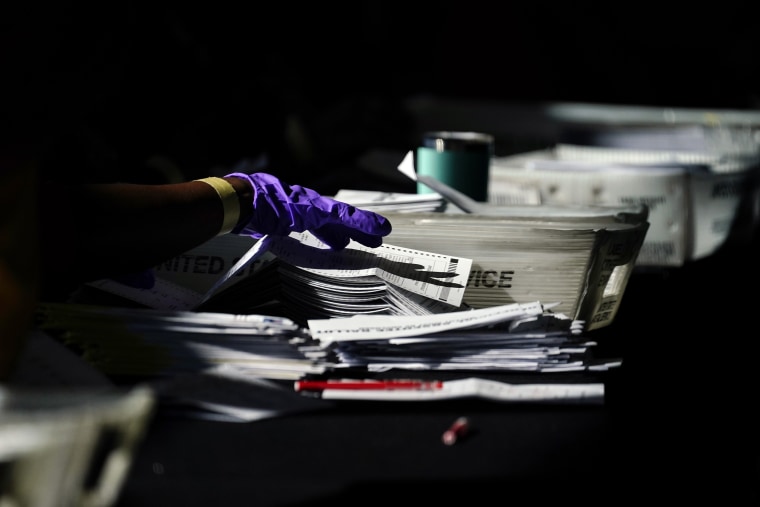 The subpoena is one of several Smith has issued to election officials in battleground states, many of them focusing on communications involving Trump, his campaign, aides and allies.
It's also not the first interaction between the special counsel and Raffensperger. Last month, the Georgia secretary of state's office confirmed that investigators on Smith's legal team would interview Raffensperger, who was pressured in a call with Trump to "find" enough votes to overturn his loss in the state.
Fulton County District Attorney Fani Willis is separately conducting an investigation, launched in 2021, into whether Trump and his allies engaged in election interference.
Trump has denied any wrongdoing, calling each investigation a "witch hunt."
On Monday, Georgia's Supreme Court denied Trump's bid to halt Willis' investigation. Any indictments in that probe would be likely to come in August.
Charlie Gile reported from Atlanta, and Zoë Richards reported from New York.