WASHINGTON — The founder of the far-right Oath Keepers organization began testifying in his own defense at his seditious conspiracy trial on Friday, telling jurors that he thought the 2020 election was "unconstitutional" and that neither Donald Trump nor Joe Biden were lawfully elected.
Stewart Rhodes is on trial along with Kelly Meggs, Kenneth Harrelson, Jessica Watkins and Thomas Caldwell, all of whom are charged with seditious conspiracy in connection with their actions surrounding the attack on the U.S. Capitol on Jan. 6, 2021. The government rested its case on Thursday without calling cooperating witnesses who pleaded guilty to seditious conspiracy. Jurors did hear from two other Oath Keepers who pleaded guilty to other charges: One testified that he had prepared to say goodbye to his family and oppose the transfer of power "by any means necessary," and another who testified that he thought he was "acting like a traitor" against his own government.
Rhodes began his testimony on Friday morning, spending a bit over an hour on the stand. His testimony will continue on Monday when he'll also be cross-examined by the government.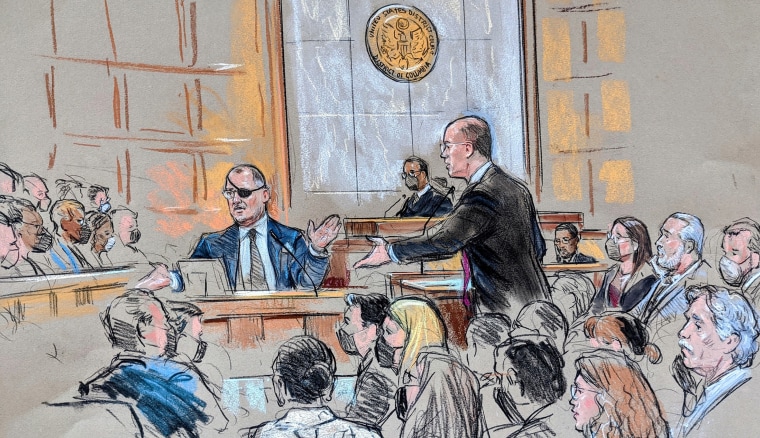 Over the course of five weeks of testimony, jurors have heard violent rhetoric from Rhodes and about his attempts to reach then-President Donald Trump and convince him to invoke the Insurrection Act to stay in power.
Some of the most damning evidence against Rhodes came from a recording made on Jan. 10, 2021, when Rhodes was speaking with someone who he believed could get a message to Trump. Rhodes, talking about Jan. 6, said in the recording that his "only regret" was that they did not have guns that day.
"We should have brought rifles. We could have fixed it right then and there. I'd hang f---in' Pelosi from the lamppost," Rhodes said.
On the stand on Friday, though, Rhodes was jovial. He apologized for talking too quickly, joked about how his full name was Elmer Stewart Rhodes III but he went by Stewart "for obvious reasons," and quipped about how antifascists "tend to be skinny little white kids, who dress in black."
Rhodes, a libertarian who founded the Oath Keepers in 2009 after former President Barack Obama was elected, disputed that the Oath Keepers are a racist or white nationalist organization.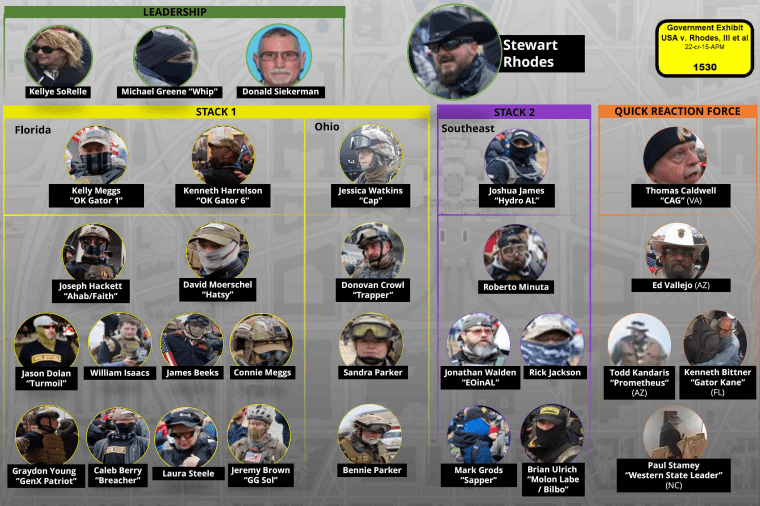 "If we found someone who was a racist, we found a few, we kick them right out," he said.
Rhodes said part of the reason he founded the group was that he saw police officers violate rights in the aftermath of Hurricane Katrina in 2005. In the Army soldiers are taught to not obey unconstitutional orders and he wanted to educate police officers to do the same, Rhodes said, citing George Floyd's murder as an example of what he was talking about.
"They should have stopped him. They should have pushed him off," Rhodes said of the other officers who were on the scene with Derek Chauvin.
Rhodes got emotional again talking about the Oath Keepers giving military veterans a sense of purpose when they return home. 
"The suicide rate is so high. And they come home and they feel like they have no purpose and that the country doesn't care about them anymore," he said.
Moving on to the 2020 election, Rhodes said he believes the election was unconstitutional from the start because it didn't comply with Article 2 of the Constitution.
"You really can't have a winner of an unconstitutional election. ... Under the excuse of Covid you had [states] putting in new rules that were in direct violation of state law," Rhodes said.
As the trial got started last month, Rhodes compared himself to Nelson Mandela, the anti-apartheid activist who spent 27 years in prison and later served as the first president of South Africa.
"Americans need to lose their fear of being indicted or put in prison. When you have a dictatorship you're going to have dissidents," Rhodes said. "Just like Nelson Mandela was willing to go to jail for life."