The Justice Department said Friday that the Treasury Department must turn over former President Donald Trump's tax returns to a congressional committee that has been seeking them for the past two years.
The Justice Department's Office of Legal Counsel said in its opinion that the House Ways and Means Committee had given "sufficient reasons" for requesting the information.
"We conclude that Treasury must furnish the information specified in the June 21 request," the opinion said.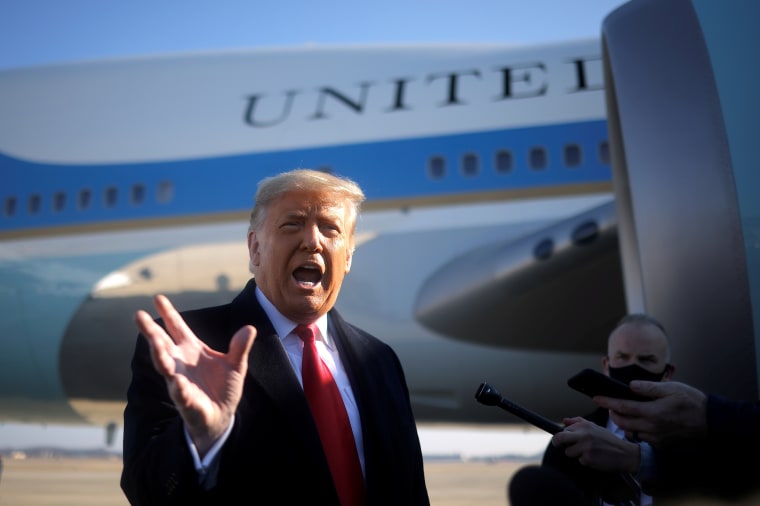 Rep. Richard Neal, chairman of the House Ways and Means Committee, welcomed the legal finding.
"As I have maintained for years, the committee's case is very strong and the law is on our side," the Massachusetts Democrat said. "I am glad that the Department of Justice agrees and that we can move forward."
Neal did not immediately respond to questions about how soon the returns might be provided to him, but unless Trump can persuade a federal court to step in, Congress will soon have his tax returns for 2015 through 2020.
Neal asked for the tax information in April 2019, citing a federal law that requires the Treasury Department and the IRS to turn over individual tax returns when demanded by any of the three congressional tax committees.
The same law also says Congress must keep the returns it seeks confidential.
But the Trump administration refused to provide the documents, arguing that Congress had no legitimate lawmaking purpose for seeking them and was simply hoping to find something that would embarrass the president.
In a 2019 opinion, the Office of Legal Counsel agreed and said the congressional demand was invalid.
In Friday's opinion, the office said that its earlier analysis "went astray," failing to give a coordinate branch of government the "respect and deference" it was due.
When a congressional tax committee asks for such tax information, "the executive branch should conclude that the request lacks a legitimate legislative purpose only in exceptional circumstances," the office said.
There was no immediate response from the former president.
"The statute says what it says," Steve Vladeck, a professor at the University of Texas at Austin, said. He considered it unlikely that Trump could get a federal court to block the handover.
"But is it possible Trump could get a judge to prevent the returns from being turned over while the courts take the time to reach the merits? That seems more plausible, if still not terribly likely," he said.
Under an agreement filed in federal court in an existing lawsuit over congressional access to the returns, the government agreed to give Trump's lawyers 72 hours' notice before turning over any returns, to give him time to try to prevent the disclosure.
House Speaker Nancy Pelosi, D-Calif., commended Neal for pursuing the information.
"Access to former President Trump's tax returns is a matter of national security," she said in a statement. "The American people deserve to know the facts of his troubling conflicts of interest and undermining of our security and democracy as president."