WASHINGTON -- Every four years, the holiday season offers gift-givers a special set of options for the political fans on their lists: Presidential campaign merchandise that taps into that pre-primary sense of hopefulness when anyone can still capture the White House.
These are people whose old holiday photos are littered with images of Jeb! coffee mugs and Ron Paul Chia Pets as well as red MAGA hats and blue "Yes we can" buttons.
This year brings its own collection of candidate swag and this week, in honor of Black Friday, the Data Download brings you a guide to can't miss gifts for a wide range of political views and price points.
If you're on a budget, consider these campaign goodies from the $25 and under list.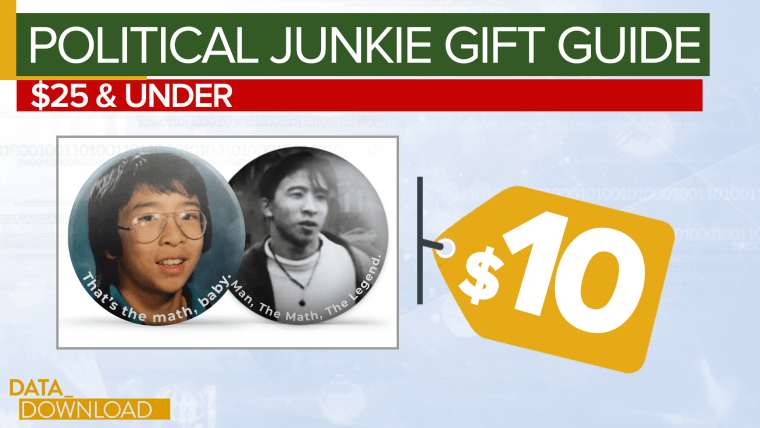 You can help that fan of President Trump take a stand against "liberal paper straws" with a pack of 10 "reusable and recyclable" plastic Trump Straws. Yes, for only $15 the "laser engraved" straws will let your loved one sip his or her way to a greater America. And they're "BPA free," of course.
If your giftee is from the other side of the spectrum, consider the $25 Billionaire Tears Mug from Democrat Elizabeth Warren's campaign. It's "union-made" and was inspired by a moment when a former Goldman Sachs executive cried while "discussing the prospect that a President Elizabeth Warren might require him to pay his fair share in taxes."
And cool campaign kids may want to flash their nerd chic with merch from Democrat Andrew Yang's "Retro Yang" collection. Consider the "Throwback Button Pack." Each of the two features a decidedly awkward photo of a younger version of Yang with catchphrases — "That's the math, baby" and "The Man, The Math, The Legend." They are also "union made" and only $10.
Looking to spend a little more? It's time to visit the T-shirt shop.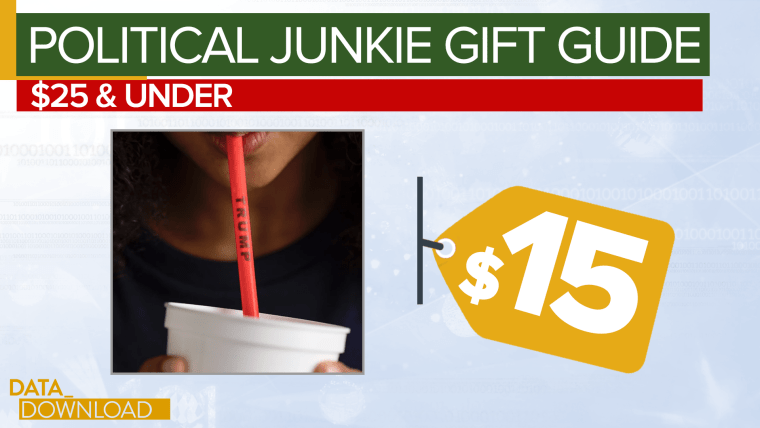 You can help those on your gift list relive the heady days of 60s idealism with the Bernie Sanders Protest Unisex Tee. The bright red shirt features a 1963 photograph of a young Sanders getting arrested in Chicago at a civil right demonstration, when he was a student. Sanders was "arrested, charged with resisting arrest, found guilty and fined $25." But it can be yours for $27.
If you are gift-hunting for a tough-talking Joe Biden fan, you might be interested in the Release Your Tax Returns T-shirt. The garment features those words along and the added suggestion "Or Shut Up" in orange with an "O" that bears the unmistakable coif of President Trump. It's "union printed" and available in unisex or women's sizes, $30.
Meanwhile, the plainspoken Trump supporter on your list will love the If You Don't Like Trump Tee. The red and blue words "If you don't like Trump, then you probably won't like me" on a white T-shirt can serve as a surly warning or as a friendly conversation starter depending on the crowd. The $30 casual top has a "durable rib neckband" and is "proudly made" in the USA.
And serious gift-givers, the campaigns have you covered too with some higher-end items.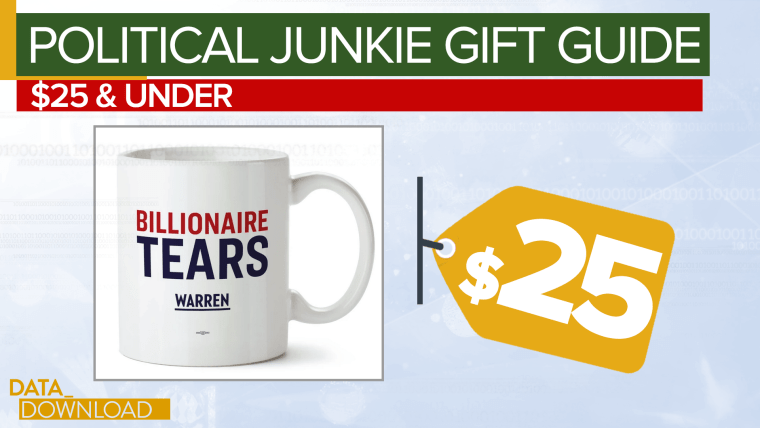 You can help your favorite Trump supporter fight in the Christmas wars and have a little fun at the same time with the Keep America Great Ugly Christmas Sweater. It's decked out in red and green and simultaneously wishes people "Merry Christmas" while also reminding them to "Keep America Great." Be careful though, there's a "high sellout risk" for the $75 "custom knit" pullover. "Please allow 3-4 weeks for delivery."
And if the Sanders supporter in your life is also a patron of the arts, consider the Artists for Bernie Sanders Coaches Jacket. Inspired by the work of various artists who themselves were inspired by Sanders, the windbreaker is black with a white "art of a political revolution" logo, an eagle holding a paintbrush and a pen over a star. But being a patron of the arts doesn't come cheap, the union-made "water and wind resistant" jacket will set you back $100.
That's just a handful of selections, of course. This season every presidential candidate is selling something for you to consider, from Pete Buttigieg's "Boot Edge Edge 2020" T-shirts to Marianne Williamson's "Dept. of Peace" hoodies.
More than a few stories have been written about the politicization of consumerism, but the online campaign stores are a reminder that it works the other way too in 2019.
Liberal or conservative, Republican or Democrat, politics has long been about branding. It's increasingly also about merchandising. Donald Trump has 12 pages of merchandise on his website. Elizabeth Warren has 10. And both sites held Black Friday sales this week.
So consider this a gentle reminder, there are only 24 shopping days until Christmas — and only 337 until Election Day.