WASHINGTON — Since 2016, Russia and allegations of that nation's meddling in U.S. elections have been hot topics. And across the country, Democrats and Republicans have been moving in different directions when it comes to their attitudes toward the long-time U.S. adversary.
And those changing feelings might be affecting how they see the potential for Russian influence in next year's presidential election.
For decades, including when it was still the Soviet Union, Gallup has asked: "What is your overall opinion of Russia?" The last few years have seen some notable moves among partisans in their answers.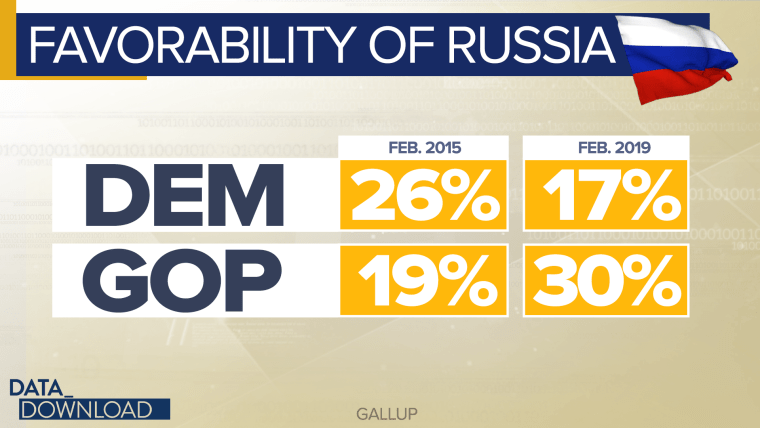 In February of 2015, Gallup data showed that more Democrats held a favorable view of Russia (26 percent) than did Republicans (19 percent). But by February of 2019, those numbers had reversed, with 30 percent of Republicans saying they held a favorable view of Russia — an 11-point increase from 2015. And only 17 percent of Democrats said they had a positive view, a nine-point drop.
Granted neither group of party faithful held the country in high regard, but considering the headlines of the past few years, the relative change is noteworthy.
At the same time, the parties have also swapped places when it comes to viewing Russia as a dangerous actor.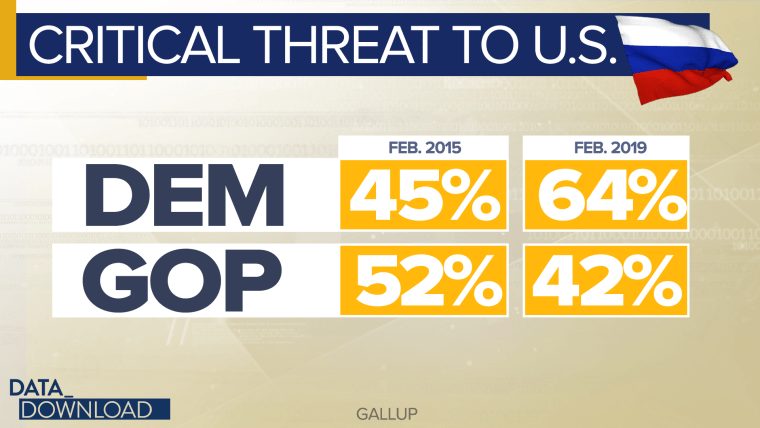 In 2015, more than half of all Republicans, 52 percent, saw Russia as a "critical threat" to the vital interests of the United States, according to Gallup. Meanwhile, 45 percent of Democrats saw Russia that way.
This year only 42 percent of Republicans saw Russia as a critical threat, a 10-point drop. Among Democrats, the figure had jumped to 64 percent seeing the nation as a serious danger, a 19-point increase.
What's going on in these numbers? There's probably more than a little politics. Back in 2015, Russia had invaded Ukraine on President Barack Obama's watch. That brought cries of anger from Republicans that the president was too weak in response to a new Russian threat — and a defense of Obama from Democrats.
Today, of course, those roles have been reversed. Democrats and intelligence agencies argue that Russia interfered in the 2016 election and aided President Trump. But many Republicans remain unmoved, arguing that while Russia may be a rival country, it is not especially dangerous to the United States.
All of that has led to a different perception of foreign affairs today and you can see on another Gallup question, "Who do you consider to be the United States' greatest enemy today?"
For Republicans, the answer to that question is China. More than a quarter of them, 26 percent, choose the economic rival with which President Trump has engaged in a trade war. Russia comes in a somewhat distant second at 17 percent. Iran is a close third at 16 percent.
Democrats see a very different picture of the nation's chief adversaries. Russia really stands alone, with 46 percent of Democrats choosing that nation as the "greatest enemy." Another 17 percent say North Korea, the long-time U.S. foe with which President Trump has been trying to negotiate. And 16 percent choose China.
Those figures may help explain the way partisans in both parties see the dangers of Russian influence in the 2020 election. Democrats and Republicans start in very different camps on that question.
Only 15 percent of Democrats say they believe the Trump administration is making serious efforts to prevent Russia from influencing the election, according to a July survey from the Pew Research Center. But on the other side of the spectrum, 81 percent of Republicans say the administration is doing enough.
That's a 66-point gap on what is likely to be one of the biggest issues in the 2020 campaign before the campaign has even started in earnest.
Those numbers offer a sense of just how deep the partisan divides are going into an election year — and there's no reason to expect it will get better as the Senate turns its attention to an impeachment that's focused on Russia, Ukraine and election interference.
Common ground is never easy to find in an election year, but even by those standards 2020 is setting up to be a special case.