WASHINGTON — This week the 2020 Senate landscape grew a bit more interesting as Georgia's Johnny Isakson announced he was resigning at the end of the year. That put another Republican-held seat on the battleground list — the second one in Georgia — and added more evidence that control for the upper chamber of Congress is very much in play.
The Senate campaign map that is coming into view is looking more and more like a "good news," but not "great news" situation for Democrats. The party needs to net only four seats to get to a 51-49 majority in the Senate and the list of seats that Republicans need to defend is growing — but there are not a lot of easy marks.
In essence, the Democrats' path to recapturing the Senate seems to be growing clearer, but it's not necessarily growing easier.
Let's start with the prime targets.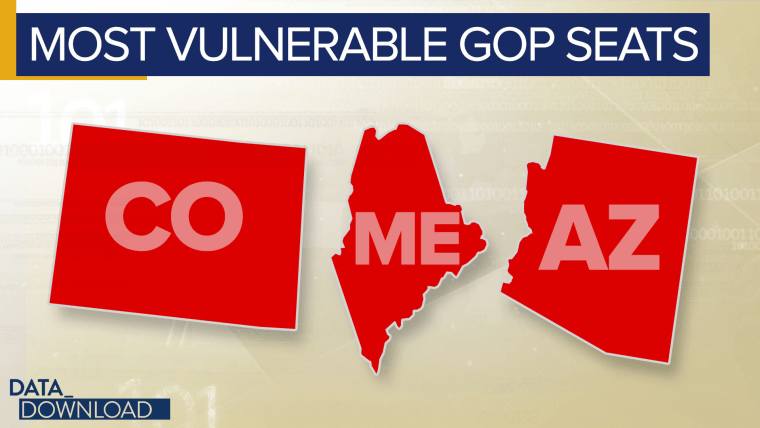 Ask Democrats and these are three states they will cite at the top of their list in the quest for four more seats and for good reason. Democrat Hillary Clinton won the popular vote in both Colorado and Maine in the 2016 presidential race. And last year, Democratic Sen. Kyrsten Sinema won the Senate race in Arizona when she beat Martha McSally.
None of these three seats are open but all of them are already rated as toss-ups by the Cook Political Report. Colorado's Sen. Cory Gardner is a one-term incumbent who won a close race in 2014 in a state that is trending Democratic. Maine's Sen. Susan Collins is a four-term incumbent who is caught in the middle of the shifting terrain of the GOP. And in Arizona, the incumbent is McSally, who was appointed to her seat after Sen. John McCain died — but who also lost her 2018 senate race.
Those three seats have been on Democratic radar for months followed by the question, "But how do they capture number four?"
This week's Georgia retirement added to the list of possibilities.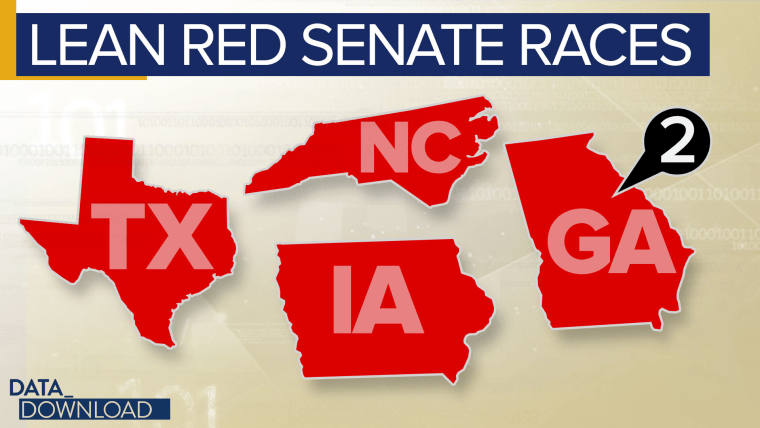 This set of states might be considered the top of the "most likely options for number four" list, but none are easy.
North Carolina was close in the 2016 presidential race, Trump won it by little more than 3 percentage points. And the Senate seat is currently held by one-term incumbent Thom Tillis, who won in 2014 by about a point-and-a-half. Still he's an incumbent Republican in a state that tends to vote Republican.
In Iowa, Sen. Joni Ernst is a one-term incumbent running in a state that has been hit hard by the president's trade disputes with China. That said, Trump carried Iowa by 9-plus points in 2016.
In Texas, Sen. John Cornyn is up for re-election in a state where the registered voter demographics are changing and where GOP Sen. Ted Cruz had to fight hard to eke out a win over then-Rep. Beto O'Rourke. But O'Rourke isn't running for the Senate this time (he's trying to stay afloat in the presidential race) and Cornyn won his seat by 27 points in 2014.
For the two seats in Georgia, the Democrats' biggest advantage may be the overall direction of the state. Trump won it by 5 points in 2016 and last year Republican Gov. Brian Kemp won it by about a point-and-a-half. The Atlanta suburbs are filling with different kinds of voters who are turning the area blue. Plus, one Senate seat (Isakson's) will be open.
But Georgia is still Georgia, not an easy lift for Democrats. The last Democratic senator from the state was Zell Miller, who ended up siding with Republicans during George W. Bush's presidency.
Beyond those four opportunities, there are four longer shots that are arguably still vulnerable.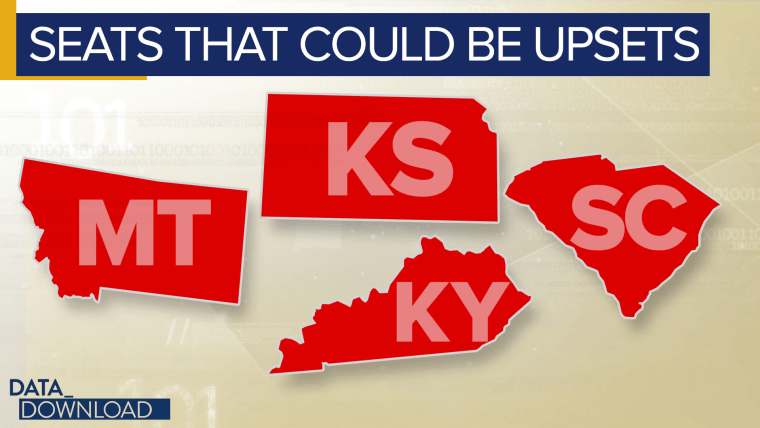 The Republican seats in Kentucky, Kansas, Montana and South Carolina look pretty safe, but in the Trump era the GOP candidates in them, including Majority Leader Mitch McConnell in Kentucky and Sen. Lindsey Graham in South Carolina, will likely have to spend money and time to get comfortable. That means the races will absorb resources that could be spent elsewhere, particularly with a little pressure from the right Democratic challenger.
And remember Kansas and Montana elected Democrats to statewide office in 2018.
Even with all those potential options for the Democrats to win that crucial fourth seat, however, they have to watch their own territory as well. There don't look to be a lot of Democratic seats in play right now, but there are a few on the list, and at least one that could be a real challenge to hold.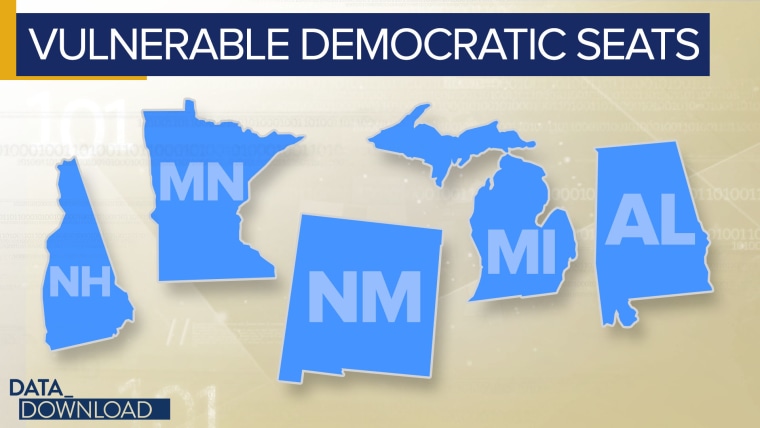 In 2017, Sen. Doug Jones surprised everyone and won a special election in deep-red Alabama after Republican nominee Roy Moore was caught up in a scandal involving sexual misconduct and girls when he was young. That situation will not likely repeat itself in 2020. But never say never; Moore is running again.
In New Hampshire, Sen. Jeanne Shaheen is running for re-election in a state that Trump came within 3,000 votes of winning in 2016. It will almost certainly be competitive again in 2020. And in Minnesota, it's a similar situation as incumbent Tina Smith is trying to win re-election in a state that Trump came within a point-and-a-half of winning.
Meanwhile, in Michigan Sen. Gary Peters, a one-term incumbent, is trying to win re-election in a state that voted for Trump in 2016. And in New Mexico, Democrats are trying to defend an open seat after the retirement of Sen. Tom Udall.
Are those impossible defenses for the Democrats? No. In fact, outside of Alabama, the Democrats will be favored in those races. Still, they are places the party is going to have to spend its own money and time if it wants a good shot at winning back the Senate.
It's not an easy path.
But as the list of seats the GOP is defending in the Senate grows, the Democrats aren't complaining. Another week, another potential road to 51.
And, all of this, of course, ignores the true Democratic hopes for 2020. If a Democrat wins the White House, the magic number for net pickups drops to three. It only takes 50 seats to secure the Senate control with a tie-breaker vote from a supportive vice president.