WASHINGTON — So much of this country's political debate has focused on reopening the economy that we've lost sight of a much bigger story.
The curve of new coronavirus cases hasn't flattened. Not even close.
Per our daily count at First Read, the nation has seen 25,000-plus new cases since yesterday, as well as nearly 2,500 new deaths.
Now some cities and states have flattened their curves. But as a nation, the numbers and charts tell us that isn't happening yet.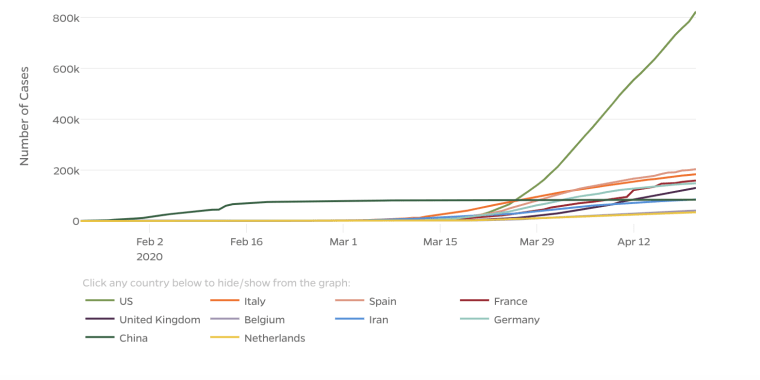 This isn't a country that's flattening its curve.
Not yet.
Data Download: The numbers you need to know today
809,755: The number of confirmed cases of coronavirus in the United States, per the most recent data from NBC News and health officials. (That's 25,164 more than yesterday morning.)
44,820: The number of deaths in the United States from the virus so far. (That's 2,406 more than yesterday morning).
4.16 million: The number of coronavirus tests that have been administered in the United States so far, according to researchers at The COVID Tracking Project.
28 percent: The share of patients in a non-scientific study of U.S. veteran coronavirus patients who died after being treated with hydroxychloroquine
$8.6 million: The amount in coronavirus stimulus funding that Harvard University has received, prompting critics to demand that the institution returns the funds
Those who know someone infected by the coronavirus versus those who don't
Another set of striking numbers from our latest NBC News/Wall Street Journal poll is the divide between those who know someone infected by the coronavirus (40 percent of registered voters) and those who don't (59 percent).
The 40 percent who know someone infected has a more negative opinion of President Trump's handling of the issue, trusts the president less, and is more supportive of stay-at-home restrictions.
Approval of Trump's coronavirus handling
All: 44 percent
Those who know someone infected: 40 percent
Those who don't know someone infected: 48 percent
Trust Trump's coronavirus statements
All: 36 percent
Those who know someone infected: 33 percent
Those who don't know someone infected: 37 percent
More worried that the government will loosen stay-at-home restrictions too quickly
All: 58 percent
Those who know someone infected: 63 percent
Those who don't know someone infected: 55 percent
The question we have given these numbers: As more and more Americans end up knowing someone infected by the coronavirus, will that alter attitudes – about Trump and stay-at-home restrictions – going forward?
Talking policy with Benjy
It's the testing, stupid: Another day, another plan to reopen the economy. This week it's Harvard University's Edmond J. Safra Center on Ethics, which put out a plan on Monday developed with experts on health, economics, and other fields from across the ideological spectrum.
Like various other expert plans, testing is the name of the game. The Harvard plan envisions testing 5 million Americas per day by June and 20 million (!!!) by August when the economy would be fully reopened. This would take a nationally coordinated system of "mega-testing labs" outside metro areas that could handle over 1 million tests per day along with 100,000 new workers to track people exposed to the virus before they can spread it to others.
The U.S. has conducted about 4 million tests so far according to the COVID Tracking Project and is currently averaging about 150,000 per day. Centers for Disease Control Director Robert Redfield told the Washington Post on Tuesday the White House was looking into ideas like repurposing Census workers to do contact tracing.
The latest coronavirus bill in Congress provides $25 billion more for testing and some in the White House, including Dr. Deborah Birx,have argued testing capacity might not need to be as high to reopen some communities. But given the president's obsessive focus on getting the economy back in gear, it's odd that Democrats and governors have so far been more aggressive on the topic, with the president at times downplaying the need for more tests and calling on states to take the lead instead.
Tweet of the day
Ad watch from Ben Kamisar
Today's Ad Watch comes from Wisconsin, where there's soon to be a special election to replace the retired former Rep. Sean Duffy, R-Wis.
President Trump just endorsed Republican Tom Tiffany on Monday night — Tiffany's camp is up with a bio spot that emphasizes his rural roots, his work in the state Senate and his promise to "stand with President Trump to get people back to work."
Democrat Tricia Zunker is sticking close to the script that Democrats used successfully in 2018's midterms. She's touting herself as a bipartisan choice while slapping Tiffany with the standard attacks on Republicans about issues like health care and pre-existing conditions, except through a coronavirus lens.
Right now, the special election is scheduled for May 12 in a district that Trump won by 20 points in 2016. But special electorates are always tough to handicap, let alone in the time of a pandemic (and one month after a contentious round of elections in Wisconsin that sparked controversy over whether voters should have been going to the polls).
Senate passes latest coronavirus relief package
The interim coronavirus relief package was passed by the Senate on Tuesday, and is expected to pass the House on Thursday, per NBC's Capitol Hill team. The $487 billion bill includes additional funds for the small business loan program (pushed for by Republicans) and funding for hospitals and testing (pushed for by Democrats). You can read more about the details of the legislation from our team here.
While Democrats and Republicans claimed victory, Senate Minority Leader Chuck Schumer and Senate Majority Leader Mitch McConnell both discussed ANOTHER round of coronavirus relief. Schumer laid out the Dem priorities – election reform, money for housing, funding for the Postal Service, and additional money for frontline workers.
McConnell, meanwhile, said the full Senate should be in session to negotiate any next phase: "So I will predict that we will not try to pass another rescue package by consent. My view is we ought to bring everybody back, have full participation to begin to think about the implications to the country's future for this level of national debt."
The House is expected to be back in session to vote on the interim package on Thursday at 10:00 a.m. ET.
The Lid: Inside the numbers
Don't miss the pod from yesterday, when we broke down how the economic impact of coronavirus is hitting some communities particularly hard.
ICYMI: What else is happening in the world
The RNC says it's going "full steam ahead" with its convention planning.
Here's what we know about President Trump's new order regarding immigration restrictions.
The president wished Kim Jong Un "good luck" amid rumors of the North Korean leader's ill health.
Rep. Donna Shalala, who was just picked for the committee charged with overseeing stimulus spending, might be in hot water over her stock sales.
Texas Lt. Gov. Dan Patrick is taking heat again for his comments about lifting distancing requirements in the name of the economy.
Joe Biden might be doing poorly with young voters, but new data suggests he may be gaining older ones.
Biden's campaign is split over its online operations.
Politico looks at how the pandemic may be reshaping the 2020 map.