WASHINGTON — You are what you watch.
That's the unmistakable conclusion looking inside the numbers of our latest NBC News/Wall Street Journal poll, which finds profound differences in attitudes about the coronavirus based on where you get your news – broadcast TV, MSNBC/CNN, or Fox News.
Just look at these numbers: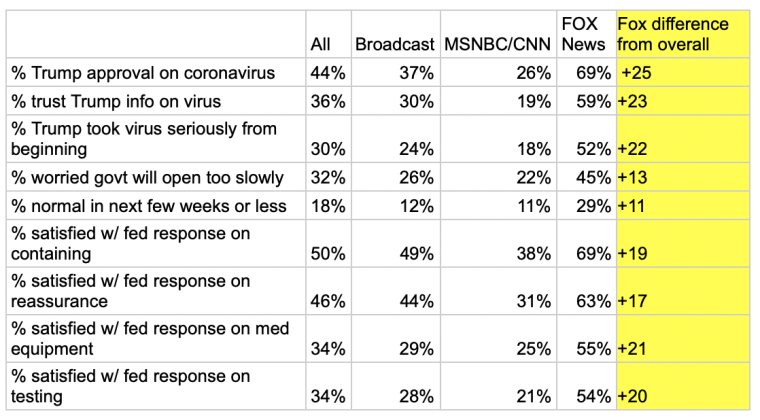 It's one thing to see this difference on overall attitudes about the president, the 2020 race or impeachment.
After all, Fox News versus the rest has been one of the driving forces in our politics for years now.
But it's quite another thing to see this divide when it comes to a public health crisis with tens of thousands of American lives on the line.
In a situation where the federal response relies on public trust in experts, scientists and medical professionals, these numbers suggest that voters are operating with different sets of facts based on their news consumption.
Majority supports vote by mail, but most Republicans and Fox News viewers oppose it
This Fox News-versus-everyone-else divide also exists when it comes to opinions about voting by mail.
A majority of all voters — 58 percent — favor nationwide reform of election rules that would allow all eligible voters to cast their ballots by mail, per the latest release from our NBC News/Wall Street Journal poll.
More from one of us: "And nearly 10 percent more say that, while the rules should not be permanently changed, all voters should be able to mail in their ballots this November because of concerns that the coronavirus may still be a major public health threat this fall."
But check out this difference by party: "Of the 58 percent who support changing election laws to allow anyone to vote by mail in all elections going forward, 82 percent were Democrats, 61 percent were independents and just 31 percent were Republicans."
And this difference by media consumption: While just 39 percent of all voters OPPOSE a national expansion of vote by mail for future elections, that opposition jumps to 61 percent of Fox News consumers (versus 36 percent of broadcast news consumers and 28 percent of MSNBC/CNN watchers).
Welcome to the great coronavirus experiment — by state
You've heard the expression that the states are our laboratories of democracy.
Well, get ready for the country's great coronavirus experiment. By state.
"Georgia Gov. Brian Kemp on Monday granted businesses across the state permission to reopen later this week, an announcement echoed by a handful of other Republican governors who are beginning to lift stay-at-home orders," per NBC News.
More: "South Carolina Gov. Henry McMaster said Monday that beaches and retail stores can reopen Tuesday. Businesses including sporting good shops and florists will have to observe social distancing guidelines that limit how many customers can shop at once, he said."
And: "Tennessee Gov. Bill Lee said he won't extend the state's stay-at-home order beyond April 30, while state parks can reopen Friday."
But to borrow a line from "Field of Dreams," if you re-open gyms, movie theaters, restaurants and bowling alleys, will the customers still come?
Without more tests? And without a vaccine?
Data Download: The numbers you need to know today
784,591: The number of confirmed cases of coronavirus in the United States, per the most recent data from NBC News and health officials. (That's 28,993 more than yesterday morning.)
42,414: The number of deaths in the United States from the virus so far. (That's 1,771 more than yesterday morning).
4.03 million: The number of coronavirus TESTS that have been administered in the United States so far, according to researchers at The COVID Tracking Project.
19,399: The number of coronavirus cases to date in the state of Georgia, where Republican Gov. Brian Kemp is one of several Southern governors to announce a lifting of business restrictions later this week.
Nearly 200: The number of new clients who have been registered by lobbyists working on coronavirus issues in the past few weeks
Nearly 300 percent: The drop in the price of crude oil due to plunging demand.
Nearly $500 billion: The price tag on the latest coronavirus relief bill still being negotiated by Democrats and Republicans on the Hill.
Two days: How quickly small business funding could dry up after being authorized by Congress, according to banking industry representatives
Tweet of the day
2020 Vision: Biden raised $47 million in March
On Monday night, Joe Biden's campaign announced that it had raised $46.7 million in March, NBC's Marianna Sotomayor reports.
That's the campaign's best fundraising month since launching, and it's up from $8.9 million in January and $18.1 million in February.
And/but: Biden is starting off $187 million behind Trump
Ad watch
From Ben Kamisar: Priorities USA expands air war to six states: We've been telling you about the blossoming ad war between Priorities USA and President Trump over the administration's response to coronavirus. But now the Democratic group is beginning to publicize its strategy for the long game too, announcing $65 million in general election TV reservations.
The reservations are in six battleground states: Michigan, Pennsylvania, Wisconsin, Florida, North Carolina and Arizona, a list that shows the group wants to compete on the slightly-redder turf of those last three states, but isn't initially as focused on the once-swing-state of Ohio that's been drifting away from Democrats in recent years.
Click here to read more from NBC's Alex Seitz-Wald.
A deal on the Hill seems imminent
A deal between congressional Republicans, Democrats and the White House for additional coronavirus aid relief seems imminent. On Monday night, a member of the Democratic House caucus told NBC's Capitol Hill team that House Speaker Nancy Pelosi said the White House isn't willing to negotiate on the state and local money (that Democrats are pushing for) allocations "until the next bill." Therefore, Pelosi she's trying to ensure that states can use the resources from the first bill now.
On that same call, the current details of the bill were relayed as:
$250 billion for the paycheck protection program.
$60 billion targeted in the paycheck protection program for small businesses.
$50 billion for the Economic Injury Disaster Loan in loans and $10 billion in grants.
$45 billion for testing.
If this deal is reached, it seems the House could come back to vote as early as Thursday morning.
Shameless plug
"Nightly News: Kids Edition" will launch its second episode today at 4:00 p.m. ET across various platforms, including NBCNews.com, NBC News YouTube channel, NBC News Apps, as well as the network's new streaming service Peacock. Check it out with your kids every Tuesday and Thursday at 4:00 pm ET.
The Lid: Rock, hard place
Don't miss the pod from yesterday, when we looked at how Biden and Trump are doing with voters who aren't wild about either of them.
ICYMI: What else is happening in the world
New FEC reports show Mike Bloomberg spent over $1 billion on his presidential run.
A GOP super PAC says it will spend $100,000 to back Steve King's primary challenger.
President Trump is starting to feud with a longtime conservative influencer: Matt Drudge.
Israel's warring factions appear to have come up with a compromise deal to share power.