The eyes of Kansas may have been on the World Series Wednesday -- but some voters in the state also spent part of their afternoon telling us what they still need to know before casting their votes in the unpredictable Senate and gubernatorial races here.
1) Independent Senate candidate Greg Orman has hit a wall -- but he could still break through it.
Orman, whose independent bid rocketed into a competitive race when Democrat Chad Taylor dropped out earlier this year, has established himself as a credible alternative to incumbent Republican Sen. Pat Roberts. But Roberts -- with the aid of a GOP cavalry that rushed in over the past weeks -- has succeeded in raising enough questions about who Orman is and how he would vote that it's making voters hit the pause button.
Roberts has at least stopped the bleeding. But he's also become such a caricature of D.C.'s business-as-usual that playing defense won't be enough; he's got to close the sale.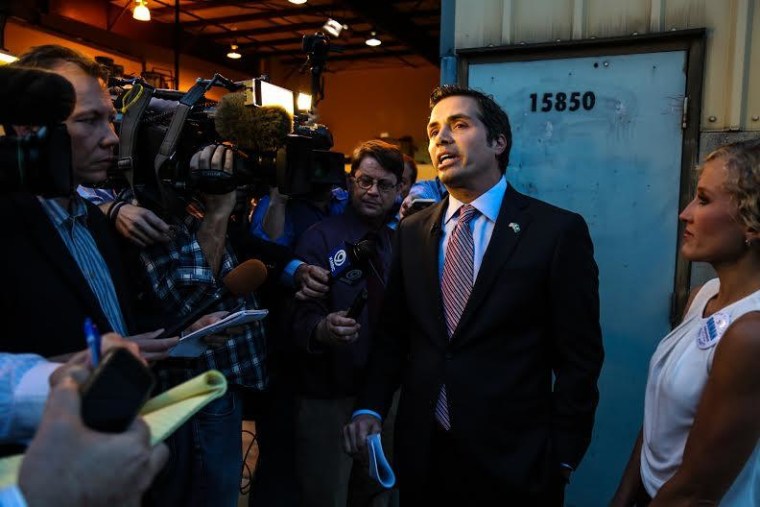 2) Orman is asking Kansans to turn the state into a political experiment. That would be a big deal, if he can pull it off.
Orman is essentially asking GOP-leaning Kansans to suspend core issues that they care about to focus on fixing Washington gridlock and dysfunction instead. And, by saying he won't caucus with the party that keeps its current leaders in place, he's arguing that his election alone could be enough to blow up the Senate's status quo. He's essentially asking voters to make Kansas a political experiment, and voters are mad enough at incumbents and at D.C. that it could actually work. The trouble so far is -- he hasn't convinced voters that he's not just another vote for Harry Reid.
3) The Orman-Roberts race is unrelated in voters' minds from the contest between incumbent Republican Gov. Sam Brownback and Democrat Paul Davis.
It's easy for pollwatchers to conflate Roberts' challenge with Brownback's fight for his political life, but voters here see the two races as very different. They're mad at Brownback for a very specific reason: education funding. Their anger at Roberts is much more about what he symbolizes about Washington and the political establishment. One of the two men will survive due to ticket-splitting; maybe both could scrape out to victory. But in the end, Republican voters might be ready to kick one rock-ribbed conservative from office, but to push both out is probably a bridge too far in a state that voted for Mitt Romney by 20 points.
NBC's Carrie Dann contributed